We Asked and These are The 25 Gifts Moms are Actually Asking for in 2023
This post may contain affiliate links. That means we may make a small commission on items purchased through links in this post at no extra cost to you!
Moms can be so hard to shop for. So instead, we asked and these are the gifts moms are actually asking for! Whether it's your mom, grandma, wife, sister, or friend this post will tell you exactly what gifts that mom in your life wants in 2022!
With Mother's day, Christmas, Valentine's day, birthdays, and more, we're constantly shopping for the moms in our lives. So much, in fact, that it can start to feel like we've run out of ideas for unique or meaningful gifts for mom.
Not looking for mom? Be sure to check out 11 Perfect Gifts for Her here!
Want to remember this post? Pin it to your favorite Pinterest board!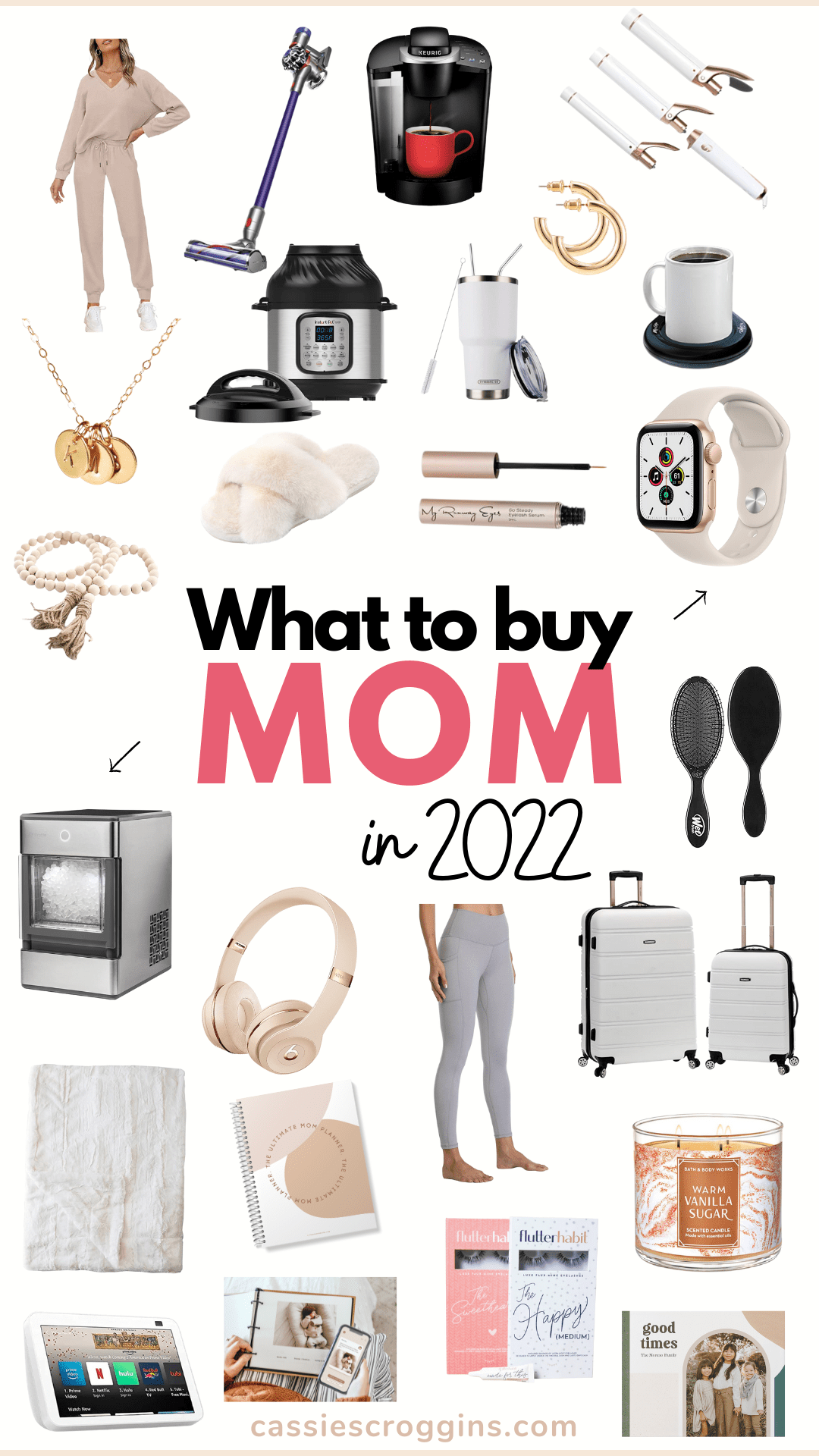 Instead of guessing, hear it straight from the source. We asked, and these are the exact things moms said they had on their own wishlists in 2022! So if you're out of ideas for that one you love most in your life, you're in the right place!
Here are the 25 best gifts for moms in 2022!
1. A Comfy Lounge Set
All mama wants is a comfy lounge set! This cozy waffle lounge set comes in 8 different colors and is exactly what moms are asking for this year. Plus this set is one that wont break the bank! Moms want to be comfortable and cozy this year while running errands or lounging around the house!
2. Dyson Cordless Vacuum
I am obsessed with my Dyson, and so is my husband! No more bending over to plug in the cord or having to constantly maneuver around it either with the Dyson V8 Cordless Vacuum! This Vacuum is something moms are definitely asking for this year!
3. A Keurig
Whether she's a coffee, tea, or seasonal hot cocoa drinker, moms everywhere are dying for a Keurig coffee maker! The Keurig K-Classic is the original best selling Keurig that brews 6oz, 8oz, and 10oz drinks. You cant go wrong gifting the mom in your life any Keurig machine!
4. Hair Styling Tools
Hair Styling tools, specifically this T3 Interchangeable Custom Blend Ceramic Three Barrel Professional Curling Iron Set is what mom wants this year! With all she does for us, we can splurge on something for her! This professional curling iron includes 3 different interchangeable barrel sizes making it 3 curling irons in one!
5. Personalized Jewelry
A thoughtful gift moms are asking for is personalized jewelry. Rings, bracelets, and necklaces with their kids initials, birthdates, or coordinates of a special location are all great ways to elevate your gift to make it extra special to a mom. This letter initial necklace on Amazon is a fan favorite!
6. Instant Pot
The Crockpot is a kitchen staple, but when you forget to put in the chicken at the beginning of the day, we all wish we had an Instant pot to speed up our favorite slow cooker meals! Mom might not ever need a new kitchen appliance with this Instant Pot Duo Crisp 11-in-1 Electric Pressure Cooker with Air Fryer Lid! This Instant Pot not only pressure cooks but it Air Frys, Roasts, Bakes, Dehydrates, Slow Cooks, is a Rice Cooker, Steamer, and can Sauté! It really can do it all! Mom deserves it!
7. Tumbler
As a mom you're always on the go, our drinks get cold, or ice melts as we attend to our kids so a tumbler is a great gift for moms. It will keep their drinks hot, cold, and are perfect to take on the go. This 30 oz Tumbler is a more affordable alternative to the Yeti tumbler that comes with a hot drink lid or lid with straw option!
8. Gold Hoops
A pair of gold hoop earrings are a closet staple right now, which is exactly why trendy moms wants some this year! These gold hoops are the exact size and style she's been eyeing!
9. Comfy Slippers
Mom may have a pair of slippers but she doesn't have these slippers! Keep mom's feet warm and comfy all year with a new pair of cozy fur slippers!
10. Mug Warmer
If we had a dollar for every time that a mom had to warm up her drink because she never got a chance to drink it hot, we'd be rich! Which is why mom needs this mug warmer to place her mug on until she's ready to drink it so it's hot right when she needs it! Warming her drink in only 2 minutes, this mug warmer is a mommy must have!
11. Nugget Ice Maker
This is one thing every mom has looked at longingly for herself but didn't pull the trigger on, which makes it the perfect gift to give! This countertop Nugget Ice Maker makes sure mom has nugget ice all day long for drinks or just to munch on, all without the Sonic Runs!
12. Wireless Headphones
Mama's gotta shut out the noise somehow! A pair of wireless headphones or earbuds are the perfect gift for listening to her favorite music or podcasts while at the gym or even just around the house!
13. Flutter Habit Lashes
Mom always wants to look and feel her best but paying for and maintaining eyelash extensions is tedious and expensive! That is why moms are asking for Flutter Habit lashes this year! They are so cheap and give the same look and low maintenance of eyelash extensions! Get her a box of lashes with some glue and she'll love you forever! Also get 10% your first purchase here.
14. The Short Years Baby Book
If your little one is still small The Short Years Baby Book is the ultimate gift for mom! Its a baby's first year (all the way up to 5 years) book that you create on your phone via their free app and they print and ship the pages to you! Its the best baby book ever! You can check out my detailed review here!
15. Active Wear
These ColorulKoala leggings are the best selling athletic leggings on Amazon we've all been loving! Perfect for working out or just lounging around the house! Cute active wear is a great gift for moms! Don't know exactly what to get, checkout my post on the best Amazon Activewear here!
16. Alexa
Give the gift of a smart home for mom by getting her an Amazon Alexa device! Whether you want to listen to music or podcasts while around the house, set timers while you cook, get quick answers to questions, control your smart home devices, and more, an Amazon Alexa device is what moms are actually asking for this year!
17. Soft Minky Couture Blanket
All mom wants is a Minky Couture blanket! These blankets are so so soft and perfect for snuggling up and getting cozy! They can get a little pricey which means she's been eyeing them for a while but hasn't pulled the trigger herself making them the perfect gift! These are exactly what moms are asking for this year!
18. Apple Watch
I can't even tell you how many friends of mine have been dying for an Apple Watch! Even those who don't think they'll use it that much end up loving it and can no longer live without it! It's great for working out, finding your phone, setting timers, calls, messages and more! Get one for the mom in your life!
19. Candles
Every mom wants a delicious smelling candle. Specifically a Bath and Body Works candle! The great thing is you can add an extra personal element to this gift by sharing your own favorite smells with her! If you don't know what smell t get, Champagne Toast is all the rage right now!
20. Lash Lengthening Serum
Us moms just want to look great but have very limited time to actually get ready. Which is exactly why we gravitate towards anything that is low maintenance! This My Runway Eyes Lash Lengthening Serum makes getting ready a breeze! With the super long lashes this serum gives you, all she needs is a swipe of mascara to look all put together! See my full review here!
21. Luggage
Luggage bags get thrashed! And since she's been using the same almost broken bags for the best decade, a brand new luggage set is exactly what she wants! Amazon sells this set in 24 different colors too!
22. Home Decor
A new picture frame, mirror, or decor peice is a great gift for mom! If you know she's been eyeing something, now's the time to snag it! However, If you don't know exactly what she wants, a gift card to her favorite home decor store is the way to go! Nothing is worse then receiving a decor piece you hate and now have to display it out of obligation! Don't be that person! Or just include a gift receipt, this bestselling decor rope is a great decor addition to any home!
23. A Photo Book
If you really want to get the water works going, creating a photo book on Chatbooks or Shutterfly is the way to go! A book full of the memories you share is a wonderful keepsake she'll treasure for years to come! Also, Groupon often has a coupon for a 20 page Shutterfly photo book for only $5 so it's a meaningful and cheap option too!
24. Wet Brush
With the crazy hormones of pregnancy, giving birth, or even just getting older, our hair breaks, falls out, and is overall just more fragile than it used to be! A Wet brush detangling brush keeps our hair from breakage that happens during regular brushing! Helping to keep our har longer and fuller which is exactly why moms are asking for it this year!
25. Books, Planners, & Journals
What girl isn't obsessed with books, planners, notebooks, and journals? Mom is too! A good book or this Ultimate Mom Planner is right up her alley! Head to Amazon or a good TJMaxx to find notebooks and pens she'll love!
Final Thoughts
Shopping for gifts for mom can be stressful but giving any of these 25 unique gifts are sure to be a hit! Which one would you like to receive?
Bookmark this post so you can come back to it all year for different gift ideas for mom that she'll love. Or Pin it to your favorite Pinterest board so you can easily come back to it!
Happy gifting! Not looking for mom? Be sure to check out 11 perfect gifts for her here!