This post may contain affiliate links. That means we may make a small commission on items purchased through links in this post at no extra cost to you!
I love jewelry, especially rings and simple necklaces! However, after I wear them, I tend to throw them on my desk in my room, and often accidentally roll off to the oblivion of my carpet! If you've ever dropped a small stud into your carpet you know the feeling.
At the same time, I hate storing my jewelry in a box where it tangles or really just requires me to open and close something. Is that lazy? Well, I found a solution, a jewelry dish! So I made two for under $3 worth of supplies!
The best part is you can throw your jewelry right on it without them rolling away! Then when you are ready to wear it again, simply grab and go! So now my desk is looking extra adorable and my jewelry is no longer getting lost or tangled! I think that's a win for all of us.
I decided to make two dishes in a black and white grid pattern and a blue agate pattern both with a metallic gold rim! Which one is your favorite? I really can't decide!
[themify_icon icon="fa-arrow-down" link="http://"] Pin it! [themify_icon icon="fa-arrow-down" link="http://"]
Here's What You'll Need:
Supplies:
Air Dry Modeling Clay (My husband had a 10lb block from Hobby Lobby, but you don't need that much! I used about 2.5 oz for each bowl)
Oil Spray (Pam- to keep it from sticking to table and rolling pin)
Acrylic paint (white, black, deep blue)
Metallic acrylic paint (Joanns or Michaels- Martha Stewart Multi-surface metallic acrylic craft paint in gold)
Dental floss (to create grid pattern)
Tools:
Step 1
Taking a small block of clay, depending on how large you want your end dish to be, roll it out until you get it about 1/4″ thick. I used a greased soda can because my clay was sticking to the pin.
Step 2
Using a salsa bowl, Press a circle shape into your clay. For the Agate shape don't shape your clay using this method. Simply roll out the clay until it is the size you want to a circular shape.
Step 3
Fill the bowl back over and place your clay inside to form the bowl shape. Leave to harden, I left mine overnight. 

Done! Time to Decorate!
Grid pattern:
Step 1
Because my clay isn't white I painted a layer of white acrylic on the base. The paint dries fairly quickly on the cool clay.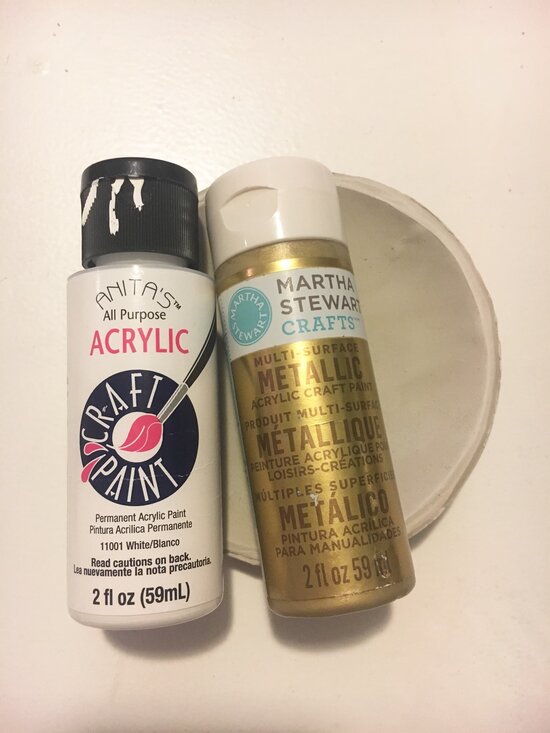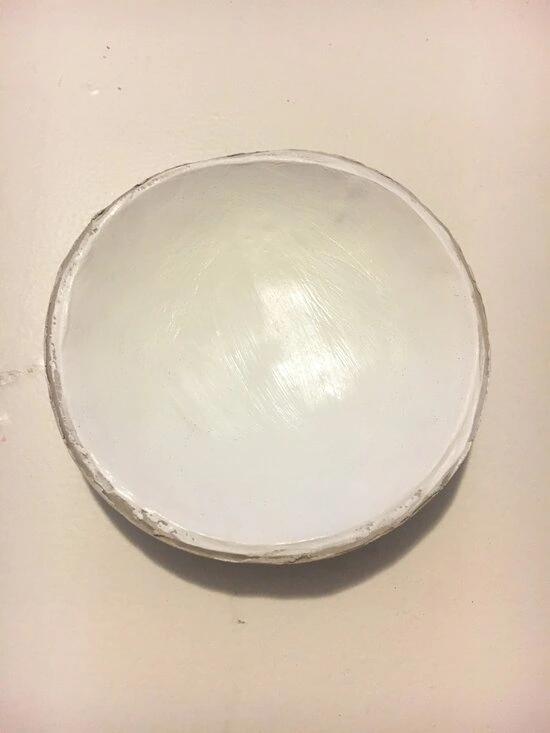 Step 2
I did paint the gold rim but I had to repaint it after the black grid was painted to I move the gold rim to step three!
Using dental floss or just a paint brush, I slid my floss in the black acrylic paint then simply touched it to make my grid lines straight and even!
Step 3
Using Martha Stewart's multi-surface metallic acrylic craft paint in color Gold, paint the rim.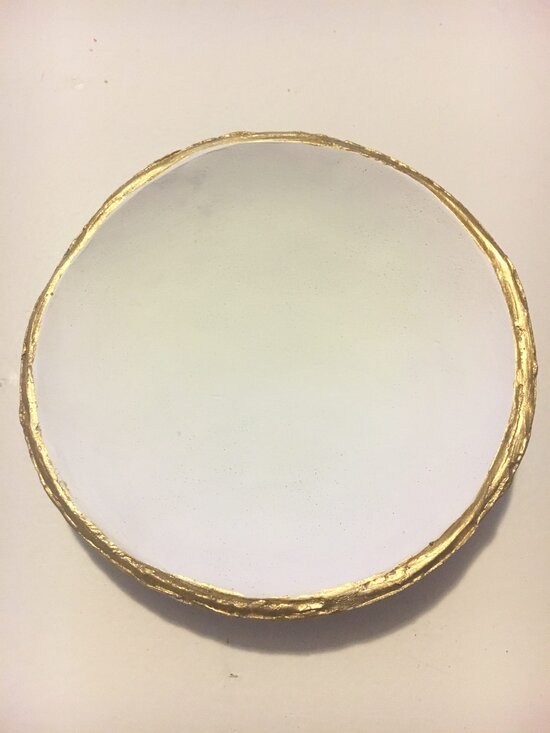 Done
Agate Pattern
Use step 1 and step 3 from grid pattern! 
Step 2
Using a small flat brush, dab a rim of deep blue acrylic paint around the edge of the bowl, then continue with a short row of black!
Done
These bowls were so cheap to make and so fun to paint! I debated whether or not I should make one for every friend I have! They are perfect to amp up your vanity and gives you an easy way to store your jewelry and keep it on hand at the same time! How many will you make? Share your DIY on Social media and use #LifeonWallerDIY [themify_icon icon="fa-heart-o" link="http://"] Cassie Jean