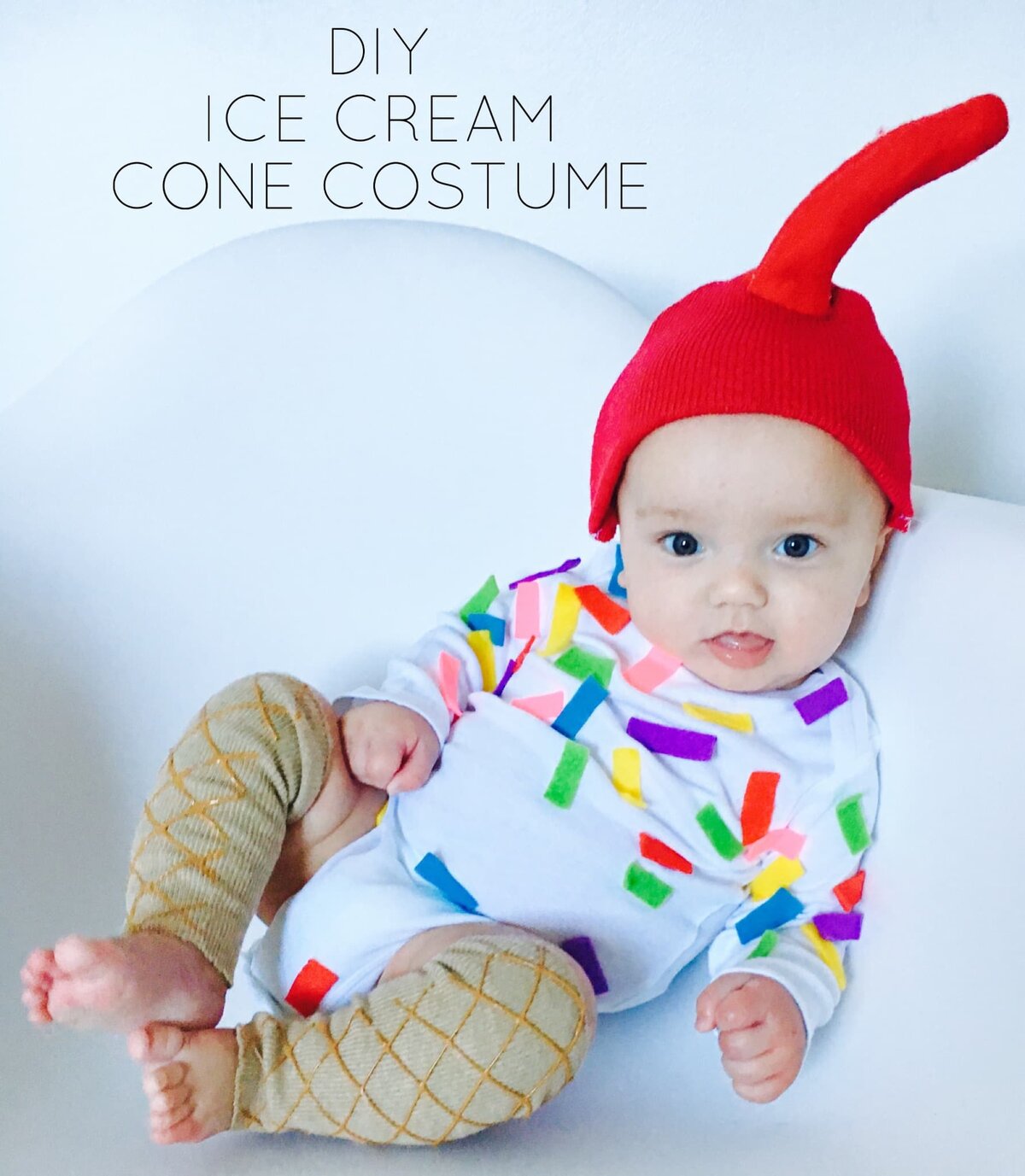 DIY Ice Cream Cone Costume
This post may contain affiliate links. That means we may make a small commission on items purchased through links in this post at no extra cost to you!
Hey everyone! Don't you just love this little ice cream cone? I sure do! What better costume for your sweetie than this sweet treat? Jamie and I had lots of fun coming up with the costume ideas for this week, and I have to say I think this one is my favorite!
Every year so far as October rolls around and Halloween creeps closer, Brian and I always brain storm about amazing and brilliant Halloween costumes. Unfortunately all they ever pan out to are ideas because we never seem to be able to choose the PERFECT one, so we end up scrambling on the morning of Halloween for just ANY costume. As a result, and this being my first Halloween with Jamie, I was determined to get him an awesome costume! This weeks posts are what I came up with, and I am loving them all! Brian and I may end up dressing as ourselves, but at least Jamie will look adorable!
Today Jamie is doing better but still had his rash a little on his face and neck. Just a few days ago I thought it was almost totally gone but today I realize it isn't. It's still itchy and ouchy looking but I'm hoping that with time it will go away and never come back! Lets cross our fingers shall we?
As for our adventures here in Kentucky, yesterday the fam and I went up to Cincinnati for a Red's game! We had a blast! None of us had been to Cincinnati, or even Ohio, so it was fun to head up there and see the sights. Brian and I lived our whole lives out west, so we plan on taking advantage of our south-eastern location out here while we can. Any way, let's dig in to some ice cream!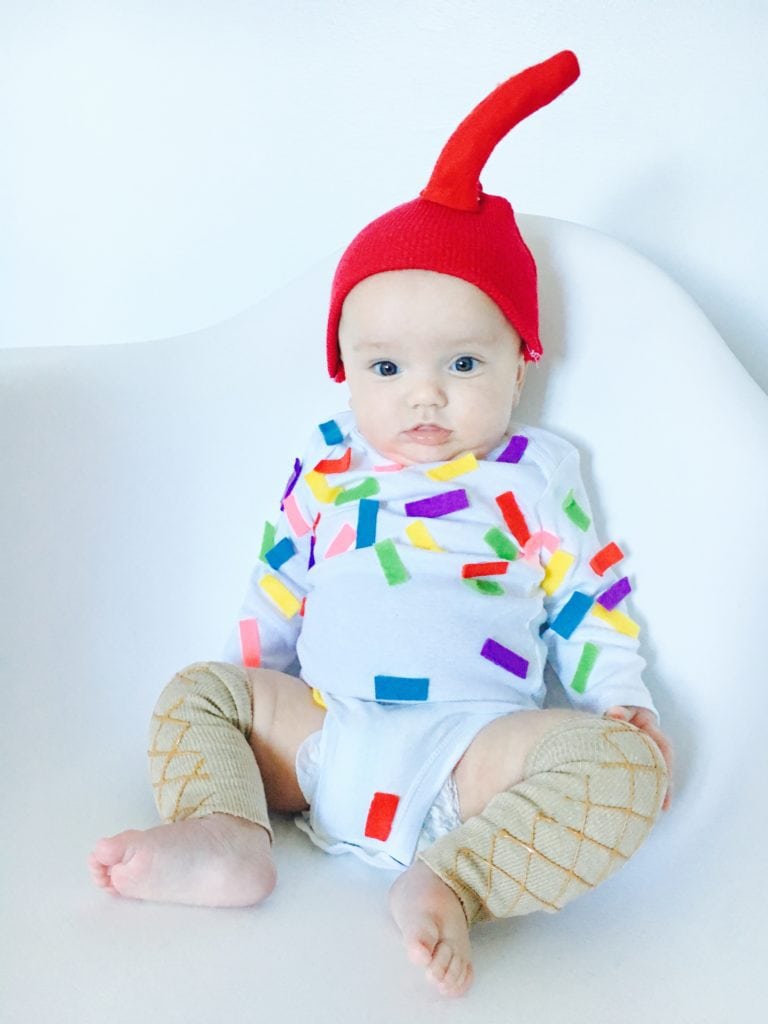 Here's What You'll Need:
1 White onesie
1 Red beanie
1 Pair of long tan socks
Scissors
Glue gun and glue sticks
Puff Paint in color "Camel"
6 Colors of felt

Make sure the red one is the thicker type of felt.

Sewing Machine
I purchased the puff paint $2 and felt .33 cents each with the thicker red one costing .79 cents at Hobby Lobby then I bought the socks for $1, beanie for $2 and the onesie in a three pack for a cost of about $2.30 each all at Walmart.
Start by taking your thicker red felt and fold it in half. 
Cut out a curved strip, and sew around the edges leaving the bottom open. 
Using a pencil flip it inside out. This will be your cherry stem! Next Take your red beanie and flip it inside out. 
Sorry I forgot to take pictures with my red hat, but heres the same step with a yellow one from my DIY pineapple costume! Sew it on one side making it about 2 inches smaller using a zig zag stick to allow it to still stretch without ripping the seam. Cut off the excess. 
Using a hot glue gun, glue your stem onto the front of your beanie. Place a glob of glue on your hat and press it onto the inside of the cherry step so you don't see any glue.
Yay! Now your cherry hat is all done! Move onto your felt, including the rest of the red felt used for the cherry stem. Cut out your sprinkles using your scissors, or a rotary cutter works best. I cut mine aprox. 1 1/2″ x 1/2″. You won't need to cut out the whole sheet of each color, in fact I ended up using about an 10th of each sheet. 
Using your hot glue gun again, glue your sprinkles onto the front of the onesie. I liked to use more at the top then progressively less as I went down. 
Move on to your waffle cone leg warmers. Take your long tan socks and cut them just above the ankle.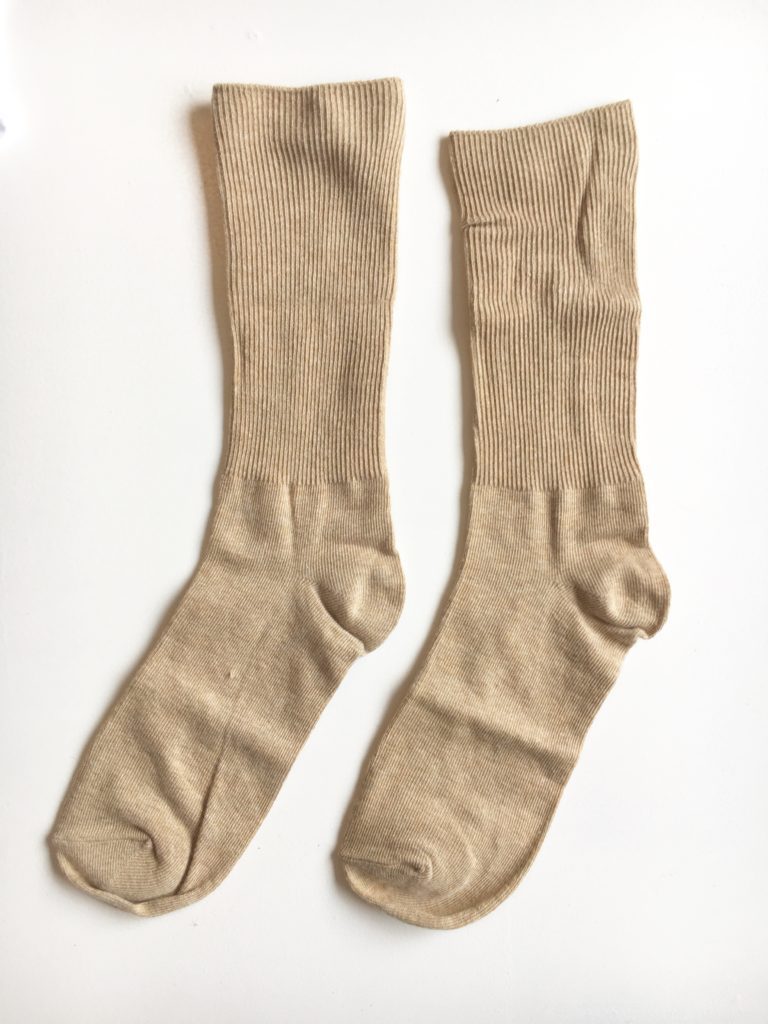 Using your Puff paint, draw diagonal lines across both of the socks. Allow this to dry, I left mine about 4 hours.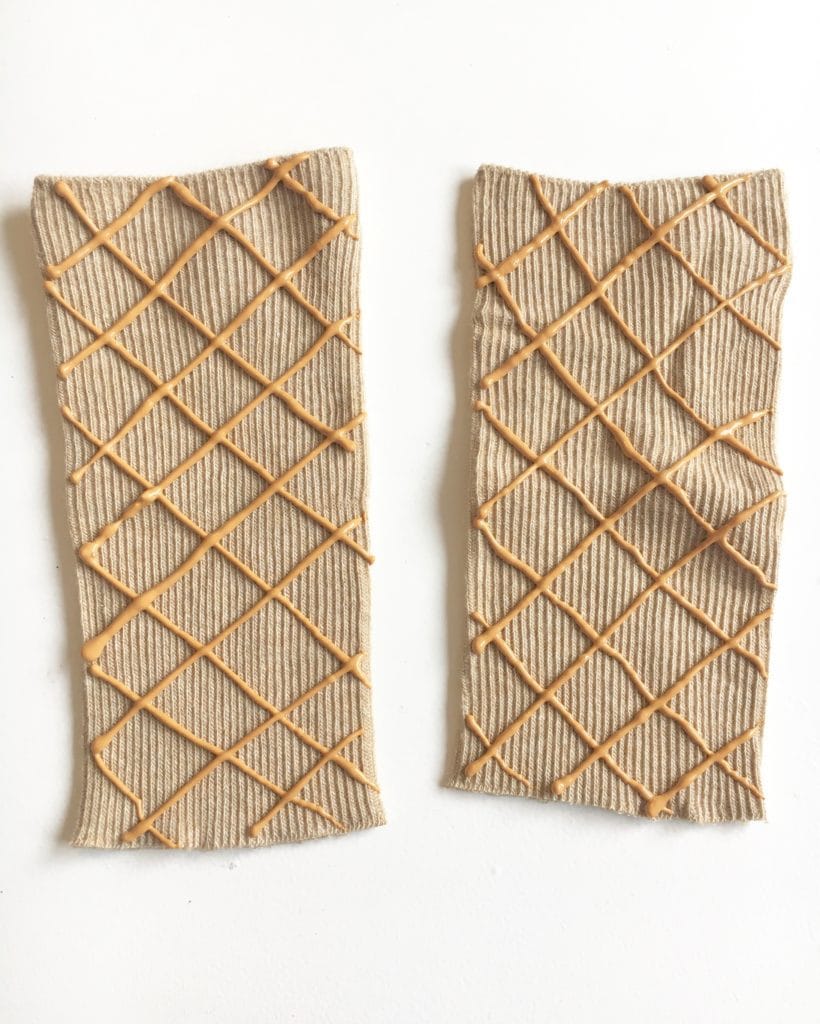 Put all your pieces together and your little one is ready for Halloween as this sweet treat! This little outfit is so adorable, and will keep your ice cream cone warm during a cool Halloween night! Have fun, and Happy October! If you liked this post, don't forget to pin it, comment, and share!  [themify_icon icon="fa-heart-o" link="http://"] Cassie Jean