The Best DIY Velcro Chore Chart for Kids + Lists of Chores for Every Age!
This post may contain affiliate links. That means we may make a small commission on items purchased through links in this post at no extra cost to you!
Kids of all ages can benefit from learning how to be more responsible and independent. These are skills that will help them in school, at home, and later in life. One way to do that is by having regular chores for them to do and track with a chore chart.
In this post, I'll show you exactly how to make a velcro chore chart for kids, along with a link to the free printable chore chart template I use, and lists of chores for kids of all ages. Let's get to it!
**Update! I've updated my chore charts to include morning and bedtime routines, daily chores, and now weekend chores on the back! See My new templates and video below!
What is a chore chart?
A chore chart is simply a list of chores, tasks, or duties for each kid that needs to be done and when they need to be done by. It can be used for kids of all ages, even toddlers!
In my house, my kids use a velcro chore chart to track their daily chores and weekly chores. I have found that this system works well for my kids because they are able to see exactly what needs to be done, (even if they can't read!) and it helps make the whole process more fun.
My 3 and 5-year-old love doing their chores and carrying around their chore charts. My 18-month-old even walks around with them doing the chores too. Recently he's been trying to take the other boy's velcro chore charts so it may be time to make one for him too!
Are chore charts a good idea?
My husband and I had this discussion a while back when we were still deciding on whether or not we wanted to have actually assigned chores for our kids.
We were hesitant about a chore chart at first because we didn't want our kids to feel like they owed us labor. We did, however, want to teach them how to be responsible and independent.
For us growing up, the majority of our chores felt like busywork. A kind of "I know you didn't choose to be born, but now you have to earn your stay" kind of work.
Simply forced to do a bunch of busywork to make our parents feel like we deserved the bed we slept in and the food we ate. It wasn't important what work we were doing, just that we were working.
We didn't want our kids to feel like that. We also didn't want them to turn out to be spoiled or entitled.
It wasn't until we changed our thinking from simply creating a list of work for our kids to do in an attempt to make them "grateful", to creating a list of skills that our kids need to have to become responsible and independent adults that we love the idea of a chore chart.
It was really that mindset shift that changed everything for us and our kids! I don't have to fight my kids to do their chores because they understand why they are doing them and feel proud of themselves when they do them. They even help out randomly around the house more too.
The intent is not to earn their stay, it's to learn skills they need to be successful humans. Which is a much better way to motivate kids.
All this to say, giving kids chores and chore charts can be a great thing! Having chore charts is a great way to teach your child the value of hard work, taking pride in their accomplishments, improve self esteem, responsibility, and independence. Plus it helps them to feel more confident in their abilities too.
Need chore chart ideas? It doesn't have to be complicated or expensive either! A simple velcro chore chart will do the trick and is perfect for toddlers. Here's how to make one:
How to Make a Chore Chart for Kids: DIY Velcro Chore Chart
What You'll Need:
Step 1: Print the Free Printable Chore Charts sheet and Mini Chore Pictures.
Once you have all your supplies, the first step to creating this DIY velcro chore chart is to customize and print my free printable chore chart template along with the mini chore pictures.
Get access to both templates here.
To edit the template and pictures, you'll need a free Canva account. Or if you'd prefer to just print my generic "Chore Chart" sheet you can download that here.
How to customize the free printable Chore Chart template and chore pictures [Video Tutorial]
Watch the video to learn how to customize my chore chart template and create your own mini chore pictures.
[adthrive-in-post-video-player video-id="jJJu9rA3″ upload-date="2022-03-29T20:26:55.000Z" name="How To Customize My Chore Chart Templates" description="" player-type="default" override-embed="default"]
Step 2: Slide Chore Chart Sheet into the Dry Erase Pocket or Sheet protector.
After everything is printed, simply slide the chore chart sheet into the dry erase pocket (I used these ones!) or a sheet protector works great too!
This will just help them last a little longer and be a little more durable. I don't have a laminator so I've got to be creative! However, you can also just laminate the chore chart sheet if you have access to one.
Step 3: Cut out The Mini Chore Pictures and "Laminate them" with Packing tape.
Next, take your mini chore pictures and cut them out. The packing tape I used is 1.88 inches wide so I suggest cutting them into squares that are just shorter than that.
Once all of the chore pictures are cut out, use two pieces of clear packing tape to "laminate" them by sandwiching the picture between the tape. Place one piece of tape on top, then another on the back.
I also trimmed the sides of the tape so they weren't super long.
Step 4: Add Velcro Dots/Squares to the Dry Erase Pocket and the Mini Chore pictures.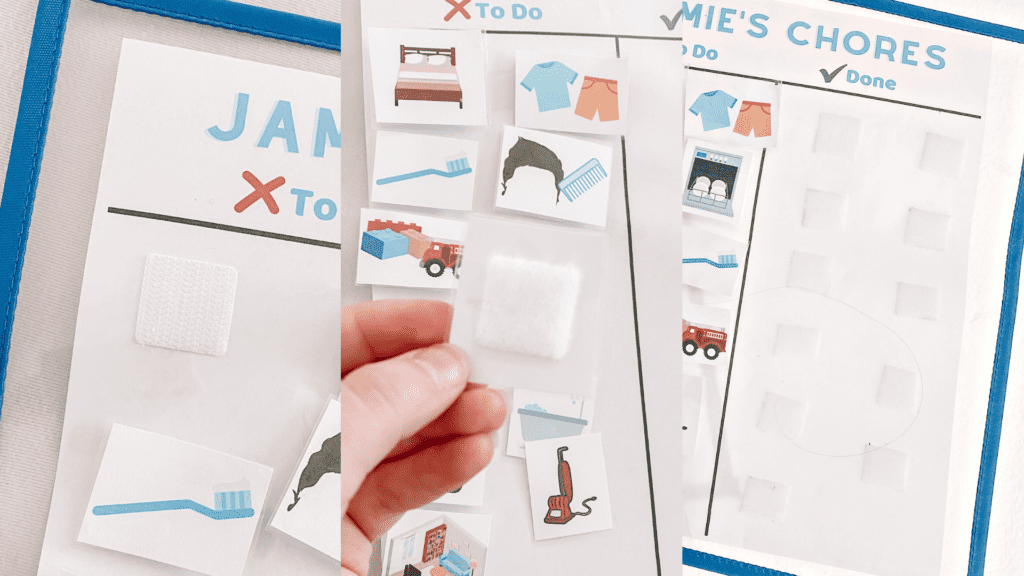 Next, take your velcro dots or squares and paste them to the dry erase pocket and the back of the mini chore pictures.
You'll need twice as many hook sides of the velcro so you have enough for the to-do side of the chore chart and the done. While the soft sides only need to go on the pictures.
If you opted for the square velcro, you can simply cut the hook side in half to do this, or you can buy extra velcro sheets.
Step 5: Stick your chore pictures on and hang!
Finally, stick all the chores onto the to-do side and the DIY velcro chore charts are done!
You can hang them on the fridge with magnets or I use a paper clip to hang them on command hooks. Then in the morning, I hand them to the boys and tell them it's time for chores!
Done!
These velcro chore charts for kids are the best chore charts especially for toddlers and younger kids because they are super durable (yes, even the little pictures hold up to teething babies!) and your kids who can't yet read can use them.
So if you have young kids, I definitely recommend these chore charts. Another great thing is you can easily switch up chores by simply printing new chore pictures.
Tip: Use One Side for a Daily Chore Chart, and The Back For a Weekly Chore Chart
Simply print another chore chart sheet and put it in the pocket back to back with the other chore sheet. Make chore pictures for your weekly household chores and attach the velcro.
Then when the time comes for your kids to do their weekly chores, simply flip the chart around and it's now their weekly chore chart!
Or you can just make more chore pictures for your weekly chores and store them in the pocket, and add them on with the daily chores when the time comes to do the kid's weekly responsibilities.
What should be on a chore chart?
Again, for me and my husband, we really didn't want to just bombard our kids with busy work for the sake of working. We wanted to give them chores that would help them learn responsibility and independence while also including things that help the family.
So think about what skills your kids need to learn how to do on their own. For starters things like:
Make their bed
Brush teeth
Do their hair
Get dressed
Clean up after themselves
Keep their rooms tidy
Are great chores to have on the list especially for your youngest kids. These are things that we even have our 18 month old do. Mom and dad help him with all the tasks but he does his best first.
For example, he'll brush his teeth, then mom gets a turn to actually brush them. Or Mom will hand him the corners of his comforter and tell him where to put them to make his bed. He pulls them to the spot mom pointed out and tries to straighten it the best he can. It's a little messy but he did it!
And over time he's getting better and better at these tasks. Now our 5 year old is expected to actually make his entire bed on his own and do a pretty good job of it. And our toddler is well on his way! All thanks to these chore charts.
Then after the essentials, include other tasks like:
Vacuuming
Wiping down surfaces
Dusting
Taking out the trash/recycling
Washing dishes (if you don't have a dishwasher)
Folding and putting away laundry
Feeding pets
or Doing yard work
Obviously the older the kids, the more complicated the chore. But it's a great way to give kids a sense of accomplishment and responsibility.
And don't forget to have fun with it! Let your kids help design their own chore charts and come up with creative names for their chores. Ours are things like "trash patrol" or "kitty helper".
What's a good chore list?
A good chore list is one that includes tasks that are developmentally appropriate for your child's age and abilities. These age appropriate chores should also include tasks that are necessary for the upkeep of your home.
For example, a toddler is not going to be able to do laundry or vacuum the floors. But they can help with simple things like making their bed or wiping down surfaces. While older kids can handle more responsibility.
For our three kids aged 5, 3, and 18 months, they have their own chore chart and this is what their chore lists look like.
Jamie (5) Daily Chores:
Make Bed
Get Dressed
Do hair
Brush Teeth
Put clothes in the hamper
Pick up room
Put away dishes
Open all blinds
Take out trash
Help Clean the playroom
Vacuum his room (weekly)
Bathe (weekly)
Clean his bathroom with help (weekly)
Mickey (3) Daily Chores:
Make bed
Get Dressed (mom helps)
Do hair (mom helps)
Brush Teeth
Put clothes in hamper
Pick up room
Pick up all pillows in Livingroom
Shut all Blinds at night
Wipe down table
Help Clean Play Room
Put all shoes on the shoe racks (weekly)
Bathe (weekly)
Wipe down front door window (weekly)
Kobe (18 mo) Daily Chores:
Make bed (mom helps)
Get Dressed (mom helps)
Do hair (mom helps)
Brush Teeth (mom helps)
Put clothes in hamper
Help Pick up room
Water plants
Help Clean play room
Help clean sliding glass door (weekly)
bathe (weekly)
He also helps bring in groceries, put clothes from the washer into the dryer, grab diapers, and throw them away.
Don't overload your kids with a laundry list of things to do everyday. Just pick a few tasks that are developmentally appropriate and necessary. You can always add more as they get older and are able to handle more responsibility.
Still can't think of what to put on your chore charts? Need more chore ideas of age appropriate tasks? Here's a list of age appropriate chores for every age!
List of Age Appropriate Chores for Kids
Chores for Toddlers (Kids Ages Less Than 2):
Help bring in groceries
Help put away toys
Put dirty clothes in the hamper
Wipe up spills with a towel
Dust with a soft cloth
Feed pet
Grab things for siblings (grab a diaper or binky for baby)
Wate plants (with help)
Chores for Kids aged 2-4:
Everything above plus:
Open shutter blinds
Wipe down surfaces with a soft cloth
Help make meals
Pick up throw pillows
Push in/straighten chairs
Empty small wastebaskets
Fold and put away laundry (with help)
Wash and dry plastic dishes by hand (with help)
Set the table
Get the mail
Wipe sliding glass door
Chores for Kids aged 5-8:
Everything above plus:
Make their bed by themselves
Clean and put away dishes (with help)
Vacuum
Pull weeds with supervision
Clear dinner table
Bring garbage bins to the street (with help)
Clean room themsleves
Rake leaves
sweep porch
Put groceries away
Load dishwasher
Match socks
Do homework
Chores for Kids aged 9-13:
Everything above plus:
Sweep floors
Mop floors
Fold and put away laundry by themselves
Wash car with supervision
Do yard work
Babysit younger siblings (with help)
Cook simple meals
Walk dog
sweep out garage
Clean mirrors
Clean toilets
Change lightbulbs
Chores for Teens 14+:
Everything above plus:
Do laundry by themselves
Clean bathrooms
Cook dinner
Babysit
Mow the lawn
Wash the car
Do complex yard work
Have a part-time job (if allowed by state laws)"'
Iron Clothes
Deep clean kitchen
Essentially anything an adult can do!
DIY Velcro Chore Chart Final thoughts
Making chore charts is a great way to help children learn the value of responsibility at an early age. By giving the family chores and specific tasks to complete each day, you can help them develop a sense of accomplishment and a sense of duty.
Chores teach important life skills, and it's a great way to get the whole family involved in pitching in around the house!
If you're looking for a more chore chart ideas, consider making a DIY Velcro chore chart. These are easy to make and allow you to customize the chores for your specific family. Plus, they're just plain fun to make!
What are your thoughts? Do you use a chore chart in your home? What tips do you have for making it successful? Share your thoughts in the comments below!
Want to remember this post? Pin it to your favorite Pinterest board!