Cirkul's Wild Splash Flavored Water Bottle Review: Hydration Meets Fun for Kids
This post may contain affiliate links. That means we may make a small commission on items purchased through links in this post at no extra cost to you!
With four boys to look after, you can imagine how keeping them hydrated can be quite a task. So I decided to try Cirkul's Wild Splash flavored water bottle cartridges for kids!
Cirkul's Innovative Flavored Water Cartridge
First, let's dive right into what makes Cirkul so unique. It's all about their innovative Sip® Cartridges where you can switch from plain water to your favorite flavors with a simple twist of a dial.
Cirkul's bottles are designed to be versatile, catering to both adults and kids. But I had the opportunity to try out their kid's line Wild Splash! Here are some standout features that caught my attention:
Lots of Options: While I tried the Kid's flavors, I loved that Cirkul is making hydration enjoyable for everyone in the family. Whether you're into refreshing fruity blends or rich coffees and teas, Cirkul's has flavors for everyone.
Healthy and Guilt-free: No added colors or dyes. It's all about natural flavors that are delicious and guilt-free.
Zero Calories, No Sugar: Say goodbye to sugary drinks. Cirkul's Wild Splash line offers hydration with zero calories and no added sugar.
Intuitive Design: The easier it is to drink water, the more you'll drink – and that's precisely what Cirkul's design aims for. It's user-friendly and doesn't require any fancy maneuvers to enjoy your flavored water. Did I mention the lid also doesn't leak when it's knocked over or tipped upside down? That's a big win for me!
Customizable Flavor: Everyone has their preference when it comes to flavor intensity. So being able to dial up or down the flavor strength was a great touch!
Convenience On-the-Go: Life gets busy, and that's why I appreciate the convenience of Cirkul. All you need to do is add water, turn the dial, and you've got six fill-ups of your favorite flavor ready to go. So it's more than a one-time use!
Affordable Hydration: As I mentioned before, Cirkul Sip® cartridges provide about six fill-ups on a medium setting making them convenient and more affordable.
Eco-Friendly: As an added bonus I appreciated that Cirkul is mindful of the environment. Their systens use 84% less plastic, and there's a significant reduction in carbon emissions from shipping compared to traditional bottled beverages.
How to Use Cirkul's Sip® Cartridges:
To get started with Cirkul, you only need three things:
It's a breeze to set up. Fill the bottle with drinking water, attach the lid, insert the flavor cartridge, and turn it to lock it in place.
Adjust the flavor strength with the dial – they suggest starting at level 3. Then the flip cap keeps the spout out of the way as you sip. Just turn the dial for less or more flavor!
Wild Splash: A Kid's Dream Come True
Now let's look at the Wild Splash line which is Cirkul's flavors made specifically for kids.
If you've got kids like I do, you'll know that getting them to just drink water can sometimes feel like a big task. But Wild Splash by Cirkul has been a big help!
Here are some of the main features:
No Sugar, No Artificial Colors: As parents, we're always on the lookout for healthier options for our kids.
Wild Splash is sweetened with stevia, which means no added sugar. Plus, there are no artificial colors or dyes.
It's the kind of choice that makes my parenting heart happy!
Plus, there are six fantastic flavors to choose from:
Parrot Punch
Bear Berry
Alligator Apple (my personal favorite!)
Gecko Grape
Lion Lemon Lime
Shark Strawberry
I've tried all of these with my boys, and they've got their personal favorites, of course. But what's great is that Cirkul's bottles allow you to switch between these flavors easily.
Plus, they stay hydrated, and I'm not constantly worried about their sugar intake.
Is Cirkul Worth it?
As a mom of four boys, we have been using Cirkul's flavor cartridges for soccer practice, gymnastics, at school, and for the park!
The park specifically has been our favorite place to use it!
I can just bring one big water for all of them instead of bringing 4 water bottles. And when it runs out, we just refill it at the water fountain and we still have flavored water!
I've also been using it for my oldest's soccer games for my younger three boys to share and they love it!
Just the fact that I don't have to wrestle them to drink water, and know that they aren't just drinking a bunch of sugar has been so nice!
My kids love the flavors and I feel good about giving it to them. Plus, the eco-conscious approach of Cirkul's bottles is a cherry on top!
So, when it comes to the question of whether Cirkul's flavored water line for kids is worth the hype, my resounding answer is yes!
It's about more than just hydration; it's about making it enjoyable and guilt-free. It's about making life as a parent a little easier and a lot more fun.
Conclusion:
Give Wild Splash a try, and you'll likely find that it lives up to its reputation. Here's to healthier, happier kids and a parenting journey made a touch smoother and a lot more flavorful!
Want to remember this post? Pin it to your favorite Pinterest board!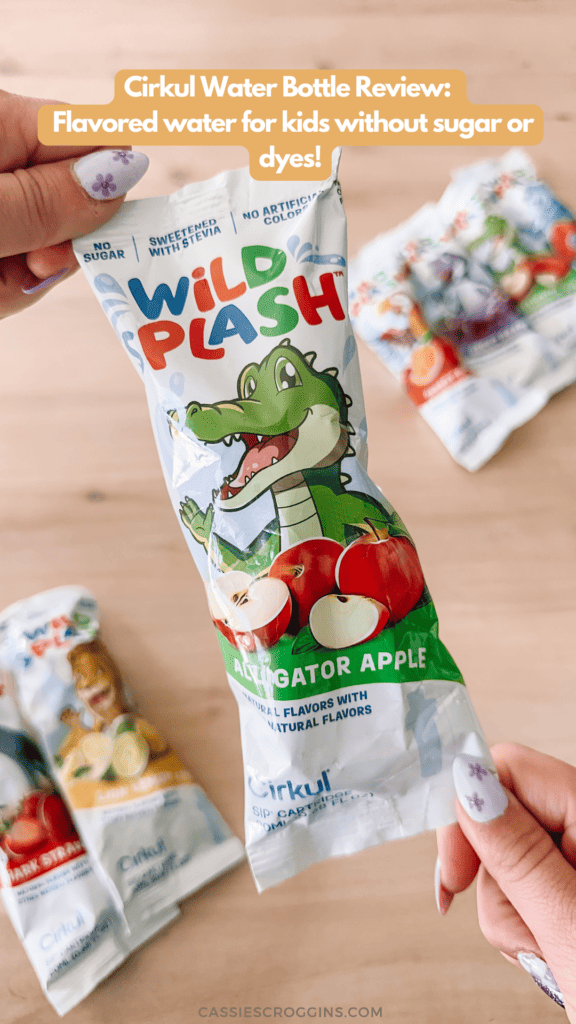 *Thanks to Cirkul for sponsoring this post! I only ever recommend products I actually use and like.