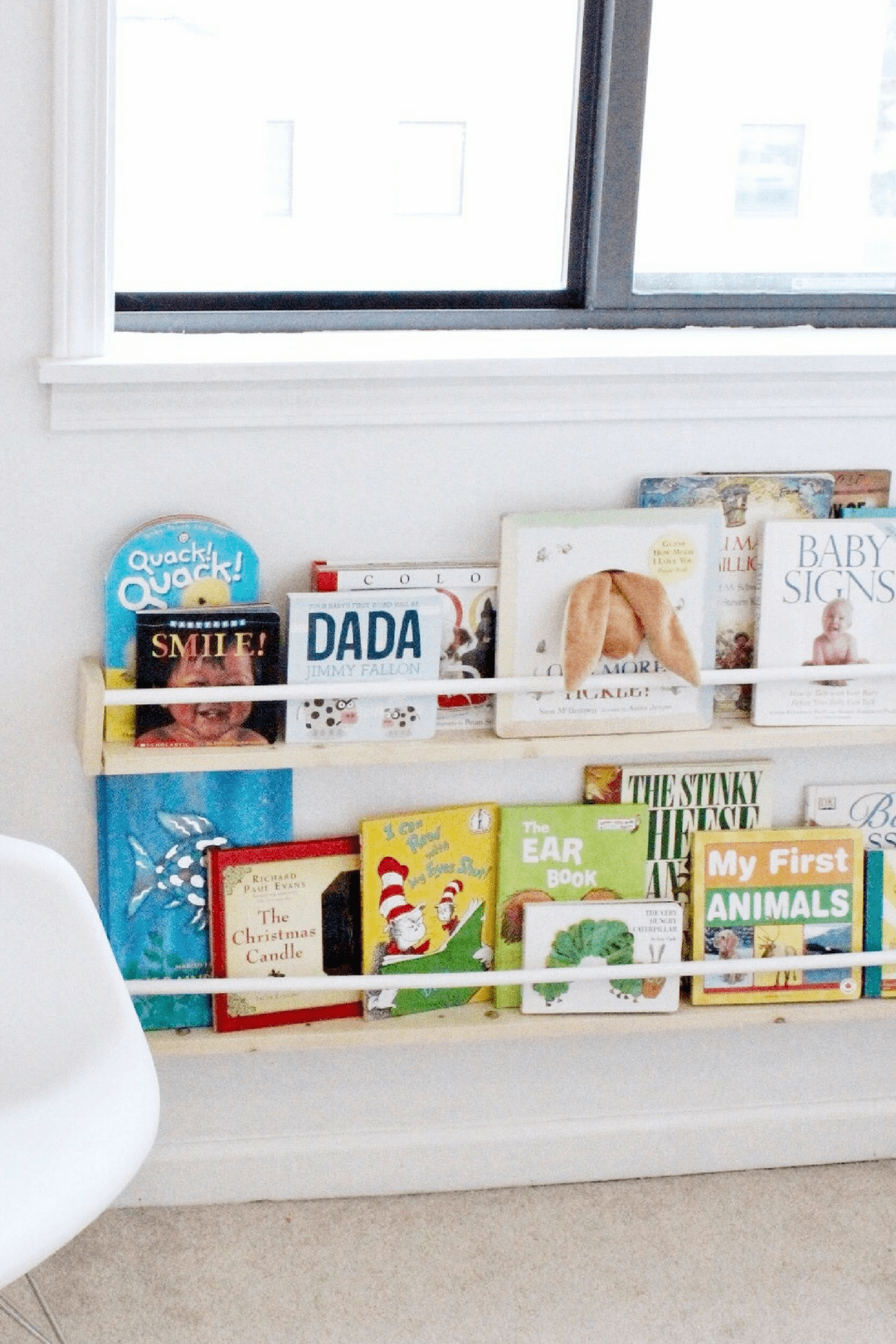 This post may contain affiliate links. That means we may make a small commission on items purchased through links in this post at no extra cost to you!
When you're in school with a small family, you don't have hundreds of dollars to throw into your dream nursery for your baby! But you don't have to sacrifice style just because you have a small budget!
In Jamie's room, I wasn't sure what to put in this space under his window because his closet is right up next to this space and the doors fold out. So putting furniture up against this wall would mean we couldn't open that side of the closet!
Then I came up with the idea of DIYing some display bookshelves! I had seen this style of bookshelves on Pinterest, most of them from Ikea, but I knew I could make them for even cheaper than Ikea!
I love the display bookshelf style because:
They fill wall space without taking up much outward room space.
They can hold a lot of books, but still look full with only a few!
They are perfect for lower wall spaces you just don't know what to do with!
The books are easy to reach and pull out!
They look great and add personality to the room!
They are cheap and easy to make! (you only need a drill and hammer!)
Jamie just loves books and he has a bunch so I knew that these bookshelves would be cheap to make, look great, and make plenty of storage for his books in a place that he would be able to reach all by himself.
Here's What You'll Need:
Supplies for 4ft bookshelves (see 3ft option below!):
Tools:
3ft Bookshelves!
If you want a shorter version! You need the same supplies and tools except you only need only one 1x4x8 wood plank and two 1/2″ x 36″ round wood dowels (they are the same just shorter). (Saves you about $3) Cut from your one plank, two 35″ planks and four 4″ blocks. Continue with the same instructions as the 48″ bookshelves below! 
*Make sure to personally pick your wood boards to find the ones that are straight with a good clean cut! Not warped and splitting!
Step 1
Once you have selected your boards you are going to need to cut them! Home Depot will do this for you!
(only for 4ft bookshelves) Cut one plank to make two 47″ planks, then cut the other to make four 4″ planks and you'll have 80″ of scrap wood left over. Use only 1 wood board by building the 3ft bookshelves!
Step 2
Sand dowel all the edges of the wood to make it smooth! We don't want any splinters!
Step 3
Now that your planks are cut, it's time to paint! I wanted to leave my wood natural and only paint the dowels white. I used a simple white acrylic craft paint from Hobby Lobby. Painted the dowels and let them dry.
Step 4
Next, I took my end pieces of wood and used my 5/8 wood boring drill bit to make holes for my dowels to fit in about 1/4 – 1/2″ deep. As you can tell I had to re-drill them a few times to get the correct positioning! That positioning is two of your end pieces should be drilled on the left top corner with the bit tip 3/4" down and 1/2" in away from the edge. While the other two need to be drilled in the right top corner at the same measurements!
Step 5
Assembly time! Now all my pieces are ready to be assembled! I took my long pieces of wood (the bottoms of the bookshelves) and attached the corner braces to the bottom using my 1/2″ screws.
Step 6
I then attached my left end of the bookshelf using the finishing nails. I first tried screws but I didn't have any thin enough that wouldn't crack the wood and 6 finishing nails held just as well without splitting!
Step 7
Next, add some wood glue if you want ( I didn't) into the hole of the end you just attached, and place one end of the dowel inside. Then add some wood glue to the other end (I just held it in place), place the other end of the dowel inside and attach the end to the bottom of the shelf with nails just like you did for the left, sandwiching the dowel in the middle.
Step 8
Now assemble the other shelf the same way and attach to your wall with your remaining screws!   Use your tall books to measure how far apart your shelves should be!
Done!
Gather up your little's books and enjoy some reading time! You can even add a little rug with some comfy pillows to create a whole reading nook! You can also fill the shelves with toys or other decorations!
Let me know what other projects you want to see!
Pin it!