This post may contain affiliate links. That means we may make a small commission on items purchased through links in this post at no extra cost to you!
Hey there all you fellow design enthusiasts! You've just fallen in love with some beautiful wood floating shelves probably from West Elm. Continued to check out only to find out they are $150+. You then have to debate whether you can sacrifice your soul for them. For those of you who, like the rest of us, don't have $150+ to spend on shelves, you're in the right place! Instead of $150+ for one 4ft shelf, I'll show you how, under $40 you can build two 5ft faux floating shelves (or shorter if you'd like) and no one will know the difference! No heavy-duty tools needed; only a drill.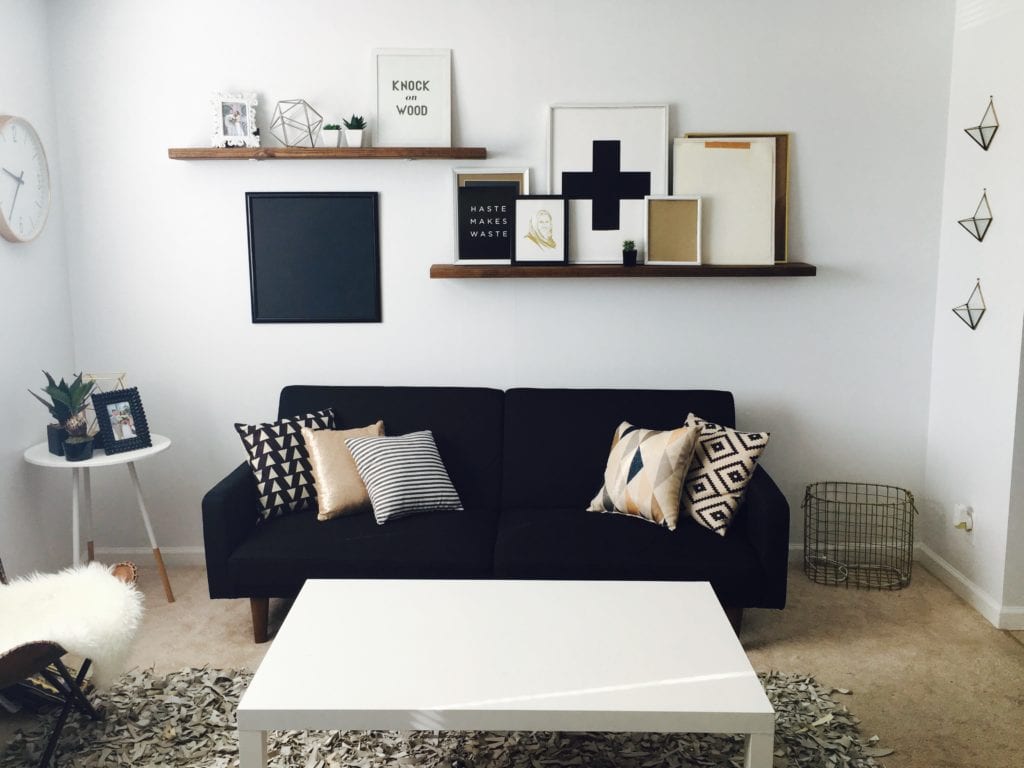 Brian and I just moved away for law school, so I was excited to decorate the new place. But, as students, we have a limited income. So I've had to find ways to save money while decorating. These were my first project for our new place!
Here's What You'll Need:
1. A 2x8x10 piece of wood. Cut in half, or to desired sizes. I did one 4ft and one 5ft and saved the remaining foot for another project. I used this wood from Home Depot. Have them cut it there in-store, they will cut it twice for you then every cut after that is a dollar.
2. Sand Paper. I don't have a power sander so I just did it by hand and used this 220 grit pack of 5 sheets.

3. Wood stain. I wanted mine to compliment my leather chairs I have in the room, so I chose this color by Minwax. 

4. 5" Corner braces (4).


5. Drywall anchors and Screws. I used these! If you are drilling into wood studs, I suggest
4 packs (8 screws) of #12 2 1/2" Phillips flat head wood screws, no anchors needed.

6.1 pack of #10 1" Phillips flat head wood screws. There were 10 in my pack but you really only need 8.
Assembly!
Start by sanding your wood down all over. This will help the stain work properly, open the wood grains and smooth any rough edges.
Time to stain! It is important to find a good place to stain because this is STAIN it will stain your clothes, carpet, etc. I think outside or a garage works the best. You can use a paintbrush or I used an old rag; a piece of an old t-shirt will even work! It is also best to wear gloves during this but sandwich baggies make perfect gloves. You can do as many coats as you want but one was fine for me.
Once your stain had dried, using your 1" screws, attach your shelves to the corner braces. Although there are three holes I skipped the middle hole in the corner brace. If you are drilling into wood studs, find your studs, and measure how far apart they are, then attach your braces that far apart on your shelves.
Congratulations! Your shelves are complete! Now all you have to do is attach them to your wall any way you'd like. Attach your drywall anchors and screw in your shelves.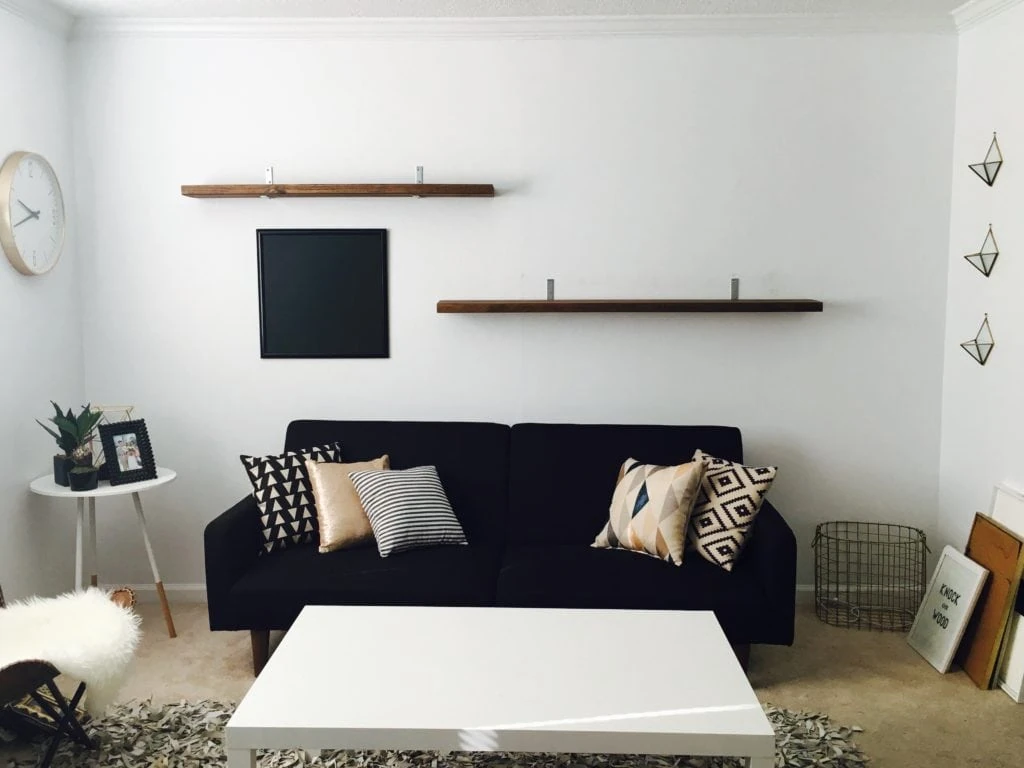 Lastly add your gadgets and gizmos a plenty! Happy decorating!