DIY Bandana Bib
This post may contain affiliate links. That means we may make a small commission on items purchased through links in this post at no extra cost to you!
I received a few of these handkerchief style bibs at my baby shower in April, and they have proved to be very useful. It's safe to say Jamie isn't exactly the cleanest of eaters, so having these under his chin are outfit savers! We use them so often that I decided to make a few more myself.
Here's what you'll need:
1/2 a yard of fabric which will make about 3 bibs. I wanted two different sides for my bibs so I got 1/2 yards of two different fabrics which made me about 6 bibs. I found that flannel fabric works best, but for this tutorial I just used some cotton fabric I had.
Matching thread
Embroidery Needle (hand stitching needle)
Sew on snaps
Pre wash your fabric and iron. Then cut out two right triangles of fabric. If you are using one fabric for the bib then cut out a square, fold diagonally (right sides together) iron. If you're not exactly sure what size to cut then I would say bigger is better.  
Hand sew your snaps onto your fabric. One side of your snap should go on the front of one of the corners of fabric (black), and sew the other side of the snap on the opposite corner of the other piece of fabric (white).
Next place the two pieces of fabric on top of each other, right sides together and pin.
Using 1/2" seam allowances, sew along all three sides leaving about a 4 inch hole in one of the sides.
Flip the bib right side out through the hole. Next turn the edges of the hole inward to align with the sewn edge. Iron.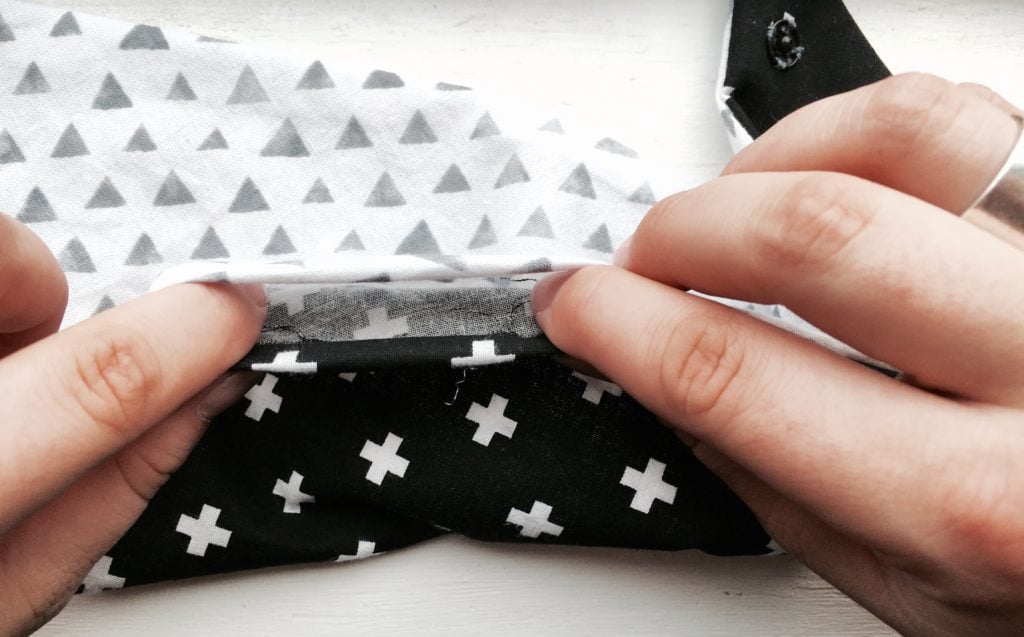 Using 1/4" seam allowances sew along the edges of the bib all around, closing the hole and outlining your bib.

That's it! You now have a swanky handkerchief bib!
This is one I made from the scraps left over from my Boppy nursing pillow cover I made!
Ps. Use your scraps to make a pacifier clip like this one! Here's how!