This post may contain affiliate links. That means we may make a small commission on items purchased through links in this post at no extra cost to you!
Hey all! This week has been very exciting! My traffic exploded after I published 'Why You Shouldn't Use the "I'm Pregnant" Excuse', so needless to say, my love and motivation for blogging has gone up right along with it!
Today's post is a DIY that I know the entire Pinterest population has been searching for! Okay, maybe not but these pins are EVERYWHERE! Inspiring many, but also leaving our pocketbooks empty. There was no way I was going to spend $2k on these cabinets no matter how much I wanted them. Well, I didn't have the money to buy them even if I would spend the money so either way I was SOL.
That was until my fabulous mom and dad came to visit us here in KY! I knew I wanted to try and built something similar to these cabinets as a tv stand and knew I would need my momma's help! She has been building and using power tools since before I was in diapers and has her own interior design business where she is building things all the time, so I knew she was the woman for the job! This is what we came up with!
It took us the whole 5 day trip to make these awesome cabinets with a few mistakes here and there, but if we had to make it again I'm sure we could bust it out in two days.  So with all the mistakes already made and solved by us, hopefully you can bust this out in a shorter amount of time. Either way my new tv stand was totally worth it!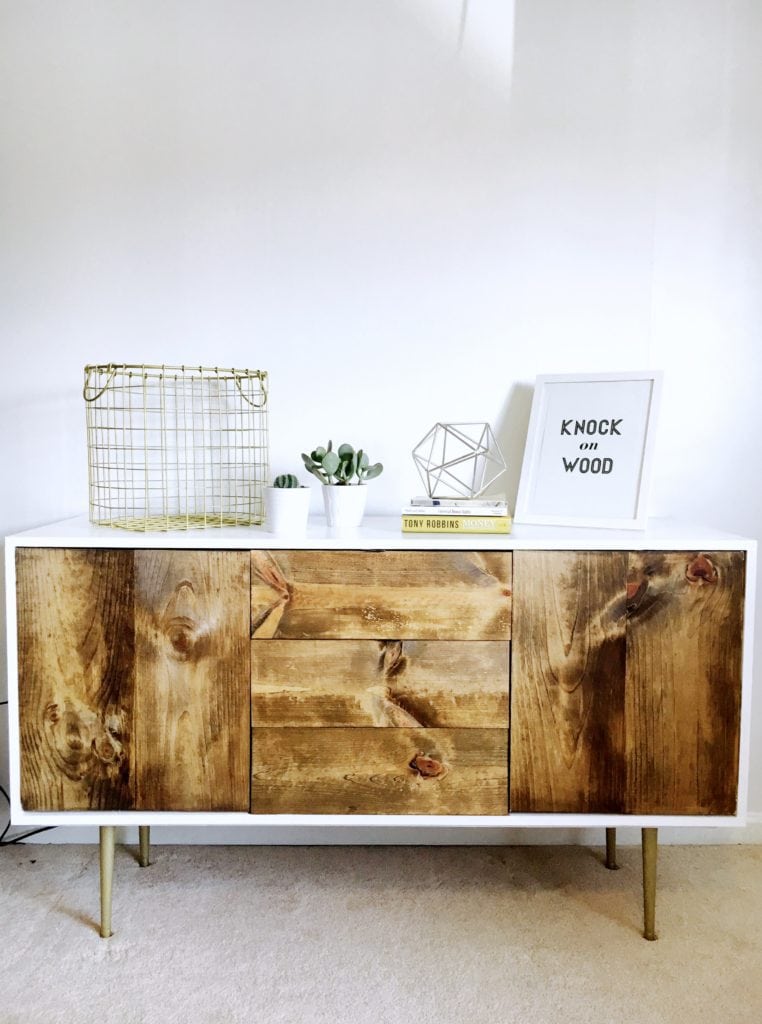 Here's What You'll Need:
1 3/4″ sheet  MDF (4'x8′)  $30.98
1 1x10x8 wood board  $15.96
4 1x2x8 wood strips $3.68
2 1x6x10 wood board  $27.88
1 1x8x6 wood board $10.37
1 sheet 1/8″ hardboard (4'x8′)  $9.95
4 11 1/2″ round tapered legs  $15.88
4  Leg T-plates  $12.97
2 boxes 1 1/4″  wood screws #6 $9.96
Wood Glue  $2.97
3 pairs of 18″ side mount drawer slides  $19.44
4 (2 packs of 2) euro style inset hinges  $11.76
2 Magnetic cabinet latches  $1.56
Metallic gold spray paint  $6.76
Sandpaper sponge  $4.28
Foam Paint roller and tray  $6.97
1-Qt. Ultra Pure White Hi-Gloss Enamel Interior/Exterior Paint $14.96
Wood stain ( I used Minwax interior wood stain in Provincial 211 left over from my DIY faux floating wood shelves under $40)  but you can buy an 8 oz can for $4.78
Finger pulls or knobs. I haven't actually bought mine yet LOL but these are the ones I am going to buy. (We are currently using duck tape as finger pulls right now. It's hilarious.)
Drill
Drill bits ( I got this set for my birthday and love them!)
Grand Total:  $211.11 before tax.
Leaving you just under $40 for the finger pulls you want, staying under the $250 wahoo!
Cut List:
The nice thing about this awesome cabinet is all you really need is a drill and drill bits as far as tools go. I had everything cut at Home Depot so I only had to assemble and paint at home!
Building Instructions:
Start by using the MDF cuts to build the skeleton of the cabinets. Use the shorter 16″x 22 1/4″ boards for the inner sides pushing them back 3/4″ from the front so that the doors and drawers can lay flush with the outlining sides and top. Place the inner sides 18 3/8″ away from the sides.
Next, build the cabinet doors using two 1x10s screwed together by two 1x2x16″. Then attach them using the inset euro hinges.
Next build your drawers using the 1×6 boards. Use the 19″ boards for the front and backs then 16 1/2″ boards for the sides. Place the sides inside the fronts and backs, then attach the 1×8 boards for the drawer faces.  I totally forgot to take a picture while we assembled the drawers so here's a pic from after everything was done including our homemade duct tape finger pulls LOL. 
Finish the drawers by adding the 19×18 hardboards to the bottom and mount them with the drawer slides. P.s. this is my super cute mom!
Take your legs and spray them gold and set them aside to dry. I screwed them into a piece of scrap hardboard to easily spray them.
Take out the drawers and flip over your cabinets and using your two 1x2x56 and 1x2x14 1/2 boards to add an outlining under the cabinet. Place the shorter boards inside the longer boards.
Attach your T-plates and legs right up to the 1x2x56″ boards but 6″ away from the short edges of the cabinets.
I added some shelves inside my cabinets by taking the 1x2x19 and using them as shelf brackets. I also used two 18×19 boards of the hardboard on top of each other to make the actual shelf.
Finish your assembly by using the 59 3/4 x 23 1/4 hardboard to close the back, and adding your magnetic cabinet latches to your doors.  Your cabinet is now assembled so all that is left is painting and staining. Sand the doors and drawer faces, then stain. Then paint the trim white.
Finish by adding your finger pulls or knobs and you're done! Seriously how amazing is this cabinet?! I was so excited to be able to build this amazing piece for so much cheaper then I could buy it! Don't forget to pin it, comment, and share! [themify_icon icon="fa-heart-o" link="http://"] Cassie Jean