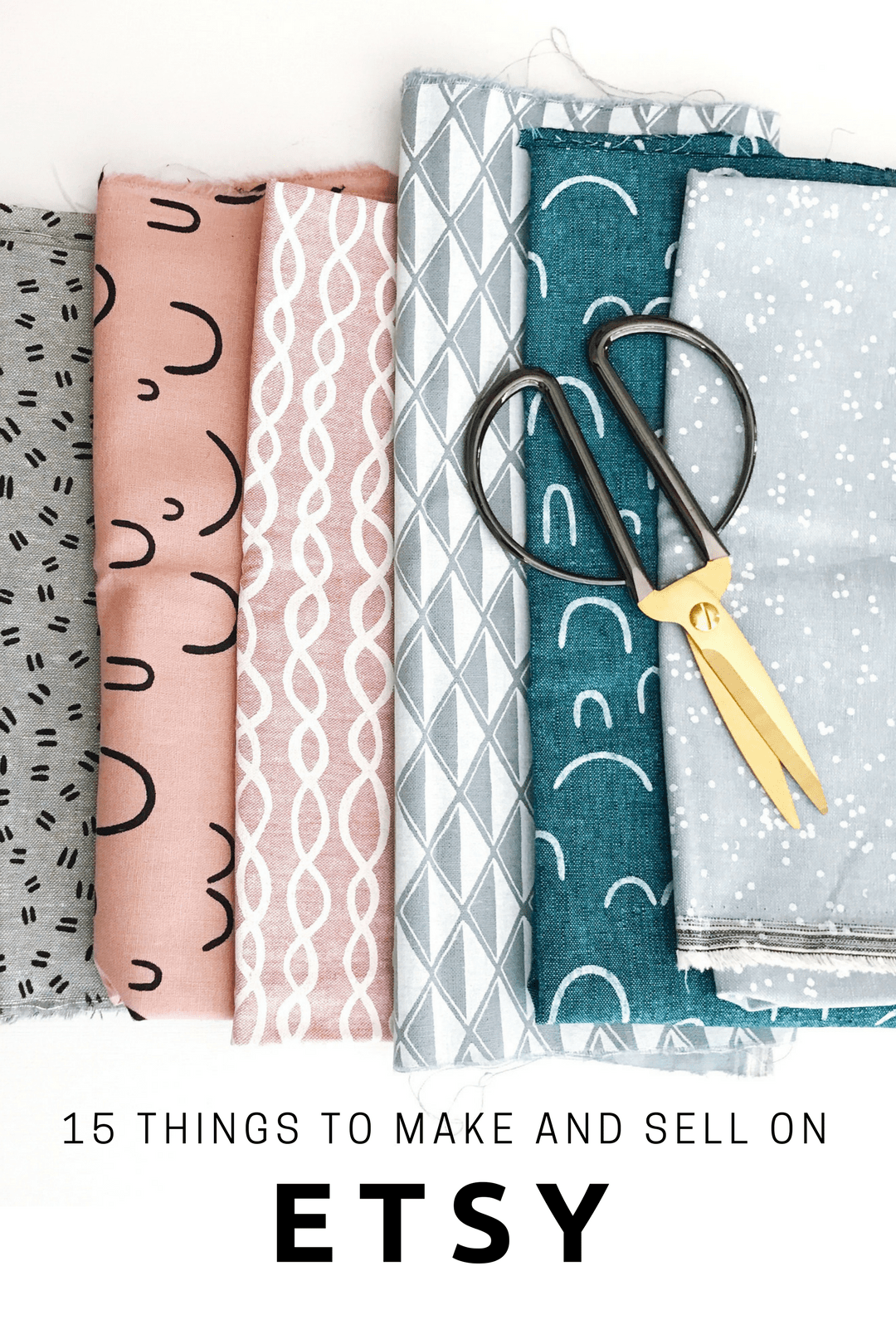 This post may contain affiliate links. That means we may make a small commission on items purchased through links in this post at no extra cost to you!
There are way more online shoppers today and that number only keeps growing everyday! Which means now is the perfect time for you to take your creative skills and open your own shop and sell on Etsy!
You can find DIY and craft tutorials for almost anything nowadays on Pinterest. And while we love to save ourselves some money with these DIYs we can also make money doing it! If you don't know I love to DIY anything and everything to save a little money or even just to get a custom look that I can't find anywhere else! But you may not know that I also sell some of my creations on Etsy while I stay at home with Jamie!
An Etsy shop is the perfect way to make a little extra cash throughout the year from home! So all my crafty stay at home moms and moms to be that need some extra cash to get your nails done or just to help out the hubby, Etsy is for you! Here I've collected 15 easy projects you can make and sell on Etsy for some extra income!
I love Etsy because people already expect something nice when they get there, so it's already a nice reputable place to sell your own products. It's free to set up your shop then Etsy charges .20 cents per listing which I feel its worth the traffic and type of customers that come to Etsy. Check out my shop here where I sell bibs and digital prints!
15 Things You Can Make And Sell On Etsy 
1. Candles
Candles are super easy to make and can customize with scents colors and even holders. Grab some cute mugs from a Tjmaxx and fill it with a delish scented candle! The one below goes for $38! Check out this candle tutorial here!
2. Headbands and Wraps
Right now headbands and wraps for fall are so in! A  crochet one will keep your ears warm during the cold or a turban is perfect for any weather! Check out how to make one here!
3. Vinyl stickers for the car
If you have a vinyl machine this is a great item for Etsy! You can create any popular car sticker or people love anything monogram! Make one to advertise then only make them as the orders come in! No wasted vinyl here! Offer different sized for different prices.
4. Baby bibs
This is actually one of the items I sell at my own Etsy shop! There are so many different styles you can make and they sell really well! Plus you can keep some for your own little one! Here's one of my own bib tutorials!
5. Digital Prints
These are my main products I sell on my Etsy store and they are by far, in my opinion, the best thing to sell on Etsy! Why? Because they are crazy easy to create and you can sell the same single file over and over again! So I make one image that I can sell an infinite amount of and Etsy delivers the file for me so once an order is placed, I don't have to do ANYTHING! It's amazing. You don't need any fancy software to make your prints either, I used a Word document for a while then switched to Canva which is a free site!  Do keep in mind, you cannot just copy someone else's work! That is actually illegal! But you can create your own unique images or photos you take and sell them easy!
6. Baby bows
Back before Etsy, this is actually how my mom make extra money while she stayed at home with us! She made and sold adorable baby bows and clips! People love bows and clips for their littles and they are so extremely easy to make! Grab some ribbon and get making! Here's an adorable no sew bow tutorial!
7. Baby blankets
Blankets are so easy to make and are pretty popular on Etsy. All you need is a fabric for the front and some for the back stitch all four sides and you're done! Here's a tutorial!
8. Any baby craft!
Every mom out there loves to buy things for their little one especially when they're pregnant with their first and there is a whole bunch of ladies out there who would much rather just buy something someone else made rather than make it themselves! So any baby craft is a good sell on Etsy! Shoes, burp cloths, onesies, nursing pillow covers, bedding, quilts, toys, etc!
9. Bath bombs and salts
Bath bombs and bath salts are quick easy and perfect gifts for the holiday season! Check out this bath bomb tutorial, or this bath salt tutorial!
10. Jewelry or Keychains
If you make Jewelry in your spare time or have before, why not sell it? Even if you're not familiar with making jewelry there are lots of easy tutorials out there! So many people head to Etsy to buy jewelry now! Here is a cute tassel earring tutorial!
11. Magnets or Coasters
Magnets and coasters are seriously some of the easiest things to make yourself and have limitless creative possibilities! Here are some I made!
12. Seasonal Decor
Now is the perfect time to stock your Etsy shop with fun seasonal items like homemade ornaments, candles, tree skirts, stockings, and more like these DIY felt trees! So get in the holiday spirit and start crafting!
13. Soaps
Find a killer recipe and play with different scents and ingredients to make it your own! People are loving homemade soap right now and it's so cheap to make! Plus its a really good Christmas gift so make some for your neighbors too! Check out this awesome charcoal facial soap recipe!
14. Customized anything!
People (especially out here in the south) love anything custom! Put initials on a baby blanket? Sold. Your wedding date on a keychain? Perfect! Even just a letter on a pillow or mug! We just can't get enough! So a craft as easy as a simple leather keychain can be sold for even more when you slap on a custom option!
15. Clothing
My brother-in-law actually makes an sells his own t-shirts he designs and makes good money! You can make t-shirts or sew sweatpants it doesn't matter, but Etsy has shown clothing sells! Here is a quick t-shirt DIY I did and am obsessed with! Try it with a few vintage tees from the thrift store and upsell them!
What are you waiting for? Make some extra cash this holiday season and all year long all while at home crafting with your kids! It's seriously so easy and so fun to have your own little business! Check out my Etsy shop here!
P.s. Don't forget to subscribe to our newsletter!