This post may contain affiliate links. That means we may make a small commission on items purchased through links in this post at no extra cost to you!
To give you a little peek into my life, my husband and I sleep on a homemade king bed (two twins pushed together) with a king memory foam topper pad. It's really awesome, except that if we want to cuddle or even just sleep close to one another, someone ends up in the dip between the two beds, otherwise known as the crack. I really don't mind sleeping in the crack, so it really isn't too much of a problem. Except that when sleeping in the crack, it slightly pushes the beds apart, resulting in our sheets popping up EVERY night. This sometimes happens in the middle of the night, so someone is going to be sleeping on bare foam pad. Which ends up leaving microscopic itchy foam crumbs everywhere! So for a while now we have been sleeping on our own designated side, and I'm starting to feel like an old 1950's movie.
Well I wasn't having anymore of this! So, being my creative self, I pulled out my sewing machine along with some left over elastic I had, and made my very own no-slip bed sheets. No more foam crumbs equals a better sleep for both of us. And, as a bonus, these new sheets even helped keep the beds together, not just keep the sheets on! This project took me 10 min and just over $2 in elastic. It's so easy your husband could do it!
Here's What You'll Need:
Fitted bed sheet (Mine was a king.)
80″ of 1″ Elastic
Matching thread
Pins
Sewing machine
Cut the elastic into (4) 15″ strips and (4) 5″ strips. Pin One end of the 5″ strips to the middle of the 15″ strips and sew using a zig-zag stitch. Sew over this twice to make sure it won't come undone.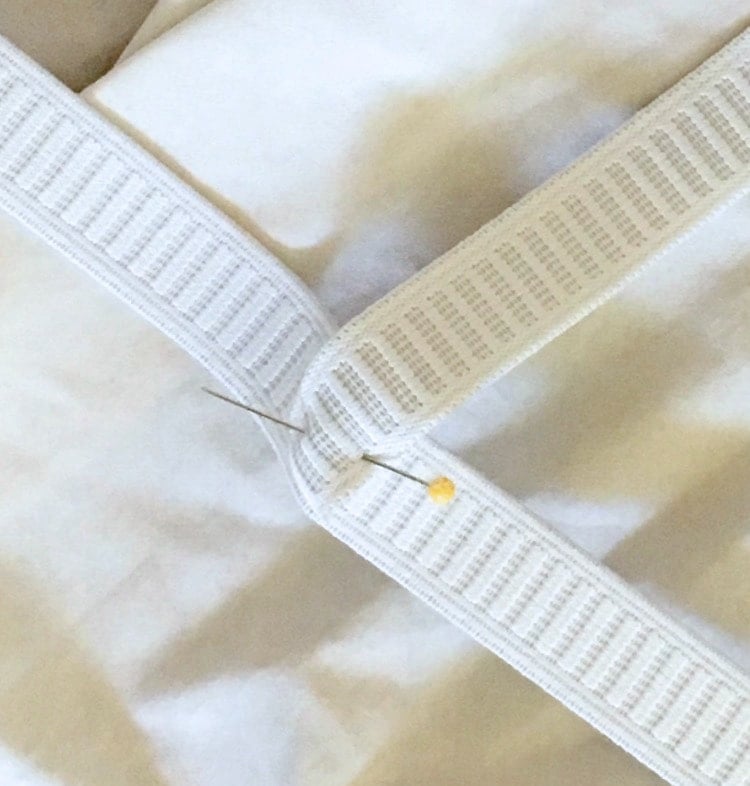 Next Pin the other end of the 5″ strip to the inside corner of the sheets, right where the seam is. Then sew using the same stitching method.
With the fitted sheet un-stretched, sew the ends of the 15″ strip 6″ down from where you just sewed the 5″ strip on the seam. Sew this also on the inside of to the sheets using same stitching method.
Presto! Your very own no-slip bed sheets! Remember the placement will be slightly different for different sized mattresses. If you find that you can't put your sheets on after sewing then your ends of the 15″ strip are likely too far out from the corner. Just seam rip it and sew them closer. Good luck! [themify_icon icon="fa-heart-o" link="http://"] Cassie Jean
You can also view this post on this fall into fall party!