DIY Frosted Pinecone Ornaments
This post may contain affiliate links. That means we may make a small commission on items purchased through links in this post at no extra cost to you!
These bad boys are covering my Christmas tree and I am loving it! I'm all about the free .99 projects so when the we went down to Alabama for Thanksgiving, I was determined to bring a billion pinecones home for these DIY Frosted Pinecone Ornaments! Brian and I live right on UK's campus which means there isn't that many pinecones around here so it was like pinecone heaven in Birmingham!
After coming home I went right to decorating my bare tree that has been up since November 1st! Is there really anything better than free Christmas decor? It's always an awesome day when you think of a project and you already have all the materials!
Anyway I spotted some similar ornaments while Black Friday shopping at Walmart for $4 a pop! Well I don't know about you but I don't have $25 to spend on pinecone ornaments no matter how absolutely adorable they may be! Luckily you can make your own for a way cheaper! Let's get to it!
Here's What You'll Need:
Pinecones
White acrylic paint
Paintbrush
Yarn
Hot glue gun and glue sticks
Scissors
(Optional) Glitter Spray
First cut strips of yarn to hang your ornaments, about 4″ long. Then hot glue them to the ends of the pinecones.
Next simply take your paint and brush in on your pinecone in a quick, downward motion. Cover with as much or as little as paint as you want.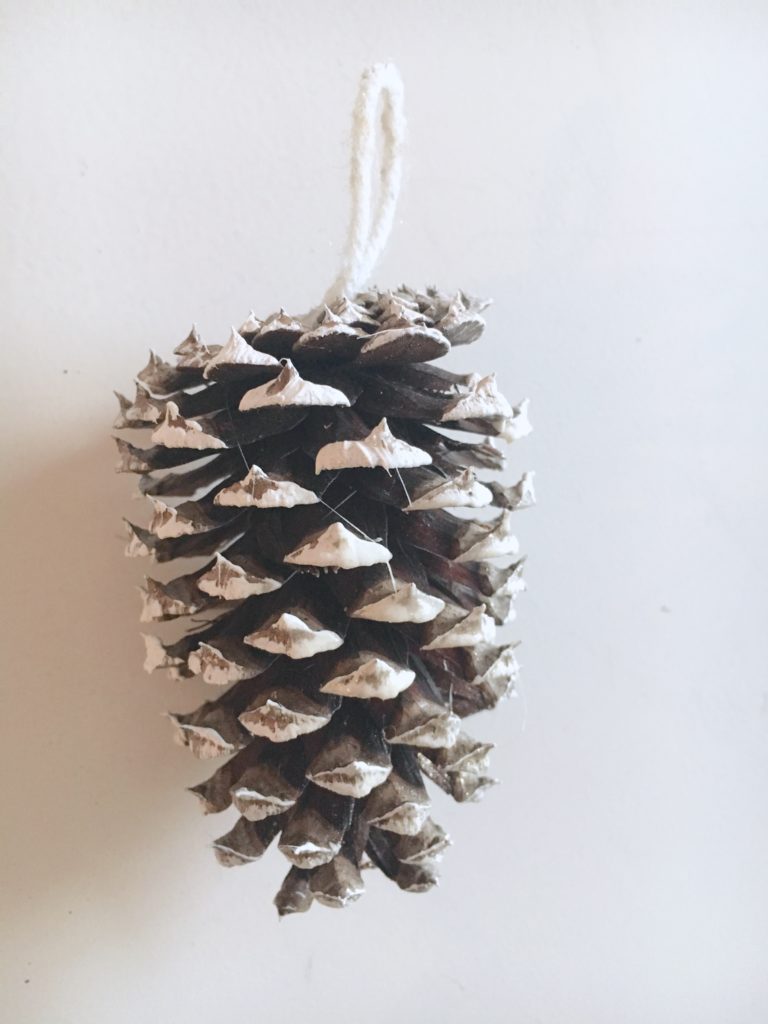 Add a little glitter spray if you wish, and slap it on the tree!
These frosted pinecones are adorable and so easy! Be careful while handling and storing them after the holidays, they are a little fragile! Here's a tip, the smaller more condensed pinecones will hold up better and shed less! Happy Holidays! [themify_icon icon="fa-heart-o" link="http://"] Cassie Jean