This post may contain affiliate links. That means we may make a small commission on items purchased through links in this post at no extra cost to you!
I've been seeing these halloween bat walls all over social media and have been dying to do one myself! After looking at kits on Etsy for upwards of $30 just for some paper bats, I knew this was something I could DIY myself! All it took was $2 and a trip to the Dollar Store!
My Inspo:
Here were a few of the posts that inspired this Halloween bat wall DIY!
Great Craft to do with Kids!
After seeing these bat walls, I decided I would try to DIY it and here's how it turned out!

The entire project took about an hour and a half to do with my 5 year old. It worked out great since I was excited about adding some cute Halloween decor to the house but it was a fun craft I to do with my kids!
Win-win!
He even added red eyes and faces using red colored pencil to most of the bats since he said they absolutely had to be vampire bats! It added great personality, more for him to do while I cut, and the colored pencil isn't even noticeable!
What To Grab from the Dollar Store:
If you get the creepy cloth, this DIY is technically $3 but you don't need the cloth to make the bat wall!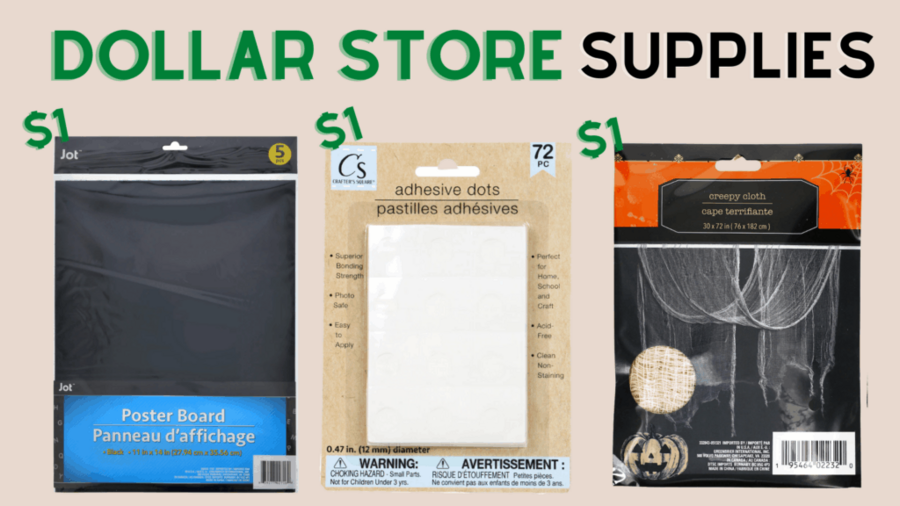 Additional Supplies:
Scissors
White colored pencil (to trace bat stencil onto black poster board)
Bat Stencil (Optional* I free handed one and it worked out great but if you don't consider yourself the artsy type, I scanned mine in and made a free printable stencil for you! Just print it off and cut it out! Print the free bat stencil here.)
Step 1: Cut out Stencil
Print off my free bat stencil here.
The first thing to do is get your stencil ready, print them off and cut them out. Remember these stencils are half bats since the poster board will be folded in half when using the stencil.
Remember to keep the fold line on the fold of the poster board so it can open up into a bat after it's cut!
For my wall, I used 3 sizes. A large, medium, and small bat. Which, with the 5 sheets of poster board, we were able to make 9 large bats, 10 medium bats, 7 small bats, and even 3 extra mini bats from the scraps.
However, we didn't end up using all the bats we made, (we had about 6 large bats left over) so don't stress about making exactly the same amount of bats as we did. I was just trying to see how many I could get out of the 5 poster board sheets and ended up not needing that many!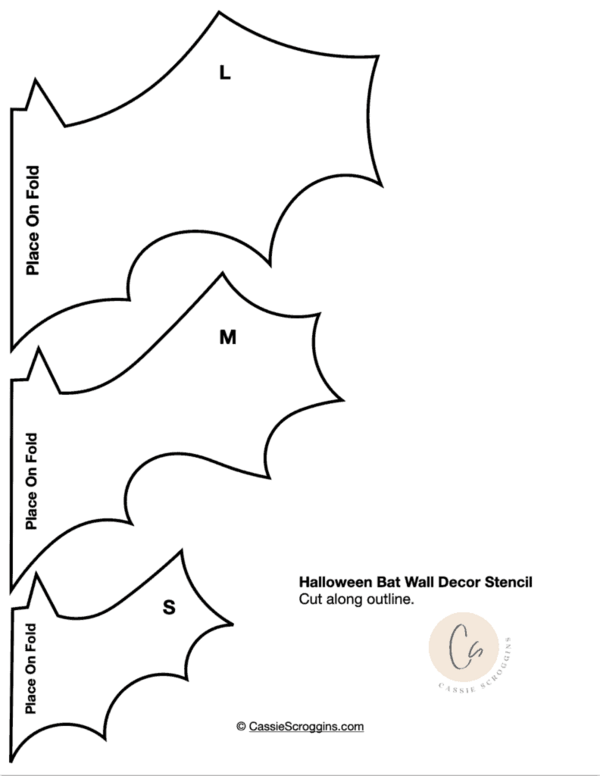 Step 2: Outline bats on poster board
Once you have your stencils cut out, fold your poster board in half long ways (hotdog style) and outline as many bats as you can fit onto each sheet of poster board.
You can do all one size per sheet or mix up the sizes to get more out of the poster board. I personally tried to fit as many bats onto each sheet as I could just to see how many we could make or if I could fit any mini ones out of the scraps.
Step 3: Cut out Bats
Once all the bats are traced and outlined, all you need to do is cut them out!
This is the most time consuming step but it still didn't take long to do. My 5 year old choose to outline bats and then draw on faces while I cut them out.
He was adamant that the bats were vampire bats and therefore needed red eyes which turned into red noses and mouths and even a few "J's" on the wings for "Jamie".
If you're worried about your bat wall looking too kid-ish, just have your kids use colored pencils to color on the bats. It doesn't show up super bright so you don't notice it at first and if you're really concerned, you can always just flip the bats around and use the other side.
Step 4: Assemble your wall!
Finally the last step is assembling your wall!
Using the adhesive dots, I first hung the creepy cloth the way I liked and then applied the bats.
To make the bats look like they are flying into your room assemble them from smallest to largest in a diagonal pattern.
The kids can still help here! Just apply one or two adhesive dots to each bat and hand them the correct sizes as they go! Make sure the bats get bigger as they get higher up on the wall.
Done!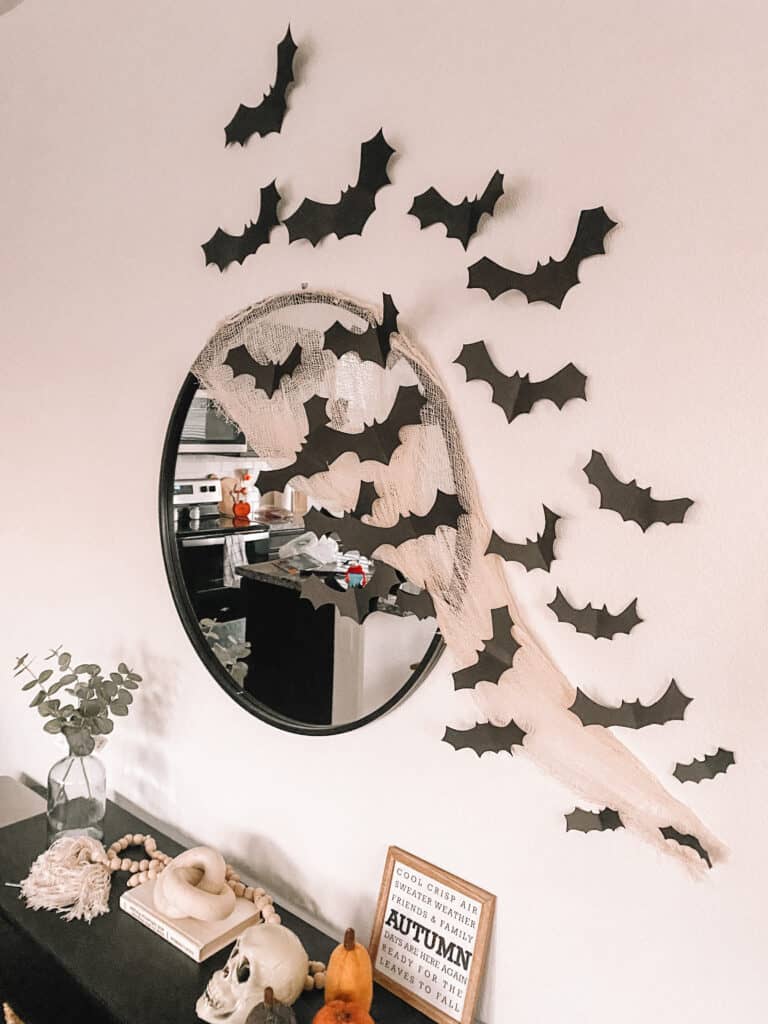 Final Thoughts
I am really happy with the way this DIY came out! And since the bats are made out of poster board, I believe they will last me a couple seasons since I seems I can peel off the adhesive dots!
I think in the future I may try skinnier bats or even a couple different bat shapes to mix it all up! Let me know what you end up trying! Happy Halloween!
Want to Remember this post? Pin it to your favorite Pinterest board!