DIY Round Pom Pom Bib + Free Pattern
This post may contain affiliate links. That means we may make a small commission on items purchased through links in this post at no extra cost to you!
Well this is the 3rd awesome style bib I have made on the blog and probably not the last! Hobby Lobby was having a sale on pom pom trim and ribbon and I couldn't resist the urge to buy! Which resulted in these beautiful pom pom bibs!
If you're too busy to DIY, you can purchase these beautiful bibs on my Etsy store!
These trendy bibs are all over my fav Pinterest and I was so excited to show you how you can make your own under $5! Yes, just keep your eyes out for those sales! Hobby Lobby at the time was offering 50% off ribbon, and 30% off trim & fabric. I also hit up Joanns for some soft flannel to use on the backs of my bibs because it was only $3 a yard!
If you see a deal, take advantage and start crafting!
Here's What You'll Need:
Supplies
1/3 yd Fabric (you can use this for front and back or get two different fabrics 1/3 yd each) – Hobby Lobby/Joann
(2) 10″ Soft rope or ribbon for ties – Hobby Lobby
24″ Pom pom trim – Hobby Lobby
Thread – Joann (they were having a sale!)
Tools
Pins
Fabric scissors or rotary cutter
Sewing machine
Needle for hand stitching
My total cost for each bib was around $3 by using coupons and waiting for fabric sales!  
Prep
Before starting your bib you're going to want to wash all of your fabric to prevent any later shrinkage or awkward shaping. Once dry, iron your fabric to remove the wrinkles.
Step 1
Print my Round Bib Sewing Pattern and cut out the pattern.
Step 2
Fold in your fabric Just enough so the pattern will fit. You don't want to cut a giant hole right in the middle of your fabric! This will help you get as many bibs as possible out of your cut of fabric.
Place the cut pattern on the folded fabric and cut out a front and back. I used a cotton fabric for the fronts and a soft flannel on the back, but you can use one fabric for front and back.
*Remember if you are using a directional fabric like my gray triangles that you situate your fold the correct way so the pattern on your fabric is the way you want.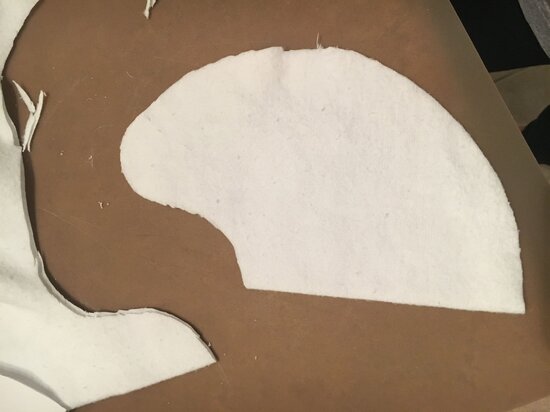 Step 3
Take your pom pom trim and pin it on along the end of the right side front piece facing in and sew. I found that if I sew on my trim first it was easier to add the back later. (not shown in next pic because it took me a bib to figure this out!)
Step 4
Now pin your ties and the back on the top of the front piece. Your front and back pieces should be right sides together with the pom poms and ties inside. It's like a pom pom and tie sandwich!
Sew all along the edge of the bib leaving a small opening – about 3″- at the end.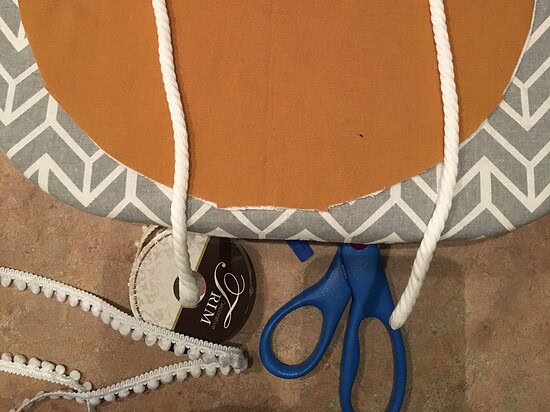 Step 5
Flip your bib right side out through the opening, fold in the ends of the opening and iron the entire bib flat.
Step 6
Finally to finish your bib by hand stitching an invisible ladder stitch! If you don't know how to do this stitch don't worry neither did I! I had to look it up and it's super easy! Here is the link to video instructions I used!
Done!
[themify_icon icon="fa-arrow-down" link="http://"] Pin it! [themify_icon icon="fa-arrow-down" link="http://"]
I hope you and your little one are loving this bib as much as I do! Check out these DIY fringe bibs, I'm sure you'll love them too! [themify_icon icon="fa-heart-o" link="http://"] Cassie Jean