DIY Man Cub & Wild Child Graphic Tees w/ Free Printable Graphics
This post may contain affiliate links. That means we may make a small commission on items purchased through links in this post at no extra cost to you!
Kid graphic tees are so on trend and fill many clothing shops, but the demand for such tees has driven prices up! Well, I'm not about to pay over $30 for a graphic tee my 10-month-old will grow out of in a few months, so how about an adorable graphic tee under $4? Yes, I made these super trendy Man Cub and Wild Child tees for about $3.50 worth of supplies each!
These tees were a perfect compliment to Jamie's wardrobe and so easy to make!  Only three steps, print, cut, iron done! You can grab all of your supplies at your local craft store and complete this DIY in 30 minutes. Your little one will be rocking an Instagram-worthy #OOTD in no time!
Each graphic is sized to fit a 6-12 month sized tee but will work for smaller and larger tees. I made a gray modern Man Cub text graphic, and a white Wild Child graphic tee with a large Wild Child text on the back and a small WC graphic on the front right side. Both of these free graphics are on one sheet of transfer paper to avoid wasted paper!
Here's What You'll Need:
Supplies
Tools
Step 1
Start by printing my Free Man Cub/Wild Child Printable Graphics onto a sheet of iron on transfer paper.
Step 2
Cut out each graphic. I cut out almost all the extra space between letters to minimize the reflective look of the graphics, then used the rest of the paper to make sure all the letters are straight.
As for the Wild Child graphic I didn't cut out each individual letter, I just cut out the extra white space leaving the words together.
Step 3
Using the instructions on your iron on transfer paper, iron on the graphics. I placed the Man Cub graphic on the front of the shirt, then placed the small 'WC' graphic on the front right side and the Wild Child graphic on the back.
Peel off the remaining transfer paper.
Done!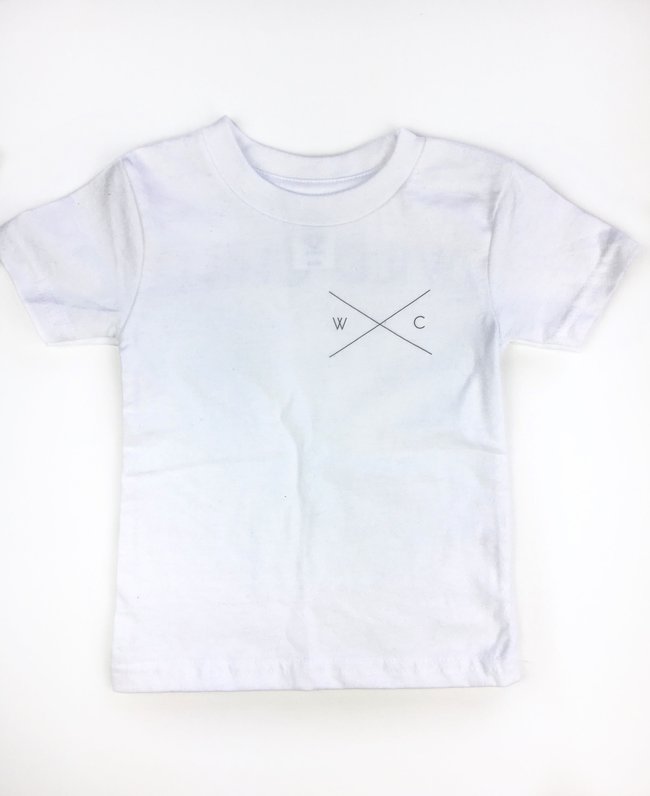 Want to see more tees for your little one? Let me know in your comments below! Pair your new graphic tee with a DIY bandana bib or pom pom bib! Why buy when you can DIY for less! [themify_icon icon="fa-heart-o" link="http://"] Cassie Jean