This post may contain affiliate links. That means we may make a small commission on items purchased through links in this post at no extra cost to you!
When Brian and I decided to get married, we also decided we were not going to go into debt ourselves or empty our parents wallets on the wedding. Being young college students with practically no money, resulted in me being my own wedding planner, and many do-it-yourself projects.
When it came to my flowers I knew what I wanted and didn't want to settle. I searched out the best floral designer around and saw her starting price of over $3k. We just didn't have the budget for it and, being my cheap self, wasn't going to spend that much on flowers no matter how much I loved them. I thought to myself, how could flowers cost upwards of $3k? I realized it wasn't the flowers that were so expensive it was the flowers plus the designer's time and expertise. I then thought who knows exactly what I want better than me? No one, so why not do it myself? So I did, saving myself a few thousand dollars!

Here's how I did it:
We all have our Pinterest wedding boards, and in my case over 13 different wedding boards. You can say I had a board for every aspect of my wedding from venues to bridesmaid dresses. That is where I also had my wedding flowers and bouquet boards. This is where I found my inspiration. I pinned flowers upon flowers until I knew exactly what I wanted. My inspiration came from this pin.
I knew this is what I wanted in a bouquet and as a theme for the rest of my flowers. I switched around a few colors to the ones I wanted, and took out a few flowers I didn't want and this is what I came up with.
I found fiftyflowers.com, a wholesale flower retailer, and went to town picking out almost the exact flowers from the pin.
Here's what I used:
I aso bought:
2 in season assorted greenery fillers at costco. I basically just picked out a few bouquets with mostly greenery in them for about $20 a bouquet.
Guinea plumage feathers
Floral wire
Gold ribbon
Hot glue gun
I ended up making my bouquet, 4 bridesmaids bouquets, 13 boutonnieres, and 10 centerpieces.

For the bouquets we (my mom and I) cut the flowers, put the flowers and greenery together, then bound them tightly with the floral wire. Next we wrapped over the wire with the ribbon and hot glued down.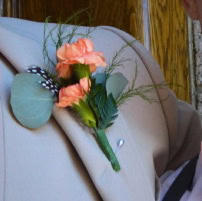 For the boutonnieres, we used the rest of the mini carnations, greenery and the feathers. Binding them with the wire, wrapping them with the ribbon and hot gluing.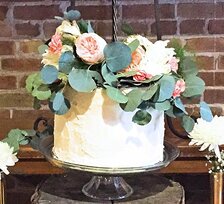 My centerpieces were a assortment of gold vases of all sizes with groups of flowers and greenery. We simply used many small arrangements to make one large arrangement.
I also used my sisters bouquets for the cake topper!
My very favorite part of my wedding (besides marrying my husband) were my flowers! It was so fun to do and I got $3k+ worth of flowers for less than a third of the cost! I suggest that if you are as picky as I was when it came to my wedding, do your flowers yourself it is 100% worth it! I'd love to see your DIY floral arrangements! Leave a comment below! [themify_icon icon="fa-heart-o" link="http://"] Cassie Jean