How We Paid Off $20k in Credit Card Debt in One Year! (+ Our Free Google Sheets Monthly Budget Template)
This post may contain affiliate links. That means we may make a small commission on items purchased through links in this post at no extra cost to you!
Back in 2019 Brian and I hit some big goals of ours! I lost 70 lbs after failing for years, Brian Graduated School with an MBA and Law degree, and we both read a bunch of books, moved to Vegas to be closer to family, and paid off all $20k of our credit card debt!
While I've talked about my health and weight loss journey before on the blog. You can read about that here. I am finally getting around to sharing exactly how Brian and I were able to pay off all $20k of credit card debt in one year!
Money debt and management can be such a hard topic by itself but doing it with a partner can add an extra hurdle. We've all heard that finances are a leading cause of divorce, so finding a way to talk about money and coming up with a money plan that works for both of you can be difficult but is a key factor in making things work in a happy relationship.
This is how Brian and I got on the same page when it comes to money, paid off $20k of CC debt, and even helped us to save enough money to buy our first home! All within a few years of each other.
Want to Remember This Post? Pin it to Your Favorite Pinterest Board!
1. We Stopped Using Our Credit Cards
Once we decided that we needed to get completely out of credit card debt we decided the best place to start was to STOP USING OUR CREDIT CARDS!
I know that many people still want to use them to earn points and rewards on spending but if you're tying to pay them off, the easiest thing to do, is stop using them! More points isn't worth more debt!
Still using your credit cards while trying to stick to a budget is like going on a diet while carrying a cake with you everywhere. It would be so easy to go over your budget and simply rack up more debt but if you only use cash or debit cards, once your money is gone, it's gone. No more debt, it's just gone.
So we decided to cut up some cards so they literally couldn't be used. And for others we hid them away in our closet so we didn't have access to them. And moved strictly to cash and debit cards only.
We had zero access to credit cards after that. Nothing in the wallet "for emergencies", nothing!
2. Do a Financial Self Assessment
To get to where you want to go, you first have to know where you are.
The first thing we did was a complete financial self assessment.
We totaled up all our credit cards and looked up the interest rates for each.
Then we looked at how much money we currently had in our checking, savings, and cash.
Then we pulled up our last 3 months statements from all accounts and looked at exactly how much we spent and exactly how we spent it.
Total Up Credit Cards and Find Interest Rates for Each.
It was important to add up all our credit cards so we knew our total debt down to the cent! That way we could make an exact plan going forward. Also knowing the interest rate for each card helped us make better financial decisions on which card to pay off first and so on so we weren't paying more in interest than we had to.
So we pulled up each credit card statement, wrote down the total amount owed for each card and the interest rate next to it. Then also included the total debt owed for all cards together.
Total All Money Accounts & Cash
After we knew our total debt and debt breakdown by card. It was time to look at the money we currently had, so we totaled up our checking, savings, and cash and wrote that down too.
We didn't have any investments at the time so all the money we had access to was in our checking, savings, or in cash.
Look at Statements from the Last 3 Months
The final thing to do for our financial self assessment was to figure out just how much we were spending and on what.
To do this, we pulled up our last 3 months of statement from all accounts, and added up our total amount spent each month and exactly how we spent that money.
We made different categories and totaled up how much we spent in each category each month. Things like:
Gas/Transportation
Fast Food
Entertainment
Groceries
Household Items
Rent
Utilities
Other bills
Things for me
Things for him
Things for our baby
Blog expenses
School expenses
Etc.
We totaled up exactly how much money we spent in each category over the past 3 months, then divide that number by 3 to get our average monthly spending for that category. For example, if we spent a total of $1,621 on groceries over the past 3 months, we would divide 1,621 by 3 to find that on average we spent about $540 each month on groceries.
Breaking down our spending like this gave us a crystal clear view of where we were over spending and how we could improve. For us, we found that we were spending an exorbitant amount on fast food and random purchases for impulse wants of ours.
So after we completed our financial self assessment, we looked at our totals and asked ourselves:
Do we spend more than we make each month?
What do we spend the most money on?
How much should we realistically be spending in each category?
Do we spend the most money on fixed or variable expenses?
And, How can we cut spending?
We then took those answers and made a (very strict!) family budget.
2. Make a Budget & Stick to it
At this point, we knew that most of our spending was on frivolous items like impulse purchases and eating out. So much eating out! Even though we spent a ton of money on groceries each month, we only seemed to be eating out more and throwing away the expired, uneaten groceries more.
So we put together a budget that focused on solving those problems. And since we were really wanting to save to hopefully buy a house within the next few years, we made our budget very strict with very limited "just for fun" money.
That was a major reason we were able to pay off all $20k in just one year. But obviously keep in mind your own limitations and make a budget that is realistic enough to stick to! It's better to push it out a few years than to give up a few months in and keep racking up more debt!
Spend Less Than You Make
I know that statement "spend less than you make" can seam like a redundant statement. Like duh Cass, thats a statement we've all heard a million times before.
But when you're used to relying on credit cards, student loan money, or other "Monopoly money" in your everyday spending, simply scaling back to spending only what you make can be hard. Let alone spending less than you make.
Spending even only slightly more than you make each month, can add up to monstrous debt. In the same way, spending even just slightly less will help not only build good money habits to build up savings in the future, but will allow you to finally get out of debt now.
And that is exactly what a budget helped us do.
Start with Your Income
To make a budget, we first needed to know how much money we actually made each month.
If we had a regular job at the time, we could just list the amount we get each paycheck plus any other extra money we receive on a regular basis. (ex: Child support, investment payouts, rent someone pays you, etc)
But my blog was the only source of income at the time, and I never made the same amount each month. While there are different ways to calculate what approximately my income would be each month, we decided to simply list an amount we knew, worst case scenario, we could still count on each month.
Once we totaled how much income we had each month, it was time to breakdown our fixed expenses.
Then Your Fixed Expenses
To create our budget, after knowing how much we made each month, we started with our fixed expenses. Fixed expenses are the preset bills and other recurring expenses you have each month.
We listed each one in a Google Excel sheet, how much they were, and if we could eliminate any.
Quick tip: Go through your bank and credit card statements to help you find any recurring expenses you forgot about. Some credit cards will even keep track of what recurring expenses you have set to that credit card.
Examples of Fixed Expenses:
Rent/Mortgage
Utilities
Car payments
Credit Card payments
Phone bill
Streaming services
Internet
Other loan payments
Insurance Premiums
Car Registrations
Property Taxes
Childcare costs
Tuition Expenses
Other regular subscriptions
Etc
By the end of it, since our money wasn't completely tied up in fixed expenses (it was impulse purchases that did us in!), we kept a few extras like Disney+ as our one streaming service, and our Acorns Investment account. We ended up cutting out our gym memberships and other streaming services since we honestly weren't really using either of those at the time.
However if we were getting into more CC debt because our fixed expenses were too high, we would have eliminated every single non-essential fixed expense. No streaming services, no subscriptions, nothing that wasn't essential to living.
After cutting any fixed expenses we totaled the remaining up and wrote it on our budget under "Total Fixed Expenses". Then it was time to look at our variable expenses.
Then Variable Expenses
Once we knew how much we needed to budget for fixed expenses, it was time to look at our variable expenses. Things that change in cost depending on things like how often you use them, how much you buy/use, etc.
Examples of Variable Expenses:
Gas
Groceries
Entertainment
Eating out
Household supplies
Clothing
Toiletries
Personal care expenses
Healthcare expenses
Hobbies
etc.
When we did our self assessment, we found that we spent too much money on "just for fun" purchases, especially eating out. And since Brian and I had decided that 2019 would be a sprint year for us of sacrificing now to get out of credit card debt we eliminated almost all of our variable expenses.
We limited ourselves to:
gas
groceries
household supplies (which is where we also included basic toiletries and diapers/wipes for our son)
$20 a week for eating out
only $10 a week "just for fun" money per person (me, Brian, and our son Jamie).
and an occasional miscellaneous section where we would assess each month and, when needed, budget out a small amount for extras like a birthday present or a Mother's Day gift.
Now, keep in mind that our budget was extremely strict. And we decided to do this since we had a unique situation where we were going to get cheap rent living with family for the next year and we didn't want to just spend our "extra" money we were saving in rent.
Instead we wanted to do the opposite and limit spending as much as realistically possible to make as much progress as we could.
But while we made an extreme cut for a short period of time to pay off our debt, simply attempting to cut your monthly expenses by 10% in each category is a good way to start!
So with the info we learned from our self assessment, we took 75% of our income (we wanted to leave 25% just for extra CC payments if we could realistically, more on that in a second), subtracted our total fixed expenses, and with the remaining money we made a strict but realistic gas, grocery, and household supplies budget along with our own monthly allotment.
Track Every Cent – We Used Google Sheets
Making a budget is one thing, but actually sticking to it is what actually got us out of debt.
We tried the cash method for a bit, and it just didn't work for us. So instead we came up with a way that worked for both me and Brain which was a Google Sheet!
To track our budget and spending, we created our own shared Google Sheet that both of us had access to. We agreed that anytime we spent any money, we would get a receipt and put that amount spent into the Google Sheet right then.
We had it configured with formulas already in place, so as you spent the money, it would tell you right down to the cent how much you had left in the budget for that category. No thinking required.
And since it was a Google Sheet we had access to it on our cell phones and computers so it was easy to access all of the time.
When I wanted to see if I had money left that week for a Sonic drink, I could check real quick on the App. After getting our food at a restaurant, Brian could put in the total on his phone right there at the table.
And since we don't ever use cash, it was easy to look up our debit card charges on our bank account if we forgot to put something in.
This is what our budget sheet looked like: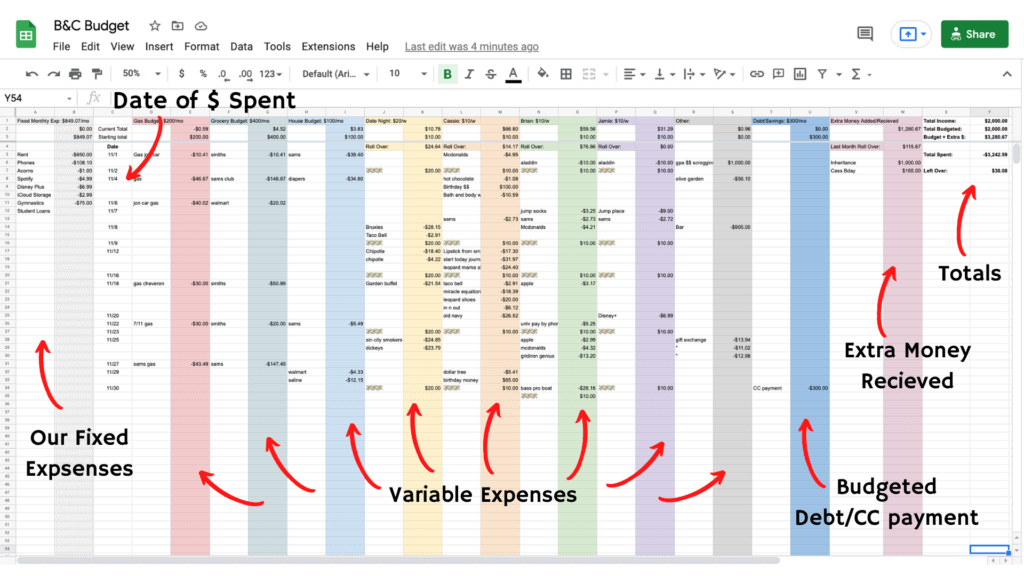 Since we were doing a zero-based budget, meaning every single dollar of our income was budgeted out, it was really important that we tracked every single cent leaving and entering our bank account.
Anytime money came or left, we added it onto that Google Sheet.
Get Our Free Monthly Budget Google Sheet Template
This is the exact Budget Google Sheet we created and used to help us stay on budget and pay off all our credit cards!
Watch this video to see exactly how we fill out/use our Monthly Budget Google Sheet!:
Tips that Helped Us Stay on Budget
Some things we did to make our strict budget easier for us was:
We didn't completely eliminate eating out. We knew that if we made room for it in the budget, even if it was extremely tight. We could stick to it rather than attempting to remove it all together. Which, with our habits, might have tempted us to give up on budgeting all together.
We made a decent grocery budget. We realized our biggest spending problem was eating out. So since we had really tightened up on our eating out, we decided to give ourselves a little leeway on our grocery budget. That way we were more likely to stay on budget because we could still buy extras like treats, or stuff for a fancy homemade meal when we wanted it.
Gave ourselves individual "Just for fun" money. While $10 was basically nothing, it was enough to help us feel not completely restricted and stay on budget. Knowing you had money you could use for whatever you wanted made you feel like you had a little freedom while still on a tight budget.
Made our budget easy to track. When keeping track of our budget wasn't hard, it made sticking to the budget easier.
We agreed on, and came up with our budget together. We both agreed we needed a budget and came up with our specific numbers and a money plan together. Having both of us feel like we had a say, not one person dictating to (or babysitting) the other, it made the budget easy since it was a priority for both.
3. Make Room for Extra Debt/CC Payments
We did a zero-based budget which means every dollar we made, was budgeted out. We knew where every dollar was going. So, like I mentioned before, that meant we intentionally made room in our budget for extra credit card payments to get us out of debt.
With a really tight budget, we were able to make pretty significant CC payments that really helped us move the needle on our debt. But even simply cutting your monthly expenses by 10% and put that extra 10% towards your debt, is a great way to start getting out of debt!
So after we created our budget using 75% of our income, we dedicated the last 25% directly to extra CC payment!
But we didn't want to just throw money at our debt and hope for the best, we wanted to make the most impact and pay the least amount of interest, so next we made a repayment strategy!
Make a Repayment Plan & Snowball Your Payments
We had racked up a total of $20,000 over 4 credit cards. Our Jet Blue card, Amazon card, and our two Wells Fargo cards. So now that we planned out exactly how much money in extra payments we were going to make each month, we needed to know where to put that money to make the most impact.
This is when we looked at how much each credit card had on it, and what the interest rate was from our self-assessment.
All 4 minimum monthly payments were already added into our budget under fixed expenses, so with our extra payment money we decided to tackle one card at a time starting with the one with the highest interest rate and going down from there. That way we would pay as little in interest as we could.
Then after a credit card was paid off, we would snowball our payments.
This means that once we finally completely paid off the card we were working on, we would take our extra payment money we'd been using, plus the money we had budgeted for that card's monthly payment, and used both to work on paying off the next card.
For example, if our CC minimum payment was $150 and our extra payment money was $500, after we paid off that CC we would move that $150 from our fixed expenses and add it to our extra payment section in the budget to be used on the next CC. So now instead of making an extra payment of $500, we would make an extra payment of $650.
With our payment plan of working on the CCs with the highest interest rate then snowballing our payments, we were on track to pay off our debt in only two years! But it was saving extra plus making extra that helped us cut that in half to paying off all $20,000 in only one year!
4. Save Extra Money & Make Extra Money
With our strict new budget and our debt repayment strategy, we were on track to completely pay off all our CC debt in only two years! But it was saving extra money where we could plus making extra money that allowed us to pay off all our debt in only one year!
While we had our budget in place, we agreed that any extra money we saved or earned would go directly towards our credit cards.
For our budget, we decided that any money left in our eating out or personal money funds would roll over month to month. While our gas, grocery, and household supplies would not.
So any money we didn't spend in those sections helped us get out of debt faster.
But as I mentioned before, the only income we had in 2019 was the money I made from this blog. And when we calculated our income, we decided to budget out the amount we felt we could always rely on since my income is never the same month to month.
That number was often less than I actually made that month. Sometimes only a little less, and sometimes a lot less!
I ended up doubling my income that year so, with snowballing our payments, and putting all our extra money towards our credit cards, towards the end of the year we were making some payments of over $2,000 a month!
In the past, we would have taken that extra money and blown it immediately on food and other random things. But because we had a plan in place and were use to sticking to our budget, it was easy to put all that extra money towards our debt.
While it was me building up my blog that gave us a bunch of extra income, there are tons of ways to save extra, and make extra money too.
Ideas to save extra money:
Buy only generic brand items
Use coupons
Trade for products and services
Make your lunches at home
Plan meals ahead of time
Have a no-spend day
Only get water when eating out
Refinance your home
Shop around for insurance
Ideas to Make Extra Money:
Have a garage sale/Garage sell apps
Start a side hustle
Get cash back from apps
Freelance on Fiverr
Drive for Uber/Lift
Become a food delivery driver
Babysit/Petsit
Rent out your stuff (baby gear/bikes/ etc.)
5. What We do Now (Emergency Fund, Savings, & CC usage)
After paying off our credit cards, we stuck to our budget but gave ourselves a little more wiggle room. We added more to most of our categories including our "just for fun" budgets, but then put our focus on building up a better emergency fund.
Before, we used our credit cards as an emergency fund but after we got out of debt we decided to focus on building up our own emergency fund of a least 3 months worth of income.
We also decided to use 1 credit card as our new debit card.
We had a year under our belt of only using our debit card so we were confident we could use a credit card like a debit card (paying it off immediately) to reap the benefits like points and cash back without getting into any debt.
So we did research on what card would make give the best benefits for us and our family and now we use that one for all of our purchases. That way we're getting benefits and cash back on purchases we would be making anyway. Things like gas, groceries, etc.
Finally after we built up our emergency fund, we continued to put away money into our savings to buy a house!
Brian started working in 2020 and in 2020 and 2021 we were able to save up $45,000 for a down payment and we bought our first home in December of 2021!
Final Thoughts
We listened to Dave Ramsey's Total money makeover which helped get some good ideas for money going forward. It's where we learned about the debt snowball method.
While I think that book was extremely helpful for us to get some good ideas on money, I wouldn't take any thing he says as gospel. We took what we thought was helpful and left the rest.
I am so proud that we were able to pay off all our credit card debt and in only one year too! Its so empowering to not be tied to the cards anymore.
Going forward we've learned how to better manage our money and finally feel like we're in control of our finances. I'm excited to see what the future brings!
Come see what were up to on Instagram: @CassScroggins