The 20 Habits of a Confident Woman Who Loves Life (& How to Become One!)
This post may contain affiliate links. That means we may make a small commission on items purchased through links in this post at no extra cost to you!
In a world that raises men to be loud, assertive, leaders, and women to be small, quiet, and submissive, confidence often doesn't seem to be second nature to those of us with two X chromosomes. This leaves us to believe that women who are confident and in control just came by it naturally. But really, confidence is a state that is learned and cultivated through habits.
In this post, we'll explore how to be a confident woman who loves life with 20 easy habits. In no time you'll find yourself being more authentic to your own personality and liking life a whole lot more!
Confidence is a state, not a trait.
When we think of confidence, it is easy to assume that it is a trait that someone is either born with or not. This could not be further from the truth!
Confidence is something that can be cultivated and learned, it doesn't matter what your starting point is. Confidence is a state of mind in which you feel capable and in control. It is the ability to trust your intuition and your abilities, and it allows you to be yourself without apology.
It doesn't matter if you are loud or quiet, shy or bold, being a confident woman means being authentic to who you are. And right now it is more necessary than ever to become more confident women.
We are now the breadwinners in 40% of households but we are still constantly barraged with images in the media of what the "perfect" woman looks like. This impossible ideal can make it difficult to develop a healthy sense of self confidence when we don't always see ourselves reflected in our culture.
If we are confident in ourselves as women, we can be happy and content with life and ignore societal pressure to be a certain way or be perfect. Confidence may come more naturally to some than others but with practice, we can all become a more confident woman.
So what are the traits of a confident woman? How do we become confident women? We do the things confident women do! Here are 20 habits that will help you become a happy confident woman.
How to be a confident woman: 20 Habits to Start Today
1. Know Your Stuff
When you're knowledgeable about something, it's hard for anyone to tell you that you're wrong or make you feel like an imposter.
So, become an expert in your field, learn as much as you can, and be able to back up your opinions with facts. This will help you to be taken seriously and feel confident in any situation.
Education is a huge proponent of confidence, hence the saying "knowledge is power". Especially in a society that traditionally looked at what women thought and said as "less than", being confident in your own knowledge can help you feel more confident all around.
2. Start with Small Goals
It's easy to become overwhelmed when we think about all the things we want to achieve in our lives. This can lead to feelings of inadequacy and self-doubt before we even start.
To avoid this, focus on setting small, achievable goals for yourself. When you accomplish these goals, it will give you a sense of accomplishment and encourage you to keep going.
You can also use this habit as a way to build confidence in other areas of your life. For example, if you want to be more confident in your ability to be consistent at the gym, set a goal of simply walking on the treadmill for 10 minutes twice a week.
This is a much more achievable goal than saying you're going to work out every day for the next month, and it's a great way to build confidence in your ability to stick to something.
Get my free goal setting worksheet here.
3. Try New Things
Confident people are not afraid to try new things. In fact, they often enjoy new experiences and find them exciting.
If you want to become a more confident woman, then you need to start by stepping out of your comfort zone. This doesn't mean doing something crazy or dangerous but simply doing things that are slightly outside your comfort zone.
Challenge yourself in different areas of your life, like trying a new food or taking a different route to work. When you do something that is unfamiliar to you, it helps you to build confidence in your abilities and teaches you that you are capable of more than you thought.
4. Practice Confident Body Language
Your body language can say a lot about your confidence level to those around you and yourself. If you're standing with your shoulders slumped and your head down, it's going to be hard to feel confident.
On the other hand, if you practice holding yourself upright with your chin up, your shoulders back, and making eye contact, you will start to feel more confident. This is because your body language affects your emotions and how others perceive you. So the right body language can help you feel more confident and self assured.
Body Language to practice:
Make eye contact with those you are speaking to
Sit or stand up straight and tall
Avoid crossing your arms or legs
Keep your head high
Aim your torso towards the person you're talking to
5. Use Positive Language
Confident women know the power of positive self-talk. They know that what they say to themselves and others affects their mood, confidence, and outlook on life.
So instead of using negative words like "can't" or "never", try to focus on using positive words that empower you. For example, instead of saying "I can't do this", say "I can do this". This simple change in language can make a big difference in how confident you feel.
The more you practice using positive language, the more it will become second nature to you. And before you know it, you'll be surprised at how much your confidence has grown.
6. Practice Self Care
It's important to take care of yourself both physically and mentally if you want to be a confident woman. This means making time for yourself to relax and rejuvenate, as well as taking care of your body.
Regular exercise, getting enough sleep, and a healthy diet are great ways to take care of your body, while things like yoga and meditation can help you relax and de-stress. When you make time for self care, you're sending the message to yourself that you are worth taking care of.
Increasing your feeling of self worth does a wonder for your confidence. So make sure to add some self care activities into your life if you want to become a more confident woman.
7. Take up Space
Women who exude confidence take up space. They aren't afraid to stand out or be heard.
One way to start doing this is by making sure you're sitting or standing up tall. This will help you feel more confident and in control. Additionally, aim to use your voice and express yourself clearly. When you speak up and make your presence known, it helps to boost your confidence.
Be assertive, and don't be afraid to share your opinions. Know that you have a valuable voice and that it is worth being heard.
8. Evaluate Your Circle
You are a cumulation of the five people you spend the most time with. So if you want to be a confident woman, it's important to surround yourself with positive people who will help to bolster your confidence.
If you have negative people in your personal life, or people who are constantly putting you down or complaining, then it's time to reevaluate those relationships. These types of relationships are not healthy for you and they will only bring your confidence level down.
Instead, try to surround yourself with people who are supportive, positive, and uplifting. Other women with a positive outlook, confident attitude, different life experiences, and help you feel good are the right kind of friends to have. These are the type of people who will help you to become a confident, strong woman.
9. Become Independent
Confident women are independent. They don't rely on others to do things for them, support them, or make them happy. Instead, they are confident enough to do things for themselves and they know how to find happiness from within.
One way to become more independent is to start doing things alone. This can be anything from going to the movies, going to doctor appointments alone, or ordering your own food at a restaurant.
Being independent simply means you are not dependent on anyone else. Not for your happiness, not for your success, not for your ability to support yourself. True confidence comes when you know you are everything you need in your own life.
That doesn't mean you can't be married, have a relationship, or even be a stay at home mom. You can be independent and still share a life with someone.
However, finding ways to be more independent will help you become a more self confident woman and more sure of your own abilities and inner strength.
In fact, one of the most mentioned qualities in a partner citied by both men and women is confidence. So being more independent can actually help you become a better partner too.
10. Analyze Your Environment
Building confidence as a woman can be hard if you feel like where you are is holding you down. If you're in an environment that is constantly putting you down or making you feel less than, it will be difficult to find the confidence you need to succeed.
In these situations, it's best to analyze your environment and see if there are any changes you can make. If you're in a toxic workplace, for example, see if there are any steps you can take to make the situation better. If not, it may be time to start looking for a new job.
The same goes for your personal life. If you're in a relationship that is constantly putting you down or making you feel bad about yourself, it's time to assess whether or not that is a healthy relationship.
Honestly, getting out of your hometown is a huge way to build more self confidence. Getting away helps you to feel like you can be whoever you want to be. This allows you have the right attitude and self awareness that may have been hindered by the insecure people in your hometown.
11. Understand Yourself & Personality
A massive proponent of being a self confident woman is doing the work to understand yourself and your own personality.
One great way to do this by taking a personality test. This will help you to learn more about yourself and what makes you tick. It can also be helpful to read books or take online courses that focus on personal development.
When you understand yourself better, you'll start to see just how amazing and confident you truly are. You'll also find it easier to own your quirks and celebrate your differences.
My favorite personality test is the one at 16Personalities.com!
12. Don't Compare Yourself to Others
One of the quickest ways to lose confidence is to compare yourself to others. This is because we usually compare our worst qualities to other people's best qualities, and it's just not a fair comparison.
So instead of comparing yourself to others, to become a confident woman, focus on being the best version of yourself. This doesn't mean that you should strive to be someone you're not, it just means that you should focus on your own strengths and weaknesses work on improving both.
When you do this, you will start to see yourself in a much more positive light, and this will help to boost your confidence.
13. Practice Optimism
To become a confident woman, and boost your self confidence, practice being optimistic.
When you are optimistic, you believe that good things will happen, you see the good side of situations. And this isn't just a mindset, there is actually scientific proof that optimism can lead to a longer and healthier life.
So when it comes to building confidence as a woman, practicing optimism is key. One way to do this is by writing down three things that you're grateful for each day. This can be something as simple as, "I'm grateful for my bed because it's comfortable and I slept well last night."
Another way to practice optimism is by looking for the positive things in every situation. For example, if you get stuck in traffic, instead of getting angry, try to see it as an opportunity to listen to your favorite podcast or listen to a new album.
Optimism is a choice, and it's one that can have a big impact on your confidence levels.
14. Recognize Your Confidence Boosters
There are many small things that help us feel like a more confident woman. Things like wearing an outfit you like or getting your hair done can make you feel great about yourself.
It's important to recognize the things that boost your confidence, and incorporate them into your life as much as possible. This could mean setting to cultivate a wardrobe that you love, creating a pump up playlist, or getting a tan!
Every woman knows what things help her feel like a million bucks! When you make an effort to do things that make you feel good, it will show!
15. Don't Put Others Down
A confident woman doesn't feel the need to put others down in order to feel good about herself.
Instead, she focuses on her own personal growth, positive qualities and accomplishments. When you focus on your own positive attributes, it will help you to see yourself in a more positive light.
A sign of a confident woman is she makes room for others at the top. Insecure people put others down, it may be hard to break bad habits, but it is worth the work.
Compliment others, be genuine, and build people up. This will help you become more confident in yourself and make you feel good!
16. Stand Up For Yourself
This is a big one! If someone is disrespecting you, talking down to you, or taking advantage of you, to be a confident woman it is very important to stand up for yourself.
This doesn't mean that you need to start a fight or be confrontational, but it does mean that you should communicate your boundaries and what is acceptable to you.
When you stand up for yourself, you are communicating that you respect yourself and that you will not tolerate being treated poorly. This sends a strong message to anyone who is trying to take advantage of you, and it will help you increase your feeling of self worth.
17. Don't Take Criticism Personally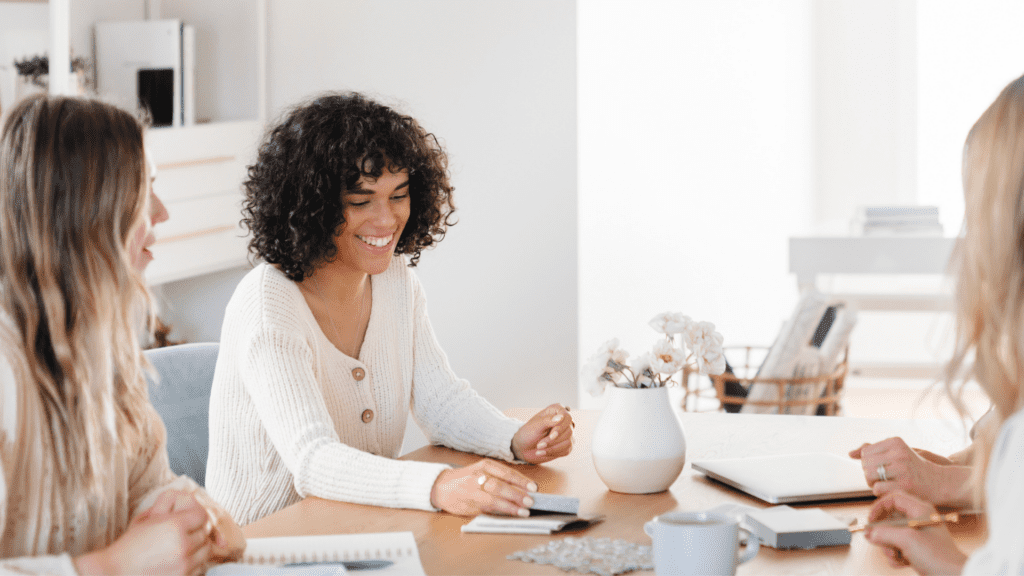 We all know that it's not easy to hear criticism, but a confident woman knows how to take it in stride.
When someone offers you constructive criticism, instead of taking it personally, try to see it as an opportunity to improve.
This doesn't mean that you have to agree with the person who is giving you the criticism, but it does mean that you should be open to hearing what they have to say.
Take the opportunity to learn from the criticism, and use it to make yourself a better person.
18. Accept Compliments
A confident woman knows how to accept a compliment with grace.
When someone pays you a compliment, instead of downplaying it or dismissing it, say "Thank you!" This shows that you appreciate the person's kind words, and it will help to boost your confidence levels.
Plus, when you start to accept compliments with grace, it will encourage others to give you more compliments which boosts your self confidence!
19. Take Responsibility for Your Life
A confident woman takes responsibility for her life, and she doesn't blame others for her problems.
Instead of pointing the finger, a confident woman looks inward and tries to figure out what she can do to improve the situation. This doesn't mean that you should take on more than your fair share of responsibility, but it does mean that you should be proactive in finding solutions to your problems.
When you take responsibility for your life, you will find that you are able to achieve more and you will feel more in control.
20. Believe in Yourself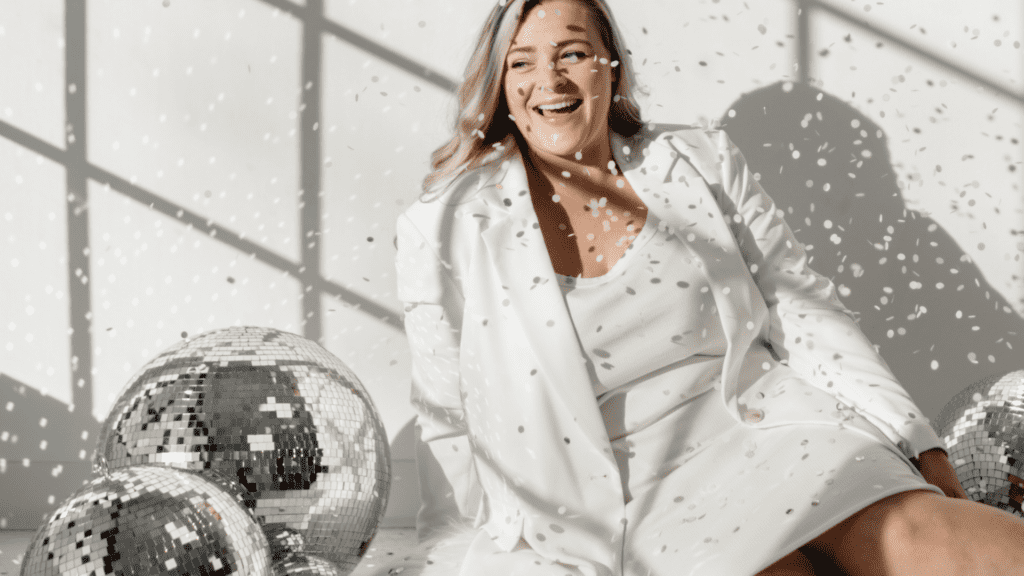 Confident women have one thing in common: they believe in themselves.
No matter what challenges they face, they know that they have the strength and capability to overcome them. They don't doubt their ability to succeed, and this allows them to take risks and go after their dreams.
If you want to become a confident woman, you need to start by believing in yourself. When you have faith in your own abilities, it will be easier to take risks and achieve your goals.
Final Thoughts
So, there you have it! The 20 signs of a Confident Woman who loves life! These habits can help to boost your self-confidence and help you live a happier life.
Start incorporating these habits into your daily routine, and you will start to see a difference in the way you feel about yourself and it will help manifest the dream life you want. Remember, it takes time and effort to build confidence, but it is worth it! You're worth it.
Want to remember this post? Pin it to your favorite Pinterest Board!