One Bobby Pin Space Buns Easy Half Up Half Down Hairstyle
This post may contain affiliate links. That means we may make a small commission on items purchased through links in this post at no extra cost to you!
If you're looking for an easy and quick hairstyle, then these 1 bobby pin space buns are perfect! They take just a minute to do and there's no need for an elastic band so no more elastic marks!
All you need is a bobby pin for this easy half up half down hairstyle. So give this look a try next time you're running late! Scroll down to watch the video hair tutorial!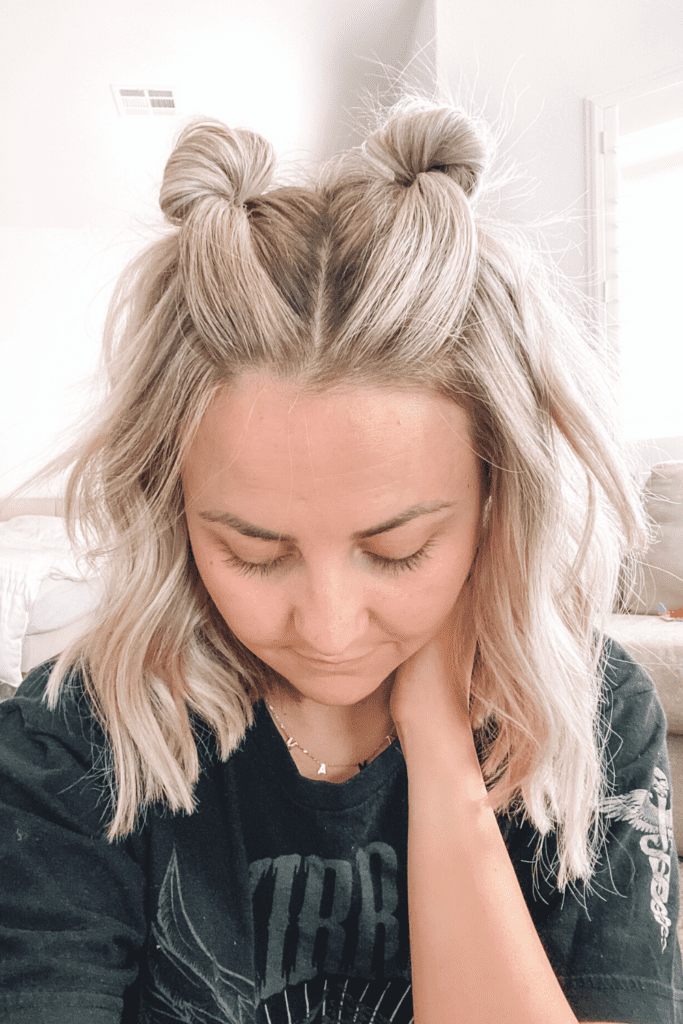 What you'll need:
Bobby Pins (You may need two per bun if your hair is thicker or longer)
That's it!
That is honestly what makes this hairstyle so great. If you're out and about and want to up your look or just need your bangs out of your face, you can scrape together a couple of bobby pins and you're good to go!
Optional Products:
Texture Spray – This one is my favorite! (this can help your buns stay in place!)
Curling Iron – This is the one I use. See how I curl my hair here. (I suggest curling your hair BEFORE doing the buns!)
Easy 1 Bobby Pin Space Buns Hair Tutorial
This look is really so easy and can be done in just a minute! If you have longer or thicker hair, you may need two bobby pins per bun but other than that, all you need is ONE per bun!
Start with day-old or second day hair. I find that this style works best on hair that doesn't have too much oils weighing it down.
If your hair is on the cleaner side, you can add texture spray (I like this one) or if it's too oily use a little dry shampoo (I use this one). Curl your hair before if that's the look you're going for. Here is a tutorial on how I curl my medium-length hair!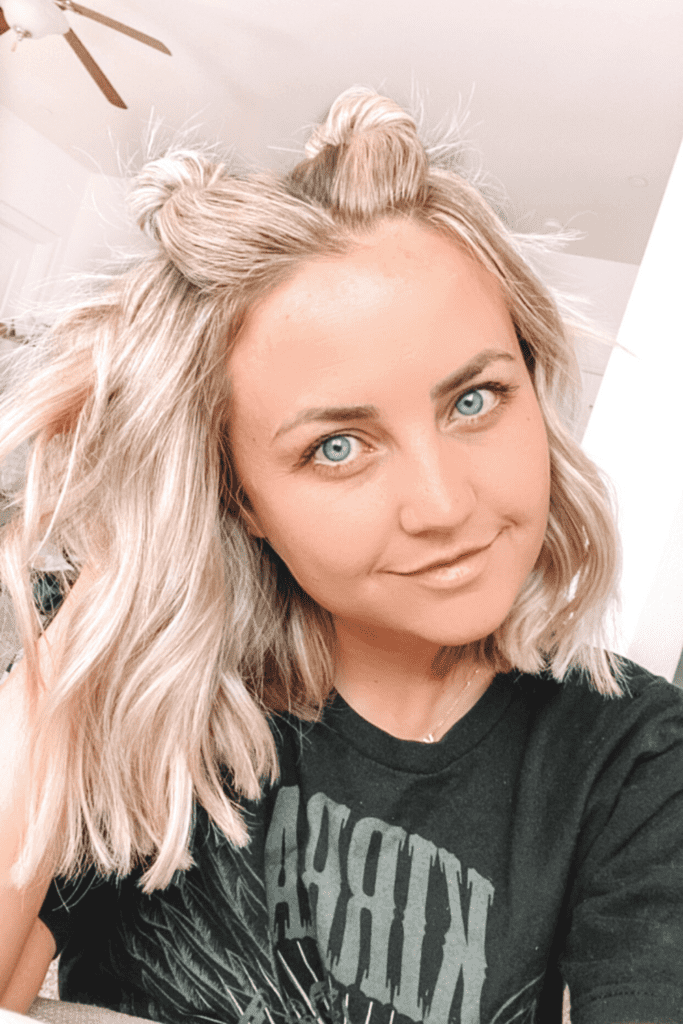 Step 1:
Create a middle part and then take two small sections of hair from the front of your head near your temples. These two sections will be used to create the space buns.
Step 2:
Tightly twist each section away from your face towards the back of your head.
Step 3:
Once the section is twisted, wrap the hair around itself once to create a small bun. Leaving out the rest of the hair off the side of your head not in the back. This creates extra volume at the top of your head.
Step 4:
Gently pull apart the bun while holding it firmly at the base with your other hand. Play around with it. The goal is to pull it apart just enough that it has some volume and is a little bigger. You don't want a tight little loop on your head!
Step 5:
Secure the bun at the base that you were just holding it at with a bobby pin. When placing the bobby pin, make sure that the back of it is towards the back of your head, and the open side is towards your face.
That will ensure it doesn't untwist itself. If you place the bobby pin with the openside pointed towards the back of your head the buns won't stay in.
Done!
Quick Tip for Extra Secure Buns:
If you have longer or thicker hair or if you just want to make sure these buns are super secure. Place one bobby pin with the open side pointed towards your face then use another one to cross over the first in the opposite direction. Creating a bobby pin X. One pointed towards your face, one pointed away.
Video Tutorial:
This hairstyle is perfect if you're looking for something quick and easy! You only need one bobby pin per bun, so it's great if you're in a hurry. Plus, there's no need for an elastic band so there won't be any marks in your hair.
I hope you enjoyed this quick and easy hairstyle! Let me know if you have any questions in the comments below. And don't forget to subscribe to my YouTube channel for more videos or follow me on Instagram @CassScroggins!
Why I Share:
As a young mom, I've found that when I like the way I look, I feel better. I feel happier, more patient, and confident. That helps me to be a better, nicer, more present mom. That is why I share these hair tutorials. Because these are some of the things that make me feel better, happier, and like I have an identity outside of motherhood.
So if you're into rediscovering your identity after motherhood. This is the place for you!
Want to remember this post? Pin it to your favorite Pinterest board!