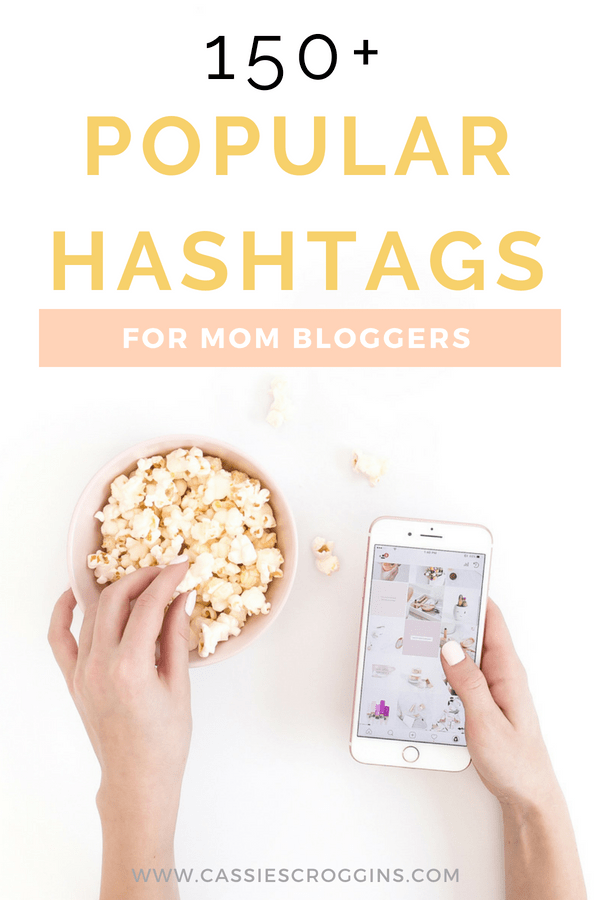 150+ Popular Hashtags for Mom Bloggers
This post may contain affiliate links. That means we may make a small commission on items purchased through links in this post at no extra cost to you!
The power of hashtags. When I implemented a hashtag strategy to my Instagram using popular hashtags, I saw a great increase in my post engagement. I even had someone DM me an tell me they found me through one of my hashtags I used and loved my content! And if you're a mom blogger or mompreneur looking to grow your engagement and following it's time to find some popular hashtags and implement a hashtag strategy!

Popular Hashtags for Mom Bloggers
#momlife #momblog #motherhoodthroughinstagram #momsofinstagram #mommyblogger #momstyle #mommygoals  #honestmomconfessions#honestmotherhood #illuminatechildhood #worldoflittles#childhoodunplugged #clickinmoms #candidchildhood #motherhoodrising #letthembelittle #momitforward #ig_motherhood #littleandbrave #magicofchildhood #thehappynow #mytinymoments #littlefierceones #mynameismama #acupofmotherhood #dailyparenting #stopdropandmom #unitedmomsnetwork #kidsforreal #storytellingmama #motherhoodinspired #igmotherhood #parenthood_unveiled #motherhoodsimplified #lifeasmama #parenthood_moments #joyfulmamas #heaventhroughmylens #littlepiecesofchildhood #ourcandidlife #instakid #momtog #momtogs #letthekids #instamom #pixel_kids #runwildmychild #myhonestmotherhood #motherhoodthroughig #wildandfreechildren #readtoyourkids #mumsofinstagram #mumlife #motherhoodlens #momcommunity #momentsinmotherhood #watchthemgrow #momlifeisthebestlife #moments_of_mom #justmomlife #messy_motherhood #featuremama #memoirsofmotherhood #clubmomme #slowmotherhood #lovingtheordinarymoments #magicofmotherhood #inspiremothers #instamommy #stunningbabies #teammotherly #unitedinmotherhood #momswithcameras #mommymoments #toddlersofinstagram #babiesofinstagram #bestofmom #simplymamahood #honestlymothering #cameramama #raisingthefuture #documentyourdays #motherly #instamama #momlifestyle #mytinytribe #motherhoodintheraw #mumswhostyle #littlemomentsofhappiness #mamasgotthis #ohmamamoment #mommystatus #mommaandme #momdotme #mommylifestyle #mommalife #mommydiaries #momlove #bloggermom #mommymode #momliferocks #vsco_mom #ohheymama #toddlerhood #momswhoblog #wondermom #momsoninstagram #momlyfe #beingamom
Popular Hashtags for Bloggers in General
#bloggers #blogging #bloggingtips #problogging #blogpromotion #bloggerlife #bloggersgetsocial #bloggerproblems #ontheblog #linkinprofile #lifestyleblog #lifestyleblogger #thegirlgang #lbloggers #theblogissue #wordpress #instablog #instablogger #blog #livethelittlethings #visualsgang #darlingmovement #collectivelycreate #behindthescenes #flashesofdelight #darlingmovement #chasinglight #risingtidesociety #finditliveit #seekthesimplicity #theartofslowliving #myunicornlife #lookslikefilm #thatsdarling #momentswithsunday #alifeconscious #dedication #determination #dreams #documentyourdays #holdyourmoments #simpleliving
How to Implement Hashtags into Your IG Game
Instagram will allow you to use up to 30 hashtags for one post, and there are all kinds of opinions on the internet of whether you should use just some or all 3o, but in my opinion, why wouldn't you use all 30?
Use all 30 Popular Hashtags per post
A bit ago, Instagram rolled out a new feature that allowed you to now follow a specific hashtag which means people don't have to just click on a hashtag or search a popular hashtag to see related post, now they can pop up right in someones feed. So why wouldn't you use 30 popular hashtags with large followings to grow your business? Why only harness the power of one or two or even ten popular hashtags when you can triple your chances of growth by using all 30?
Use Hashtags That Are in the Thousands Not Millions
When using hashtags, don't just add the most popular hashtags that are up in the millions. Your post will likely get lost in the crowd. Instead look for popular hashtags that are in the tens to hundreds of thousands instead of millions. That way you have a better chance of standing out, especially if you have a small following.
Use Hashtags to Target Your Ideal Follower
Think about why you are using a specific hashtag before you add it. Don't just slap on a bunch of hashtags because they are popular. Instead, use popular hashtags that will attract your ideal follower. Think about who you are wanting to attract, if you're a mom blogger you are likely trying to attract other moms right? In which case these popular mom hashtags above would be perfect. However, if you're trying to attract, say men who are into sports, these mom hashtags will do you no good!
Be thoughtful about the kind of audience you are hoping to attract. Who do you relate to most and how can you serve them?
Should I Add Hashtags Directly to My Caption or in the Comments?
This is a debate that Instagram has not commented on. They haven't come out to say which is a better practice for the Instagram algorithm so most of this is your own preference. However, from what I hear there are some theories/reasons people choose comments or caption and hers why.
Hashtags in the comments: Generally people who put their hashtags in the comments feel that this keeps their captions looking clean and not spammy or cluttered. They also say they haven't seen a decrease in engagement (allegedly) so why not? They feel like it's better aesthetically, so that is why they keep the hashtags in the comments.
Hashtags in the caption: From some users who place their hashtags in the caption claim that they get better engagement and they avoid the Instagram shadowban. They claim that people who place hashtags in the comments are more likely to not show up at all in the hashtag feed. So, to avoid the dreaded shadowban, they place all their hashtags in the captions.
Most, however, do say they separate their captions from the hashtags. They say to help with the aesthetic by placing their hashtags a few lines below the main caption.
What should you do? Just do what you think is best for you and your brand. Maybe play around with your hashtag placement and see if you can see a difference in engagement or growth when you place your hashtags in the captions or in the comments. Or maybe do a bit of both! Add a few of your most relevant hashtags to your main caption and add the rest to the comments. Play around with it and figure out what works best for you!
Conclusion: Keep it Authentic and Serve.
Use Instagram as a way to truly connect with your audience. As opposed to a way to make a quick buck or boast a vanity metric. Focus on attracting the right people and cultivating a community. Your followers won't be just followers but raving fans who are excited to see your posts.
Use popular hashtags to grow and reach new people. But remember to stay true to you and remember why you are doing what you're doing. Are you a blogger searching to help busy moms find more time in the day? Work on serving and attracting those moms and most of all don't forget about the followers you already have! One of my favorite Instagram queens and influencers is Jenna Kutcher. Who always says you need to serve the people you have instead of always looking for more. That is how you create a successful IG profile.
So don't forget to keep it real and serve your tribe while you use these popular hashtags and strategies to grow your tribe! You've got this!