This post may contain affiliate links. That means we may make a small commission on items purchased through links in this post at no extra cost to you!
Hey all! So this sweet little project took me about an hour to make, what?! Yup, this is a super simple and trendy way to add a little bohemian feel to any room! I had been looking on Pinterest for some wall inspiration while I continue decorating our new little place here in Lexington, and have fallen in love with woven and loose wall hangings!
After a trip to hobby lobby and only using approx. $5 worth of product, I had my very own loose yarn wall hanging! Woo go me! Customize this look with different color yarn, different amounts of yarn tied at once, different beads, no beads, 1,2, maybe 3 tiers, yarn dye, or try using a metal hoop instead of a wooden dowel! Here's a second one I made! [themify_icon icon="fa-angle-double-down" link="http://"]
Here's What You'll Need:
I bought every thing from Hobby Lobby, but you can buy it cheaper or in bulk on Amazon
! If you end up going to Hobby Lobby don't forget to pull up a coupon on your phone, they usually have a 40% coupon right on their website!
Cut your dowel down using scissors or I used a pipe cutter to  2 – 13″ sticks, sanding the edges. You'll have about 9″ remaining, don't throw it away! You can make another wall hanging with it! Be creative!
Next cut out 40″ strands from all your colors! I used about 100 white strands, 75 tan speckle strands, and 30 black strands.
*Just loop them around your hands out stretched and cut the ends so you aren't measuring and cutting all day! LOL
Take 4-6 strands at a time and loop them over the dowel, pushing them together to eliminate spacing between the bunches. I did ,in this order, 5 white bunches, 3  tan speckle large bunches, 3 black small bunches, 3 tan speckle large bunches, 5 white bunches.
I then took my first full dowel and placed tape where I wanted to cut, and cut in a 'V' shape. Then cut my second full dowel straight across.
Now using your floss threader, add your beads onto the middle of each color, also in a 'V' shape, and two on the bottom white ends. Secure them by tying a knot in the thread and pull the bead over  to hide the knot.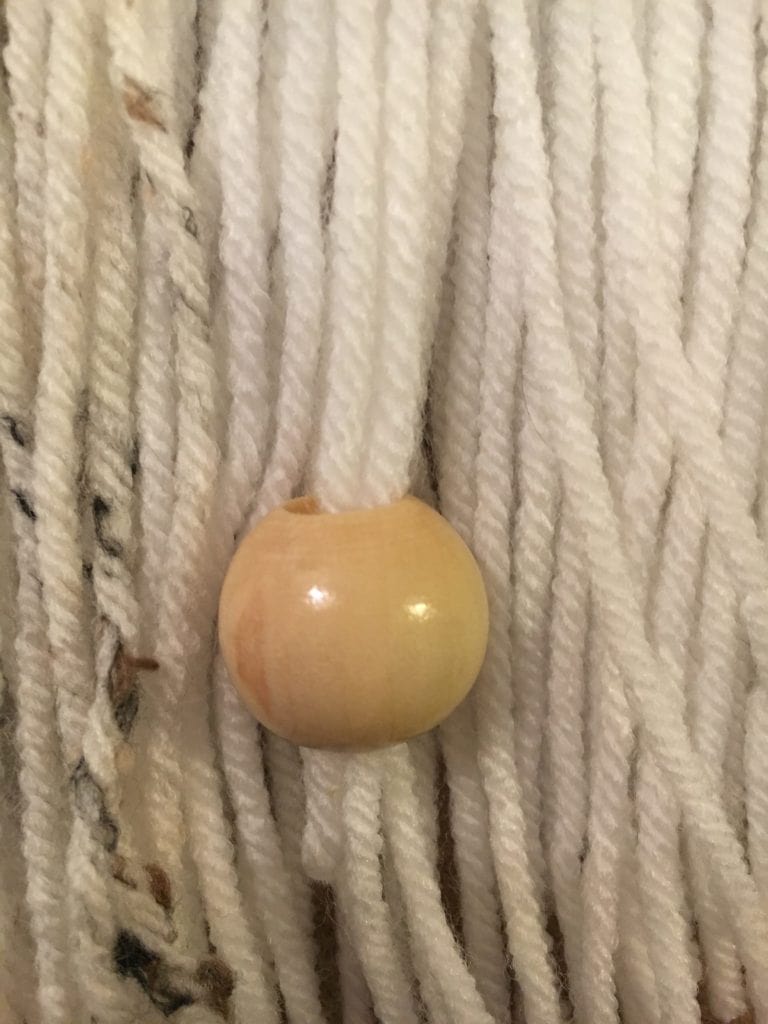 Using another single strand of yarn, loop it around the middle of the top dowel in the same manner as before (I messed it up in the pic) and then attach either end of the strand to the ends of the second dowel. Now your two dowels are connected! I then used another strand of white yarn, attaching it to either ends of my top dowel for hanging.
Hang on the wall and trim any stray strands. With your beautiful boho yarn wall hanging finished, sit back, grab a dirty DP and admire your work! Have fun!  Remember if you liked this post don't forget to subscribe to our newsletter, pin it, comment, and share! [themify_icon icon="fa-heart-o" link="http://"] Cassie Jean