The 4 Best Free Printable Cleaning Schedule Templates for The Overwhelmed Mom
This post may contain affiliate links. That means we may make a small commission on items purchased through links in this post at no extra cost to you!
As moms, we all know how challenging it can be to keep our homes sparkling clean while juggling school runs, work deadlines, soccer practices, and everything in between. Luckily I have the 4 best cleaning schedule templates that will make your life so much easier and your home a real happy place!
Why You Need a Cleaning Schedule in Your Life
Let's face it, chaos is the norm of family life. But it can leave your home feeling even more overwhelming.
I, for one, always feel so much better when my space is clean. I'm more patient, kind, and optimistic when I'm not stressing about how dirty my home feels.
That's where a fantastic cleaning schedule comes to the rescue! It's like having your secret weapon against the never-ending pile of dishes, laundry mountains, and the dreaded dust bunnies.
With a well-thought-out cleaning schedule, you'll finally bring order to the madness. You'll know exactly who's doing what and when, and trust me, it feels like a breath of fresh air.
Say goodbye to the days of "I thought you were doing that!" and hello to a harmonious home where chores are shared with love with my free cleaning checklist printables!
Perks of Using a Cleaning Schedule Template
Now, let me tell you the best part – using a cleaning schedule template is like having your cleaning fairy godmother! It's pure magic, and here's why:
Time-Saver Extraordinaire: Who has time to reinvent the cleaning wheel every week? Not me! With a ready-made template, you'll have more time for the things that truly matter, like cuddling with your kiddos or enjoying that well-deserved "me-time" with a diet coke and a good podcast.
Customization Heaven: One size never fits all, especially when it comes to family life. The beauty of cleaning schedule templates is that they can be tailor-made to suit your family's quirks and routines. It's like a personalized cleaning roadmap, designed with your family in mind.
Hello, Organization Guru! No more wandering aimlessly, wondering where to start or what to do next. A cleaning schedule template is your BFF when it comes to organization. It lays out all the tasks, schedules, and who's responsible for what, so you can glide through your cleaning routine like a pro.
Team Spirit Boost: Family teamwork makes the dream work! When everyone knows their role in the cleaning game, it's a win-win for everyone. Kids learn the value of pitching in, and you get to bask in the joy of seeing your little helpers grow responsible and proud of their contributions.
In this post we'll explore different approaches, steal some genius ideas, and even get you some fantastic free printable templates to make your life even sweeter.
Let's get this cleaning party started, shall we? 😄🎉
You Might Also Like: How to Design The Perfect Stay at Home Mom Schedule to Stay Sane
You Might Also Like: The Best DIY Velcro Chore Chart for Kids + Lists of Chores for Every Age!
1. Assessing Your Family's Cleaning Needs
Alright, let's dive into the nitty-gritty of creating a cleaning schedule that works wonders for your unique family. Before we jump headfirst into planning, we need to take a moment to understand your family's specific cleaning needs. Don't worry; it's not as daunting as it sounds. It's like putting together the pieces of a puzzle, and I'm here to guide you every step of the way!
Identify All Cleaning Tasks for Your Household
Creating a comprehensive list of chores and cleaning jobs is the key to building a successful cleaning schedule that covers all the bases. First sit down and identify what tasks need to be done on a regular basis. Think about the usual suspects like dusting, vacuuming, mopping floors, and cleaning bathrooms but also don't forget those little daily, weekly, and monthly tasks that help maintain the cleanliness of your home such as washing dishes, wiping counters, tidying up rooms, sweeping the porch, mowing the lawn and putting away laundry.
Below, I've compiled a variety of chore ideas that can be categorized into daily, weekly, and monthly tasks. Feel free to mix and match these ideas based on your family's needs and preferences:
Daily Cleaning Schedule Chore Ideas:
Make the beds
Wipe down kitchen countertops and stove
Do the dishes or load/unload the dishwasher
Sweep or vacuum high-traffic areas
Wipe down bathroom sinks and mirrors
Tidy up toys and clutter
Take out the trash and recycling
Water indoor plants
Weekly Cleaning Schedule Chore Ideas:
Vacuum or mop all floors
Dust furniture and shelves
Clean kitchen appliances (microwave, oven, etc.)
Disinfect bathroom surfaces (toilet, bathtub, shower)
Change bed linens
Wipe down light switches, doorknobs, and other frequently-touched surfaces
Clean windows and mirrors
Organize and declutter one area or room
Monthly Cleaning Schedule Chore Ideas:
Deep clean kitchen cabinets and drawers
Wash curtains and blinds
Vacuum upholstery and under furniture
Clean out the refrigerator and freezer
Descale faucets and showerheads
Dust ceiling fans and light fixtures
Wash baseboards and walls
Rotate and flip mattresses
Considering Specific Cleaning Challenges and Solutions
Every family faces unique cleaning challenges, and it's time to tackle them head-on! Perhaps you have a fur baby that sheds like crazy, or maybe your little ones love arts and crafts but leave a creative mess behind.
Be sure to think of priority areas of your home. Every home has its "hotspots" – those areas that seem to attract mess like magnets. Is it the kitchen after a meal, the living room after playtime, or the bathroom after bath time? Identify these priority areas and focus on keeping them in top-notch condition.
2. Approaches to Cleaning Schedules
Ah, now comes the fun part – let's explore some fabulous approaches to cleaning schedules! Remember, there's no one-size-fits-all when it comes to family life, so feel free to mix and match these ideas to create the perfect cleaning recipe for your household.
Daily, Weekly, and Monthly Cleaning Schedules & Routines
If you're looking to maintain a consistently clean home without feeling overwhelmed, the daily, weekly, and monthly cleaning routine might be just what you need. Break down tasks into manageable chunks, so you don't have to do everything all at once.
For instance, daily tasks could include quick tidying up, making beds, and doing the dishes. Weekly tasks might involve vacuuming, dusting, and a thorough bathroom cleaning. Finally, monthly tasks could include deep-cleaning projects like organizing closets or wiping down baseboards.
Rotating Chores for Each Family Member
Want to make sure everyone shares the load equally? The rotating chore approach is a fantastic way to do just that! Assign different chores to each family member every week or month. This not only prevents chore burnout but also gives everyone a chance to learn new skills and responsibilities.
Get creative with it! Have a chore jar or spin a chore wheel each week to add an element of excitement and surprise. Who knows, your kids might end up finding joy in the most unexpected tasks!
The Power of the 15-Minute Cleanup
Let's face it – life gets hectic, and we don't always have hours to devote to cleaning. That's where the 15-minute cleanup swoops in to save the day! Set a timer and challenge the whole family to tidy up as much as possible in just 15 minutes.
You'll be amazed at how much can be accomplished in such a short time! It's a great way to keep your home presentable, even on those busiest of days.
Seasonal Deep Cleaning and Organizing
While it might sound like a big task, tackling deep cleaning and organizing on a seasonal basis can work wonders for your home's overall cleanliness.
As the seasons change, set aside a weekend or two to focus on specific projects, like decluttering closets in the spring or cleaning out the garage in the fall. Get the whole family involved, and you'll be rewarded with a fresh and organized home.
3. Creating Your Custom Cleaning Schedule
You've got the ideas, the enthusiasm, and the determination to make your home sparkle, and now it's time to put it all into a rock-solid cleaning schedule. Don't fret; it's easier than you think! Let's roll up our sleeves and create the perfect cleaning schedule that works like a charm for your family.
Time Management and Family Calendar Integration
First things first, gather your family together for a fun cleaning pow-wow! Sit down and chat about everyone's schedules, commitments, and availability. Or if your kids are young, you can just sit down with your spouse or partner.
Understanding when each family member is free and energized to tackle cleaning tasks will help you create a schedule that doesn't clash with your busy lives.
Next, divvy up the cleaning responsibilities based on each family member's strengths, preferences, and things that are age appropriate.
Got a little one who loves organizing toys? That's a perfect playdate with the toy bin! Older kids can take on more substantial tasks, and don't forget, they might surprise you with their enthusiasm.
Next, set aside specific time slots for daily and weekly cleaning tasks. Whether it's early morning, afternoons, or evenings, find the time that suits your family's energy levels and routines.
Utilizing Cleaning Checklists for Efficient Tasks Completion
Checklists are your secret weapon for a smooth cleaning routine. Create detailed cleaning checklists for each task, so nothing gets forgotten or left half-done.
Laminate the checklists or put them in clear sheet protectors, so you can use dry-erase markers to tick off completed tasks. It's satisfying and motivates everyone to see the progress!
Setting Realistic Goals and Expectations
While we all dream of having homes that look like magazine spreads, it's essential to set realistic goals and expectations for your cleaning schedule. Consider your family's lifestyle and daily demands to avoid overwhelming yourselves.
Break down tasks into manageable chunks, and remember, it's okay if everything isn't perfect all the time. The key is to keep making progress and working together as a team.
4. Free Printable Cleaning Schedule Templates
Alright, my friends, it's time to add some pizzazz to your cleaning routine with our fabulous free cleaning printables and free printable cleaning schedule templates! These beauties are designed to make your life easier, prettier, and oh-so-organized. Just click the links below to download and print your favorite templates:
Template 1: Daily, Weekly, and Monthly Cleaning Checklist
This template is a complete house cleaning checklist that covers all the bases, helping you stay on top of your daily, weekly, and monthly cleaning tasks. From making the bed every morning to doing a thorough bathroom cleaning once a month, this template ensures nothing slips through the cracks.
This house cleaning checklist includes a daily cleaning schedule, a weekly cleaning schedule, and a monthly house cleaning schedule to make sure everything gets done!
Template 2: Rotating Chores for Each Family Member
Get the whole family involved and let the rotating chore schedule work its magic! This template lets you assign different chores to each family member, so everyone gets a chance to shine in different areas.
Template 3: The 15-Minute "Beat The Clock" Cleanup Plan
For those busy days when time is scarce, this 15-minute cleanup plan has your back. Quick and efficient, this cleaning checklist template helps you make the most out of those spare moments to keep your home looking fabulous.
Simply set the timer for the minutes allotted per task and get as much done in those minutes as possible! At the end of 15 minutes, your space will be that much cleaner and less overwhelming!
Template 4: Seasonal Deep Cleaning Checklist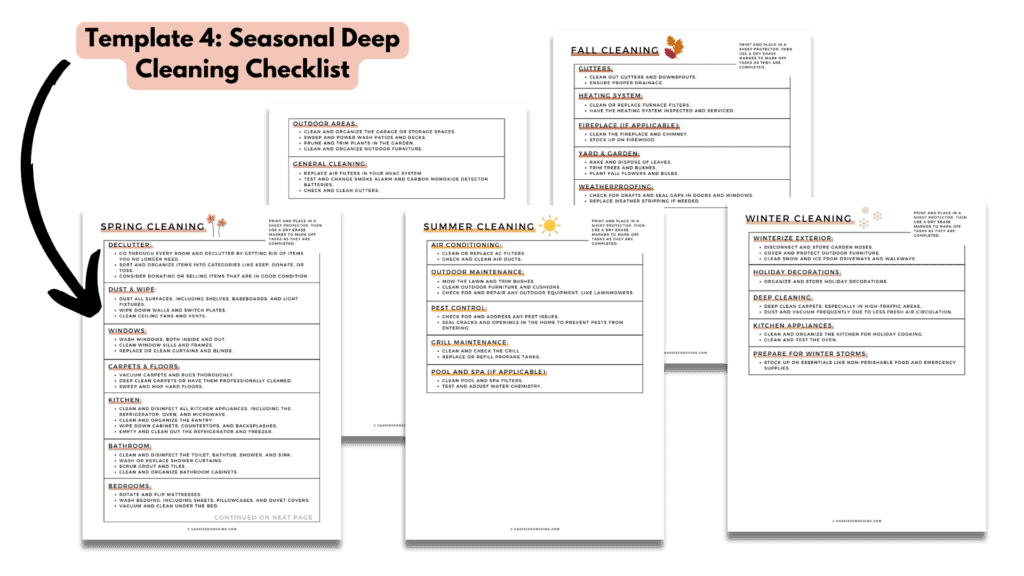 Embrace the changing seasons with this seasonal deep cleaning checklist. From a spring cleaning checklist to holiday preparations checklist, this cleaning schedule template ensures your home is fresh and organized throughout the year.
Phew! You now have an arsenal of cleaning templates at your disposal, ready to bring order and sparkle to your home. Simply print them out, add them to your family command center or stick them on the fridge, and let the cleaning fun begin!
Remember, these templates are just a starting point. Feel free to tweak and customize them to suit your family's needs. After all, a cleaning schedule should be your personal fairy godmother, not a rigid taskmaster.
5. Tips for Implementing the Cleaning Schedule
Congratulations on creating your personalized cleaning schedule and getting your hands on those adorable templates! Now, let's ensure that your cleaning routine becomes a smashing success. These handy tips will help you seamlessly integrate your schedule into your family's daily life and turn cleaning into a breeze.
Setting up Reminders and Alarms
With everyone leading busy lives, it's easy to forget cleaning time. Set up reminders on your family's phones or use fun alarms to alert everyone when it's cleaning o'clock.
Consider using smart home devices to help you stay on track. Hey, who doesn't love a gentle reminder from a virtual assistant?
Rewarding and Motivating Family Members
Positive reinforcement works wonders! Create a reward system for completing cleaning tasks and celebrate your family's cleaning achievements.
Rewarding doesn't have to be grand; it can be as simple as a favorite treat, a movie night, or even some extra playtime at the park. A little incentive goes a long way in keeping everyone motivated and excited to participate.
Use Fun Chore Charts for Kids
After responsibilities have been divided up between family members, crafting chore charts helps teach kids responsibility and ownership. Kids love to see their progress, so even things like colorful stars or stickers for completed tasks can be encouraging.
By using fun visuals, you help make cleaning an enjoyable part of your family's routine that everyone looks forward to!
Check out my DIY Flip-up Routine Chart here.
Check out my DIY velcro Chore Chart here (Plus this post includes a list of age appropriate chore ideas for every age!)
6. Tools and Apps for Managing Cleaning Schedules
Let's explore some fantastic tools and apps that will make managing your cleaning schedule a breeze. Say goodbye to scattered sticky notes and hello to the convenience of modern technology!
Cleaning Apps with Reminders and Checklists
There's an app for everything these days, including cleaning! Look for cleaning apps that offer customizable checklists, reminders, and even gamified features to keep your family motivated. Ones like, Sweepy, Tody, and Cozi. Plus, they sync with smart home devices for added convenience.
Many of these apps allow you to create personalized cleaning routines and send push notifications to remind family members when it's time to tackle their tasks. It's like having a digital cleaning assistant in your pocket!
Digital Family Calendars for Synchronization
Coordinate your family's busy schedules with digital family calendars. Choose apps that allow multiple users to access and update the calendar to be a cleaning calendar.
Sync your cleaning schedule with other family events and commitments, so you can find the best time for cleaning that works for everyone. Plus, no more forgotten cleaning days!
Chore Management Apps for Children's Tasks
Teaching kids responsibility can be a joy with chore management apps designed for children. These apps turn chores into exciting adventures with interactive features and rewards. Apps like, Joon and Homey are great for helping kids learn the importance of responsibility.
Kids can mark off completed tasks, earn virtual rewards, and track their progress, making cleaning a fun and rewarding experience. It's a win-win for parents and little helpers!
Smart Home Devices for Effortless Cleaning
Welcome to the future of cleaning! Smart home devices like robotic vacuums and mops can take some of the burden off your shoulders.
Set up a cleaning schedule for these high-tech helpers, and they'll keep your floors clean without you lifting a finger. It's like having a cleaning fairy doing the work for you!
This one is a great one that doesn't break the bank!
7. Maintenance and Upkeep of the Cleaning Schedule
Home maintenance is a continuous process of keeping your home spick and span while ensuring a happy and harmonious family life. Let's explore how to maintain and fine-tune your cleaning schedule for long-lasting success.
Regularly Reviewing and Adjusting the Schedule
Life is ever-changing, and so are your family's needs and routines. Make it a habit to review your cleaning schedule regularly, perhaps every few months or whenever a significant life event occurs.
During these reviews, assess the effectiveness of your current schedule and discuss any adjustments that might be necessary. Are some tasks taking longer than expected? Are there new chores to include? Stay open to making changes to keep your schedule fresh and relevant.
Encouraging Feedback from Family Members
Your family's input is invaluable when it comes to maintaining a successful cleaning schedule. Encourage open communication and ask for feedback from each family member regularly.
Perhaps someone has a brilliant idea to make cleaning more enjoyable, or they might have specific preferences regarding their tasks. By involving everyone, your cleaning routine becomes a collective effort where everyone feels valued and heard.
Celebrating Cleaning Milestones
As you journey through your cleaning schedule, take time to celebrate your accomplishments! Whether it's completing a particularly challenging deep cleaning task or maintaining a tidy home for an extended period, acknowledge your family's hard work and dedication.
Create small celebrations or rewards for reaching cleaning milestones. This positive reinforcement will not only boost morale but also motivate everyone to keep up the fantastic work.
Conclusion
Congratulations on completing this cleaning adventure together! May your days be filled with the sparkle of clean countertops, the laughter of shared moments, and an empty laundry hamper always!
Don't forget to download your free cleaning schedule templates to get you started!
Here's to a clean and happy home, and to the incredible bond of family. Keep shining, keep loving, and keep creating beautiful memories. Wishing you all the joy and magic life has to offer!
Happy cleaning!
Want to remember this post? Save it to your favorite Pinterest board!