How I Color My Titanium Hair
This post may contain affiliate links. That means we may make a small commission on items purchased through links in this post at no extra cost to you!
Hey all! So this week while I was going through a few of our remaining moving boxes that are scattered around the house, when I found a few tubes of color that I had left over from doing my sister's hair. I was going to return them, but I thought I'd do a little hair makeover instead.

I wasn't quite sure how it was going to turn out on me, doing a cool color with my warm roots, but It turned out looking pretty good. Maybe I'll go lavender next!
Here's What You'll Need:

Conditioner
Clips
Color bowl and brush
Gloves
Before starting this, your hair needs to be pre-lightened or the color won't take. Check out what I use to Lighten my hair here.
First, don't forget to put on that old t-shirt and move the bathroom rug to not ruin anything! I had done this color previously on my sister so I knew I wanted a lighter grey tone, as a result I mixed 1 part color to 1 part conditioner, or 2 oz conditioner to 1 tube of color. If you want a darker grey then skip this, but you may need more tubes of color. This is a semi-permanent color which means it is only supposed to last a few months, but from experience, it may last longer. It is also ammonia free so it doesn't require any developer.
Put on your gloves and part your hair leaving out the bottom section, pull everything forward and start applying.
Using 1-2 inch sections apply the color on all the pre-lightened areas. Remember to really saturate the hair with product. This product has a blue base and your pre-lightened hair is more pale yellow, if you don't saturate well enough then your resulting hair will have a greenish look. We don't want that so make sure you saturate!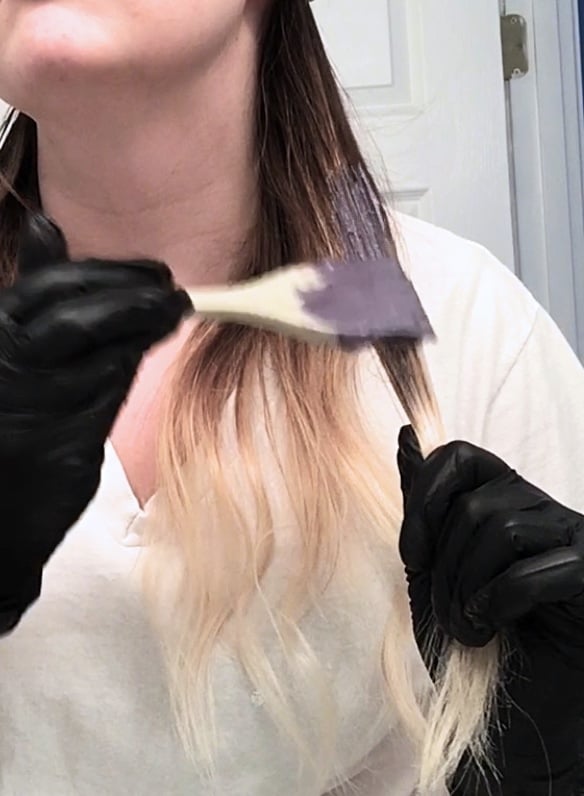 Continue working in sections all the way up the head. When you've finished applying, let your hair process for 40 min.
Next wash out your hair and style as desired. Remember to always use a leave in conditioner on your hair especially if you've just lightened it, I like to use Redken's Unique one. 
Hip-hip-hooray! Now we have fabulous titanium hair!  [themify_icon icon="fa-heart-o" link="http://"] Cassie Jean