How to Create a Free Printable for Your Blog for Free in Canva!
This post may contain affiliate links. That means we may make a small commission on items purchased through links in this post at no extra cost to you!
Creating free downloads/printables for your blog is a killer way to drive traffic to your blog and to grow your email list. People love free stuff and the benefits of creating a free download/printable is they can download and print them immediately. Free stuff + immediate satisfaction = happy readers!
But how do you make your own? You can hire a designer to make them for you, but when you don't have a lot of money to use towards your blog, sometimes you gotta get in there and make them yourself. Here's how you can create your own free downloads/printables for your blog all by yourself, for free, using Canva! I use Canva literally every day for my business, and if you don't already have a Canva account now is the time. Canva is what I use to create all of my printables, downloads, products, and blog graphics for every post. Really, you need a Canva account, plus it's free!

1. Create a Canva Account/Log in
Step number one is to create a free Canva account if you don't already have one or log in if you do have an account. Head to Canva.com and create your free account and log in!
2. Proper Freebie Size. (px/inches)
If you're trying to make any kind of printable for your blog you need to create your freebie using the proper printer sizes. If you're in the US you want to create a 8.5″ x 11″ document or if you're in the UK you'll want to create an A4 size document. Also, if you are wanting to create a freebie for both the US and UK you don't have to create two different designs! Canva allows you to create one design and then copy and resize it to fit another size.
Once you know what size you're going to use, search for the proper size in the Canva search bar US letter or A4 and click on the document to start designing. 
3. Use a Template or Design from scratch.
When you open your document, the first thing you'll see is a bunch of design templates in the left sidebar. These are great because if you aren't all that creative, you can simply add in your freebie info in and customize the colors and you're done!
If you are designing in a US letter you can also search "flyer" or "magazine" in the templates search bar to find even more design templates that fit the 8.5″x11″ size.
Here are a few of my freebies that I have made using a template and designed from scratch using Canva.

4. Add in Text, Boxes, & lines.
Many freebies are checklists or fill in worksheets which means you probably need to add in text, boxes for people to write in, or lines to write on. Here's how to add in each of those.
Add in Text:
To add in text to your design, click on 'Text' on the left sidebar and you can either use a premade text group template or simply add in a regular text box.
Once you add in a text group template or text box you can edit the text by clicking on the text and using the toolbar at the top to edit the font to your liking.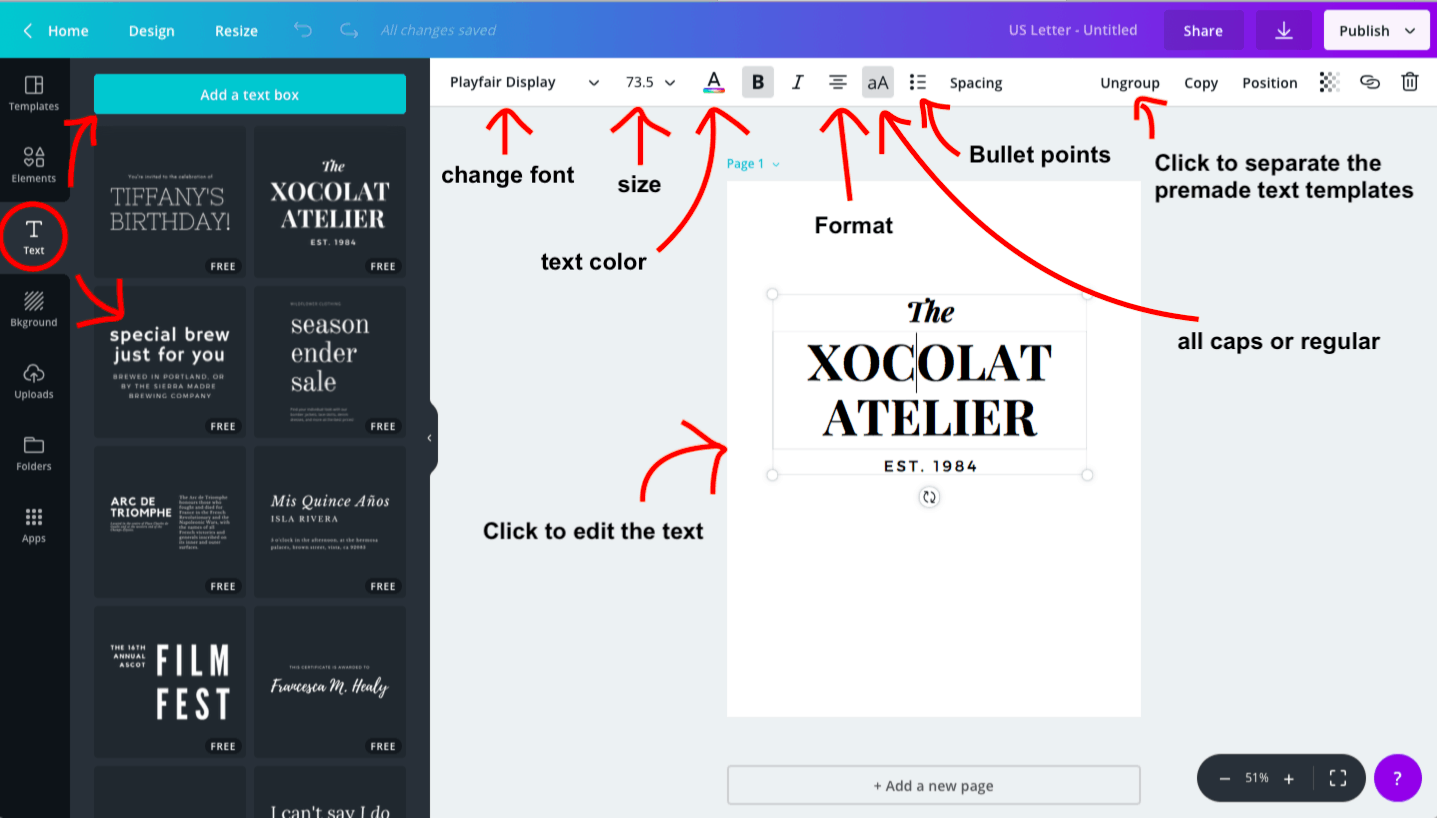 Add in Boxes:
To add in a box to your freebie, click on 'elements' in the side bar then select shapes. Scroll down to the squares, and I always like to use the square border. Click on that shape and adust the size and shape by moving the corner and side points.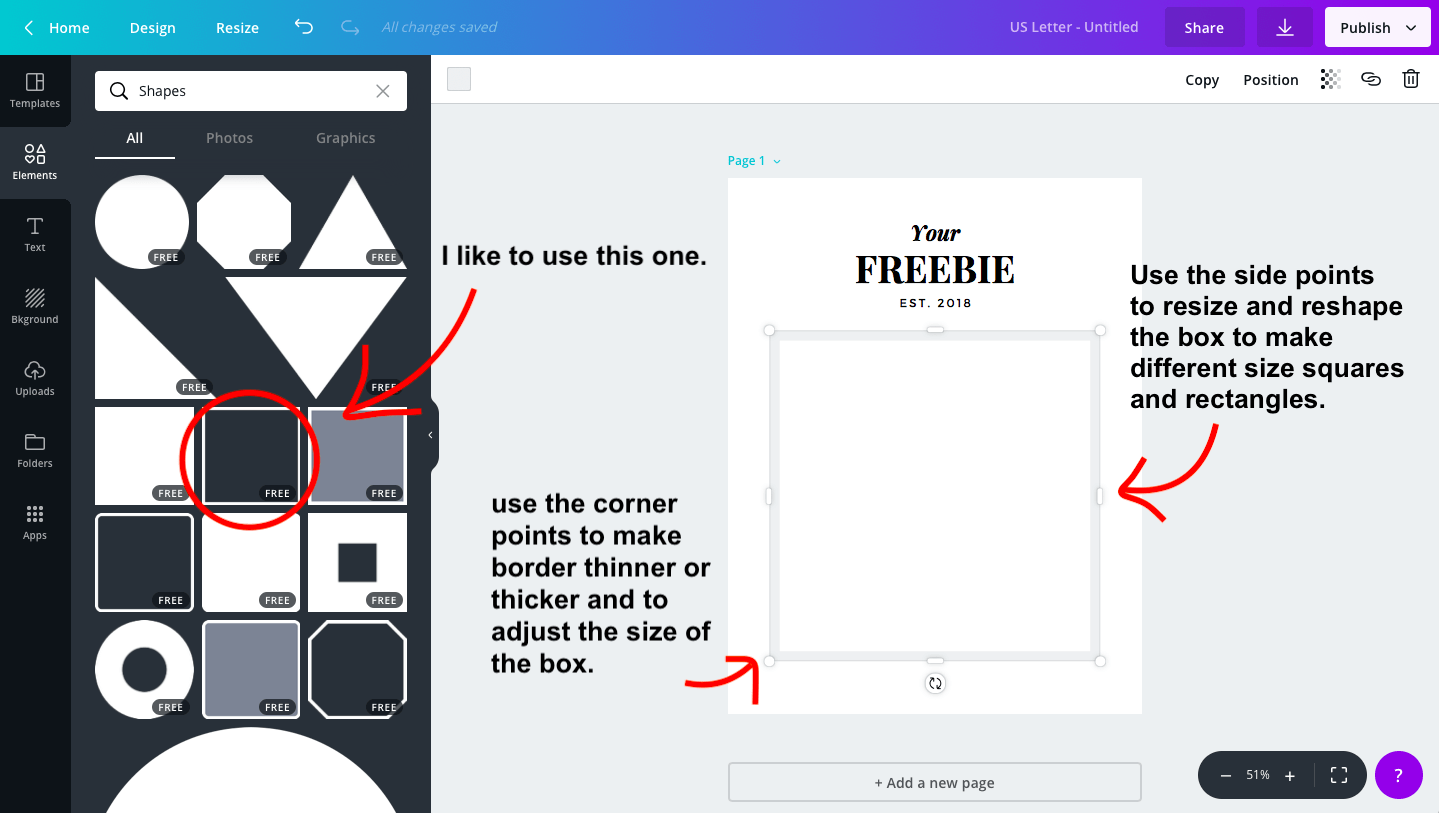 Add in Lines:
To add in lines to your freebie, click elements in the sidebar and scroll down to lines. I always just use the very first line in my freebies. You can change the line color in the top left of the top toolbar and adjust the size just like you did for the boxes by using the corner and side points.

5. How to add another page + duplicate page.
Lots of your freebies may be more than one page or duplicates of the same page. To add in another page to your document, simply select the '+ Add a new page' button under your last page and it will add in a blank page to your design. But if you want to add a duplicate page click on the Page 1 header on the top of your design, and select 'copy page' from the dropdown menu.
6. Download Your freebie.
Once you are happy with your freebie, it's time to download it to your computer so you can upload it to your blog! Download your freebie as a PDF if you want it to be easy to print.  However, you should download your freebie as a PNG or JPEG to create a 3d mockup of your freebie.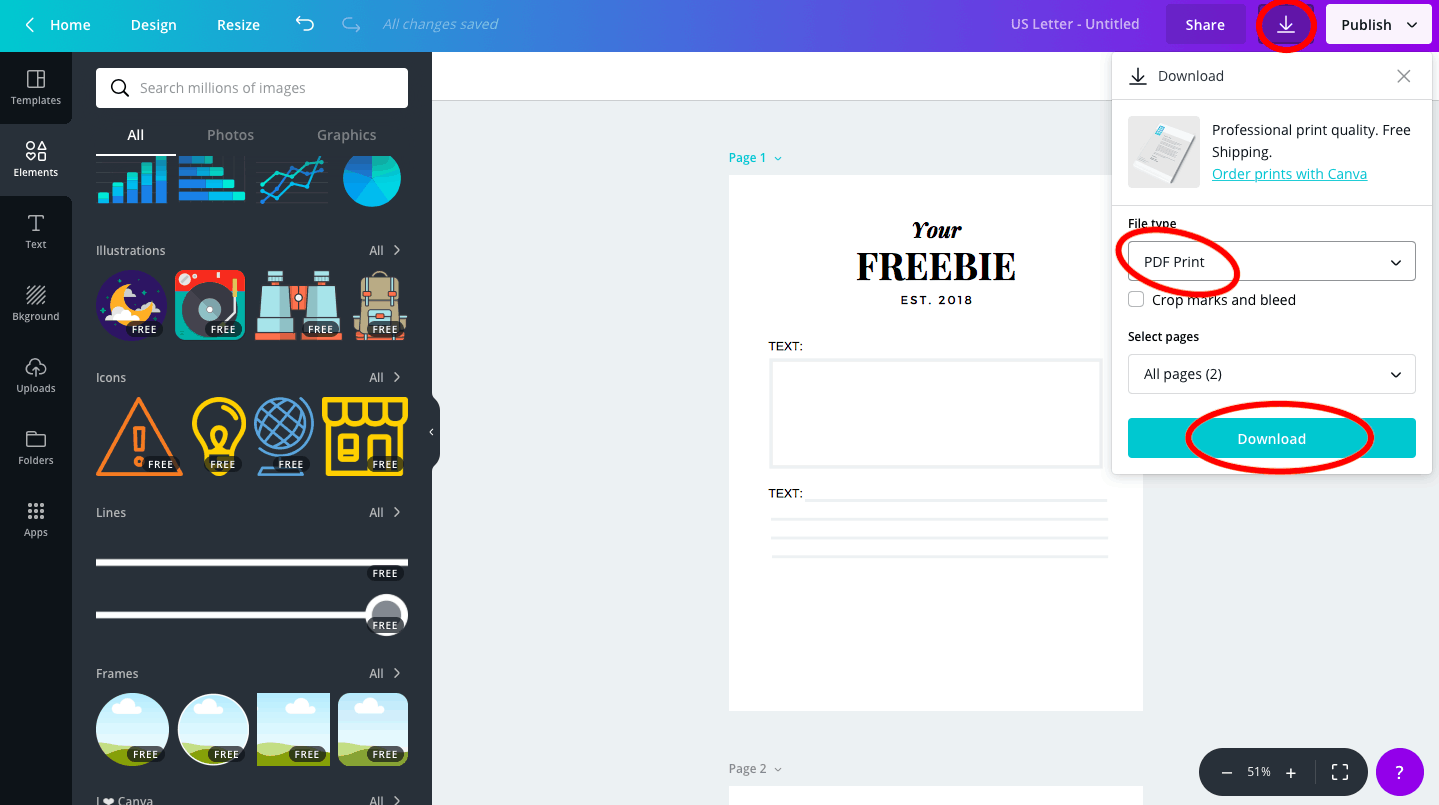 7. Create a 3d Mockup of your freebie.
To create a 3d mockup of your freebie, you can use myecovermaker.com. They have free and paid options when it comes to mockups so if you're not super picky then you can get a good 3d mockup for free! Simply upload your freebie PNG or JPEG to My Ecover Maker and download the 3d mockup.
8. Upload your freebie to your blog.
Once you have your mockup done for your freebie, it's time to upload your freebie to your blog so your readers can get their hands on it! In WordPress, go to the back end of your blog and click, Media > Add New > then upload your freebie (not the mockup) to your media library.
Fill in the title and alt text and save. Now you have a direct link to your freebie that you can now add to a blog post or email so your readers can access your freebie!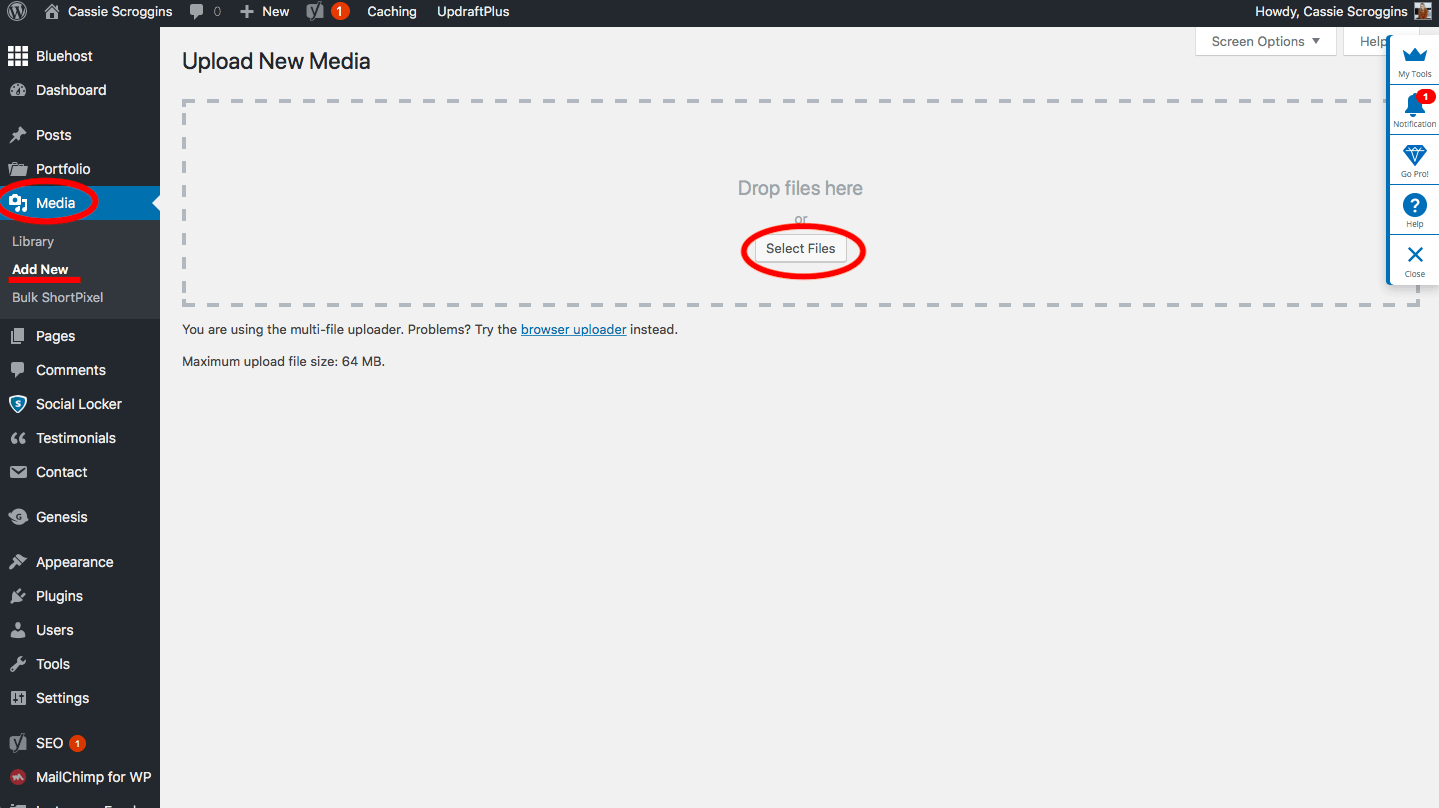 9. Write a blog post with a link to your freebie.
Now that you have your freebie made and uploaded to your blog, it's time to write a blog post to promote it! Create a new post on your blog that includes your freebie. Here's my post for my Free Printable Blog Planner. Inside your blog post, insert the image of your freebie mockup you created and link it to your freebie direct access code so when someone clicks on the mockup it takes them right to the freebie.
Or if you are trying to grow your email list with your freebie, create an opt-in form and add the link to your freebie inside an email that automatically gets sent when someone signs up for your list! (I use lead pages and Active Campaign).
Done!
Now you have a create free printable to help you get more traffic and grow your email list! You can also use Canva to create your own products for purchase and to create all your blog and social media graphics! Good luck and happy blogging!