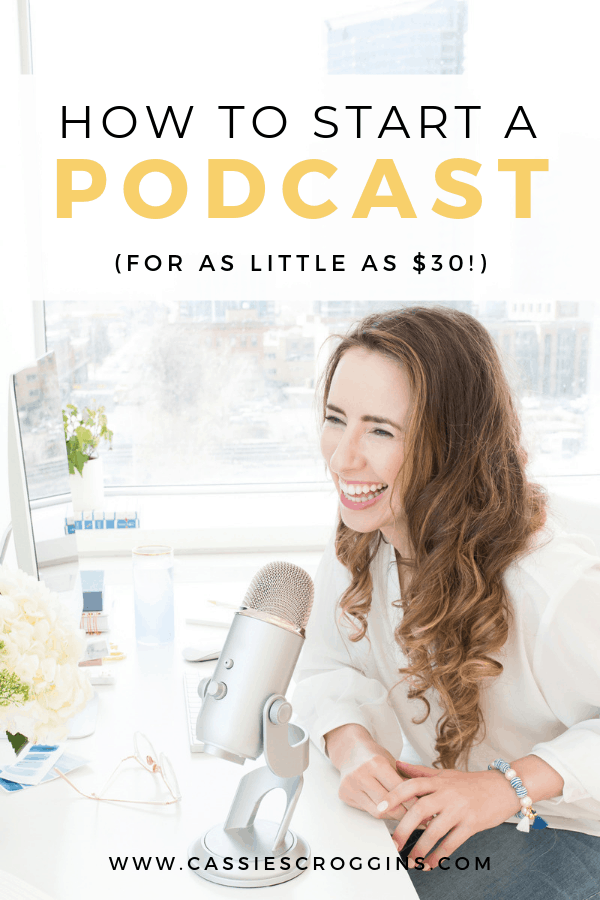 How to Start a Podcast on a Budget (For Cheap as $30!)
This post may contain affiliate links. That means we may make a small commission on items purchased through links in this post at no extra cost to you!
If you've ever thought about starting a podcast, let me tell you my friend, now is the time!
There are over 500 million blogs on the internet right now while there are only 550,000 active podcasts. But that number is rapidly growing. Which means right now the prime time to start your own podcast.
While there are millions of blogs started every year, last year there were only 25,000 new podcasts launched. But the listeners and number of episode downloads continue to increase significantly each year.
What does this mean?
Right now you have a chance to stick your flag into a medium that is still in it's toddler stages and growing at a rapid rate. It's like starting a blog back in 2009-2010. Now is the time!
So don't wait! If you've ever thought about starting a podcast I challenge you to just do it! Just start! And here is the equipment and software you need to do it.
And the best part?
You don't have to have a large budget to start a great podcast. Here is the best podcast equipment that won't break the bank.
This post is super detailed and long, save it to your favorite Pinterest board to easily find it later!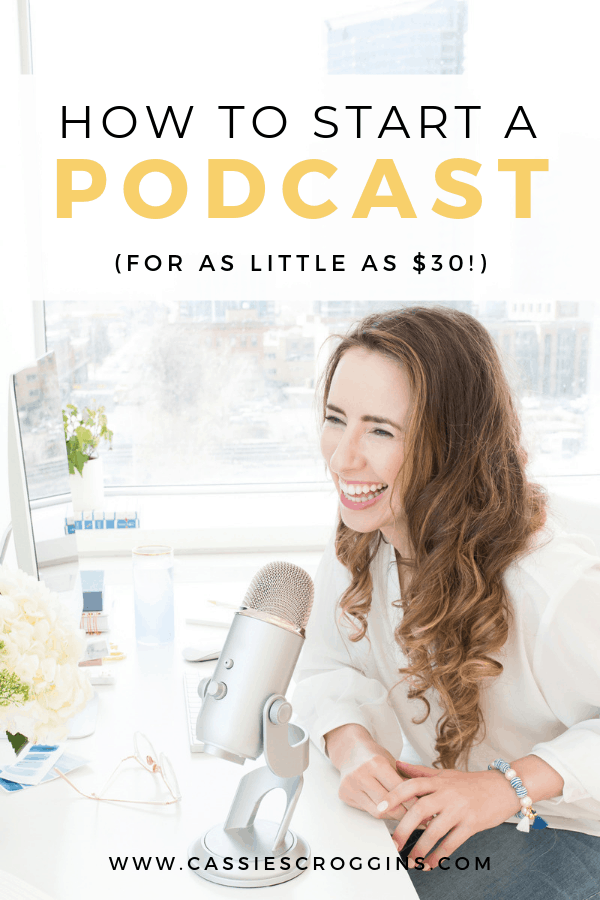 What you need to start a podcast on a budget:
Ready to build your own money making blog? Listen to my podcast the blog for profit podcast now!
You can definitely start a podcast on a budget. In fact, starting and running your own high quality podcast doesn't have to be expensive at all! With all the technology and software that is available to us now, starting a podcast has never been easier. And starting a podcast on a budget is even easier!
Here's what you'll need to start a podcast on any budget:
1. Microphone:
Firstly, and most importantly, you need a podcasting microphone.
It's important to note that if you are going to spend any kind of extra money on your podcast equipment, then it should definitely be spent on a microphone. The quality of your audio can make or break your podcast so if you're wanting to splurge anywhere, do it here.
Good (a great basic mic that will do everything you need – cheapest):
The Fifine 669B USB Microphone is a great basic mic for podcasting. It does everything you need it to produce a great podcast. The sound is clear and with the mic being under $30, there isn't a better mic for the price.
You do need to make sure that you are very close to the mic and that the mic is positioned properly to record the best quality sound.
Once you play around with it and find the optimal position for you, you're off to the races. Get the Fifine 669b microphone here.
Better (A little more expensive):
Just a step up from the Fifine 669B, The Blue Snowball mic is highly recommended mic for beginner podcasters. It's a cardioid mic which means it won't pick up as much background noises coming from the sides or the rear which is great.
With Blue, you can always expect great quality. Get the Blue Snowball mic here.
The Audio Technica ATR2100 is a slender classic style microphone that is also a cardioid mic. It is, like the Blue Snowball mic, highly recommended for new podcasters because of the great audio quality it produces. And the small slender shape makes it an easy mic to travel with.
Get the Audio Technica ATR2100 mic here!
Best (Best mic that doesn't break the bank – most recommended mic):
The Blue Yeti Microphone is definitely the most recommended podcasting mic and is the mic that many pro podcasters use. It has all the bells and whistles that includes a mute button, gain control, and four recording patterns that allows you to choose which recording pattern is best for your situation:
Cardioid (records from a single direction), best for solo shows.
Omnidirectional (records from all directions), best for group interviews, conference calls.
Bidirectional (records from front and back) best for an interview between two people.
Stereo (records from the left and right) best for music recording.
This mic is also the same mic that many professional podcasters use like Jenna Kutcher, host of the Goal Digger podcast! A top-rated business podcast.
Get the Blue Yeti microphone here!
Which is the best for you?
If you're on a budget, the Fifine microphone will do everything you need to produce a great quality podcast, but if you have a slightly larger budget the snowball or atr2100 is what most podcasters recommend for beginners.
Then again, if you are wanting to go all in and splurge a little on your podcast, then the Blue yeti mic is the way to go. It will allow you the best quality and the most control over your audio.
Although it is the most expensive of the 4 mics, the Blue Yeti is still a great deal and can often be found under $100!
And the best part is that all of these mics are USB mics which means they plug right in to your computer, no expensive adapters needed!
2. Recording/Editing Software:
At this point I'm going to assume that you already have a computer, it is a must for podcasting. After that, and once you have your mic, the next thing you need to start your own successful podcast is recording and editing software.
Luckily both options I recommend are free!
This software is the place you will actually record your podcast, edit it, and save it as an mp3 so you can stream it to your listeners.
My first recommendation is Garageband which comes free on any Mac. Most podcasters use this software and it is perfect for podcasting.
If you're new to Garageband, this guide is a great place to get started.
Audacit is a free podcast editing software that allows you to record, edit, and export your podcast episodes all for free. This is also a very popular pick for podcasters who don't own a Mac.
Which is best for you?
You can't go wrong with either one of these options. If you have a Mac, use Garageband. If you don't, go with Audacity.
3. Podcast Hosting:
Once you have a mic and editing software (again, assuming you have a computer), then you really have all the essentials that you need to record some episodes.
But once you have episodes, you need a place to host those episodes so they can go out to all the podcast players like iTunes, Spotify, Stitcher, Google Play, etc.
A host is where the podcast players (ie: Apple Podcasts, Google Play, Spotify, etc.) will get your episodes, episode details, and show information. As you publish your shows to your host, these players will pull your RSS feed and allow your listeners to consume your content.
Cheapest:
Podbean ($0-$99/mo) FREE option!
Podbean is one of the OG podcast hosting service that has a great free plan that allows you to upload up to 5 hours of content per month but only 100gb in bandwidth.
I'd recommend this free plan for anyone wanting to start a podcast as a hobby. Someone who isn't worried about the stats or for a newbie to be used as a stepping stone to get your feet wet into podcasting.
If you upgrade to their $9/mo program then you get more advanced stats along with unlimited storage and bandwidth. I highly recommend this option.
In The Middle:
Libsyn, also an OG host, is the podcast host that I use and what was reccomended to me from professional podcasters when I was starting out. They are definitely a prominent podcast host that hosts podcast novices to professionals.
The $5 a month option allows you 50mb of storage each month but to add basic stats, it's an extra $2 a month.
My favorite option is the $20/mo option that allows you 400mbs each month and advanced stats along with a few other perks.
Most Expensive:
Blubrry is a more expensive option than Podbean and Libsyn starting at $12/mo for only 100mb up to $80/mo for 1,000mb.
However, they are very much focused on you the creator and how they can best serve you with tutorials and information to help you use their service and achieve success. Which is why they are steadily climbing up the podcast hosting ranks.
Which is best for you?
Podbean is a great way to go to get started and grow with. I highly suggest them especially if you want to start with a free host and go from there. Otherwise, I have been happy with Libsyn's $20/mo plan that includes advanced stats so I can track my progress.
However if you feel like you might need more hand holding in this process and have the money to put into it, then Blubrry could be a great option for you.
Start your podcast for only $30 right now!
The bare minimum you need to start your own podcast is:
a computer
a microphone
recording/editing software
and a podcast host
Assuming you already have a computer, you can honestly start a successful podcast for as little as $30 right now and $0 a month with the Fifine 669B mic, free recording/editing software via Garageband or Audacity, and using Podbean's free hosting plan.
But there are a few extra's to consider investing in before you record and launch your podcast.
Extras to think about before your start:
A pop filter, pop shield or pop screen is a noise protection filter for microphones, typically used in a recording studio. It serves to reduce or eliminate popping sounds caused by the mechanical impact of fast-moving air on the microphone during recorded speech and singing. - Wikipedia 
A pop filter softens the sound of hard letters like P's and T's when you talk and gives your entire episode a softer, more smooth sound. No harsh punches of air blowing into your mic.
And a pop filter is very inexpensive. You can purchase one on Amazon for less than ten dollars.
These pop filters can be attached right onto your mic stand, or arm, or even just your table, and you're off to the races. I personally like the sound of using a pop filter but you can decide for yourself.
Get a pop filter for under $20 here!
The video below demonstrates what a recording sounds like with, and without using a pop filter. You decide.
An audio mixer is a device with the primary function to accept, combine, process and monitor audio. While a DAI (digital audio interface) is a simpler version of a mixer and is a piece of tech that connects your XLR mic to your computer via the USB port.
Honestly you really don't need either of these.
If you have a USB microphone then you're off to the races as the editing software I mentioned before will accept, combine, and monitor audio for you. If you don't have a USB mic, then you may need the DAI to connect it to your computer.
But if you haven't purchased a mic yet, I'd just go for a USB mic and skip the mixer and DAI.
The only reason I'd say to go ahead and get a mixer is if you're familiar with all the bells and whistles associated with producing audio and you want those capabilities. Things like EQ and low pass filters, but if you don't know what those mean then don't get a mixer.
Your audio doesn't need it. It's just waste of money.
Exeption: Live Show
The only other scenario is if you have a live show. If you're producing a live show, you definitely need a mixer.
This mixer is a great basic USB mixer. It's compact perfect for on-the-go and is less than $100 perfect for a beginner.
A Microphone Arm or Boom Arm helps you position the mic at a better angle in front of you. Especially if the mic you use is a cardioid type (picks up audio from the front and reduces sides and rear).
It also can help with reducing shock noise. If you have your mic on the same table as your keyboard, for example, it would pick up every vibration and tap from the table.
Honestly a Boom Arm is just an extra. You definitely do not need it to start a great podcast. But for me, one of the main reasons I love having a boom arm is that I don't have to set up my entire set up every time I want to record an episode.
The arm allows you to swivel your mic out of the way and pull it in when you're ready to record.
That means that I can record spontaneously and all it requires is for me to plug in the mic to my computer. My mic and pop filter are already positioned and ready to go.
But are they expensive? Well, they can be, but the one I bought was less than $20 and works great! So don't waste your money on a super expensive arm.
A foam booth box or board is a panel or box that has sheets of foam in and around it to absorb sound and help cancel out surrounding noises.
Depending on where you record, this can be a great option so you don't have echoing audio. If you are recording in an open area with nothing on the walls and hard flooring then you'll probably get echos. Using a foam booth box or board can help your microphone to not pick up those echoes.
On the other hand if you are recording in a room with curtains, carpet, lots of furniture and things on the walls then those items do a pretty good job of absorbing sound.
Honestly, the best place to record your podcast is in a closet! The hanging clothes and carpet are amazing sound absorbers and provide clear audio.
So you can snag a portable booth box or just record in your bedroom or closet.
Click here to get a booth box.
5. Podcast Custom Domain:
When you start a podcast, most podcast hosts like Libsyn, create a free website for your podcast so listeners can listen online.
The domain of your site (the URL. For example, my domain is www.cassiescroggins.com) is usually www.yourshowname.yourpodcasthost.com. So if your show is call 'Coffee with Sally' and you host through Libsyn, then your free website is www.coffeewithsally.libsyn.com.
But with most podcast hosting companies, you have the option to host a custom domain. So if you purchase the domain 'www.coffeewithsally.com' through a place like GoDaddy.com, your host will let you use your custom domain instead of their '.podcasthost.com' URL.
The benefits of using a custom domain for your podcast:
Helps your website and podcast seem more professional
Shorter URL that is easier to remember and find for your listeners.
Purchasing your own domain makes sure you have it for the future and that it can't be bought by someone else.
you can use the same URL if you ever switch podcast hosts.
You can check to see if your show's name is already taken online and what domains are available below. If you do purchase your own domain I highly recommend using a .com instead of a .net or .org. or .co. If you can, hold out for a dot com domain.
6. Your own Website:
Another option for your podcast's website is hosting and building your own custom site.
The free website your podcast host sets up for you is very basic. Below is a screenshot of the The Blog For Profit podcast's (my podcast) free site from Libsyn.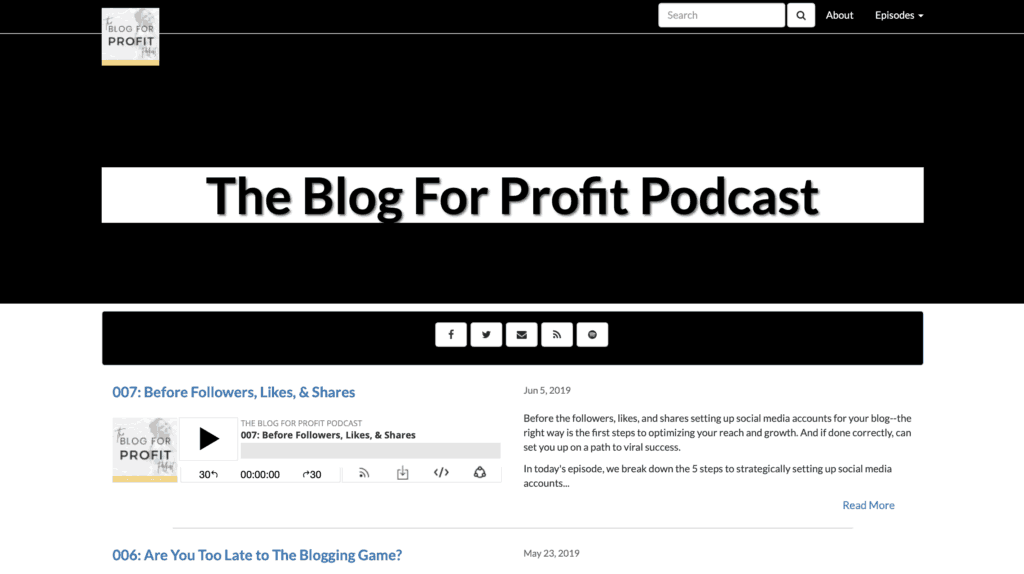 The customization features are VERY limited with their free sites. They do the basics: allow your listeners to listen online, and that's about it.
With the free podcast site page you can:
Add a custom header (1920×480)
Use a custom Favicon (the little symbol by your site url see example below)
Change the site's colors
Whether the media player is at the top or bottom
Add a custom message to the main page (ex: Hi, thanks for listing to the Blog For Profit Podcast! Don't forget to rate and review!)
Add Google analytics code to track traffic
And a few little extras (like whether to allow comments on your episodes or not)
Add a pages
and add widgets.
The free site is very basic.
Which is why, for me, I've decided to host and build my own site via Bluehost!
Bluehost offers website hosting for only $3.95 a month which is crazy cheap and includes:
a free domain name (your site's URL)
Free SSL certificate which your free page doesn't have. (Ever seen a website that said 'Not Secure'? That means it doesn't have a SSL certificate)
Free Support
Free one-click WordPress install (the backend software, this is huge!)
And a 30-day money back guarantee!
Click here to check out Bluehost and get their special $3.95/month offer.
Choosing to host and build your own website gives you limitless opportunities as to what it can look like and do. Below is a screenshot of what my custom site looks like at www.blogforprofitpodcast.com.
Having your own custom website is the ultimate way to look more professional and allows you all the customization abilities to grow your podcast into a business.
Conclusion:
In conclusion, remember all that you really need to start a good podcast (assuming you already have a computer) is:
recording and editing software
a podcast host
Luckily you have great options for free hosting and recording/editing software so with a cheaper (but still good!) microphone like the Fifine 669B USB Microphone you can start a great quality podcast for only $30 today! Talk about starting a podcast on a budget!
Podcasting is a growing medium and right now is the prime time to get in! So if you've ever thought about starting your own podcast, grab a mic and start! You've got this!
Want to remember this post? Pin it to your favorite Pinterest board!