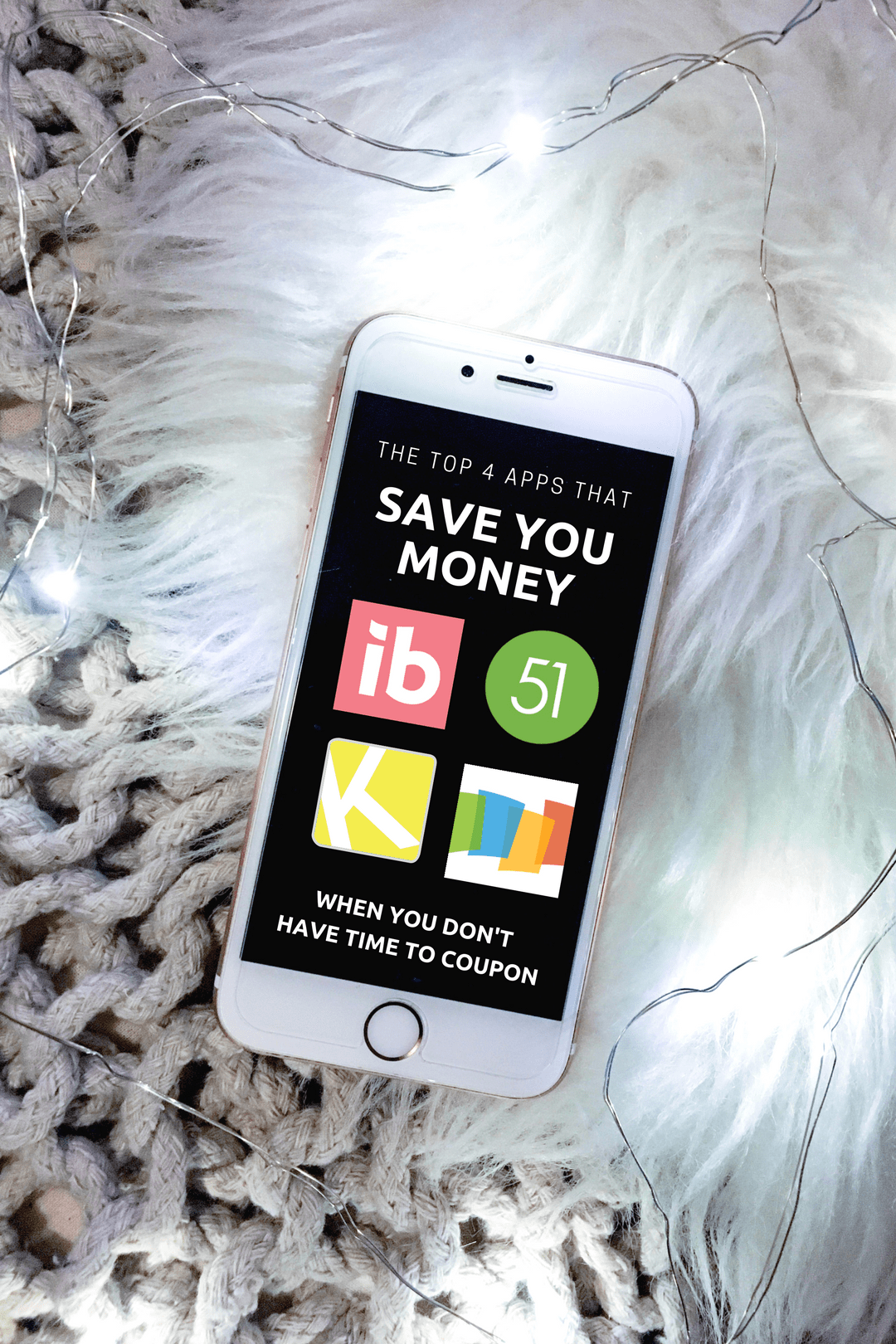 The Top 4 Apps That Save You Money on Groceries & Everyday Purchases
This post may contain affiliate links. That means we may make a small commission on items purchased through links in this post at no extra cost to you!
Have you ever seen TLC's tv show Extreme Couponing? After every episode that I've seen I feel extremely motivated to become an extreme couponer, saving hundreds and paying $1.50 for an entire month's worth of groceries.
However, this motivation dies after I realize how much time and effort goes into those monumental savings. I don't have the time or attention to spend hours a day clipping coupons.
I do however have the time to open an app and click a button! These 4 smartphone apps do the work and I just go shopping, saving me money on groceries and other everyday purchases!
1. Ibotta
Ibotta is the app I use the most. Ibotta is a cash back rewards app that gives you real money back on items that were already on your grocery list! There are offers like $3 cash back on any brand beef roast, $1 cash back on Ziploc bags, or even 4% cash back on Sephora.com!
Once you accumulate $20 in cash back on your account, you can deposit the money into your Paypal or Venmo account, or trade it in for gift cards!
How it works:
Select the offers you want and save it to your account.
Go shopping! Keep your receipt.
Redeem your offers by taking a photo of your receipt. They match the items you to the offers you selected and give you the cash!
Your cash back will be deposited into your Ibotta account within 48 hours.
You can get your first $20 now! Here's how!
Sign up using my referral code (dbybcbs) for a $10 welcome bonus! Or click here.
Receive a $5 Welcome Bonus for redeeming a Mobile Shopping offer.
A secondary $5 Welcome Bonus for redeeming an in-store or Mobile Shopping offer.
Use these steps within the first 30 days of creating your account to get your first $20 easy!
2. Checkout 51
Checkout 51 is a cash back rewards app just like Ibotta. In fact, you use the two apps exactly the same, select offers, shop, upload your receipt, and get cash! However, when you reach your $20 minimum payout for Checkout 51, you request a check rather than simply depositing the money into your Paypal or Venmo like Ibotta.
So why have both? I use both because they have different offers for each app. The offers you find on Ibotta, you won't find on Checkout 51 and vice versa. Which means you can get cash back on more items!
3. Coupons.com App
There are three ways to use the amazing Coupons.com app!
Print coupons from your phone. (Just need a wireless printer.)
Load store coupons to your store loyalty card (think Kroger/Smith's) and get the savings when you swipe your card!
Recieve cash back on purchases when you snap a picture of your receipt! (Just like Ibotta!)
There are endless coupons and cash back offers on the Coupons.com app and I love that you can save the coupons to your loyalty cards so I always get my discounts even when I forget I have them! Much easier than carrying paper coupons, but they have those too!
This app is a three in one money saver!
4. Krazy Coupon Lady app
Finally, my favorite app that brings it all together, the Krazy Coupon Lady app! On this app they search high and low for the best deals and coupons then tells you where to go get them!
They search all the deals on the apps I listed above plus deals in store combined to tell you where the best deals are! The Krazy Coupon Lady app often show you how to get free stuff and even make money on a purchase! 
The app does the work and you just use the coupons it tells you to and shop! It is seriously the easiest way to save money every day and it's so addictive!
Download the app and just see what free items and money makers you could be getting!
When you're on a tight budget, any way to save money with the least amount of effort is music to your ears! So save now! Download the apps and start saving, and who knows maybe you can get your nails done more often!