DIY Nursing Pillow Cover
This post may contain affiliate links. That means we may make a small commission on items purchased through links in this post at no extra cost to you!
Howdy all! When I was pregnant with Jamie I bought myself a Boppy pillow, and it was one of my best purchases. Even if you don't plan on breastfeeding, this pillow is awesome to let your little one lay in or even do some tummy time when they're older. I bought the pillow without a cover because the only options at Target were pink flowers, a yellow jungle theme, or blue whales. Come on Target! Don't they know baby themes aren't in anymore? So I purchased my bare naked Boppy pillow and was off to search Amazon. There I found a much better selection, but still not what I was looking for, and I wasn't going to pay $20 for something I thought was just "okay". Instead, I set off to make one myself.
This really is a very simple project if you do it correctly! When I first tried to make my cover, I had to rip it apart and start over at least 5 times. Thankfully, for this post I have figured it out, and it only took me about 30 min to put together.
Here's What You'll Need:
2/3 yard of fabric for front (You can use a flannel or minky, I just used cotton.)
2/3 yard of fabric for back (I used a soft minky fabric.)
18″+ zipper
Matching thread
Pins
Zipper foot for sewing machine
Start by washing and drying your fabric then print and cut out the pattern, place part 2 on the right of part 1, part 3 under part 1, and part 4 to the right of part 3 and under part 2. Tape together.
Fold fabric in half then place pattern on top and cut. Make sure the side printed "place fold here" is on the fold. Do this for both pieces of fabric.
Place the fabric on top of each other right sides together.
Make sure your top and bottom fabric are aligned correctly, then pin all the way around.
Using a zig-zag stitch, sew around the fabric leaving an 18″ gap at the top.
If needed, shorten the zipper to desired length using the instructions on the package. Sew on the zipper by flipping the fabric right sides out, then flip the zipper upside down, pin and sew the top side of the zipper onto the front of your fabric.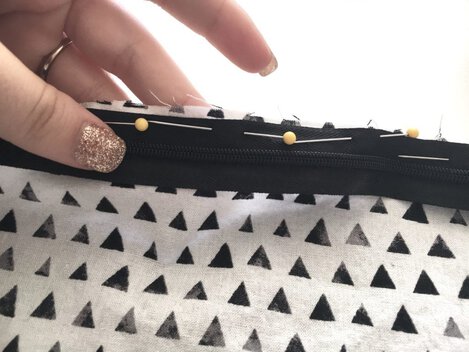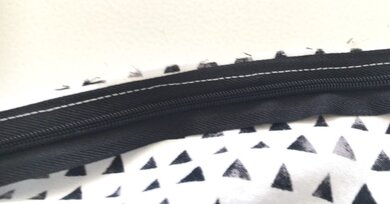 This was the tricky part for me, remember I am not a professional! If anyone has an easier suggestion in doing this, let me know in the comments! Flip fabric inside out again, flip out the back fabric so you can see the front of it.
Pin the other side of the zipper onto the right side of the back fabric and sew.
Now your cover is fully assembled, but inside out. Unzip the zipper (this was quite difficult, sorry) then flip right side out and try on your pillow. Depending on what brand of nursing pillow, or if you mad yours yourself, then this cover will fit differently. Leave it as is, or here's how I made mine snug.
Place the pillow into the cover inside out, then pull fabric to straighten any wrinkles. Pinch loose fabric together, as close to the pillow as possible and pin. Be careful not to pin through your pillow!
Carefully take off the cover without the pins falling out and sew again along your pin line using a zig zag stitch. Finally, cut off excess fabric.
Next flip right side out and your done! No more basic baby pillow covers! This one is off to a friend for her baby shower. happy sewing! [themify_icon icon="fa-heart-o" link="http://"] Cassie Jean
P.S. Don't forget to keep your scraps, here's what I made from mine! Pacifier clip & Handkerchief bib.
Also find this post at: