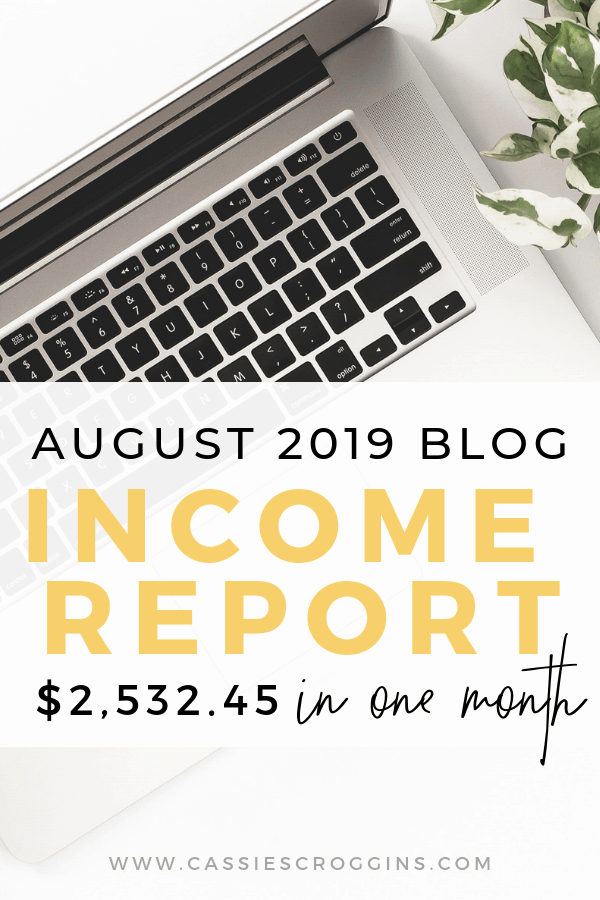 $2,532.45 In One Month Blogging without actually blogging!
This post may contain affiliate links. That means we may make a small commission on items purchased through links in this post at no extra cost to you!
From $1,600 a month in July to over $2,500 in August!
Holy cow! August was incredible!
It was one of the most stressful months for me personally but a fantastic month for the blog! In August I broke the $2,000 monthly income mark and I didn't even post a single blog post, social media post, or podcast episode. Like, wha???
So how the heck did I increase my blog income by almost $1,000 in just one single month of doing basically nothing?
Well, even though I didn't post at all in August, I did a lot of work in the front end to make sure that my blog doesn't stop even when I have to. Which is why I was able to have my highest income month thus far while not adding any new content.
Let's break it down.
My Past Income Reports
If you're new around here and, like me, are super into blogging income reports, here are a few of my past income reports to check out as well:
Get the Free Start a Blog Guide and make money from home!
And if you're into the idea of staying home with your kids and making money while you sleep, I highly suggest starting your own blog! What would you do with an extra $2,500 a month?
Start your own money making blog with my killer deal on web hosting here and click below to get my free start a blog guide!
Income breakdown:
August 2019 Blog Income Report:
***Note that I only include money that has actually hit my bank account. Not money that I earned this month but hasn't been paid out yet.
Affiliates
Affiliates Total: $191.30
Ads:
Ad Total: $1,921.20
My Own Products:
Etsy: $138.00
The Blog Shop: $281.95 (Where I sell my Mom to Momtrepreneur eBook, 47-Page Blog Planner, and 46-Page Ultimate Mom Planner)
Product Total: $419.95
Total August Blog Income: $2,532.45
August Traffic & Stats
Pageviews: 103,353 (Up from 101,365 in July)
Pinterest Followers: 3,943 (+692)
Instagram Followers: 1,669 (+55)
Facebook Likes: 8,394 (+392)
Facebook Group Members: 364 ( +18 –You can join the Blog For Profit group here!)
YouTube Subscribers: 2,332
Podcast Downloads: 785
Email list: 7,251 (+165)
So why the big ($900+) jump in income this month?
You'd think that after ghosting the blog in August, my stats and income especially would drop right? So how the heck did I have my biggest income month ever?
The biggest reason? AdThrive payout.
I switched ad networks from Mediavine to AdThrive back in May after passing the 100,000 pageviews mark back in January (AdThrive's minimum traffic requirement).
And in August I received my first payment from AdThrive and my last payment from Mediavine. (Wahoo double earnings!)
AdThrive sent me my May ($619.15) and June ($960.14) earnings in August totaling $1,579.29, and Mediavine sent me my partial May earnings of $239.88.
So my total blog ad income was $1,819.17, then add in my YouTube earnings of $102.03 my ad income alone almost surpassed the $2,000 mark!
Second reason: Traffic + workflows & funnels.
After my ad income, the second biggest factor was my traffic.
Back in January I passed the 100,000 pageviews mark but since then I dropped a little and gone back up so August my my first time I've had two 100,000+ months in a row helping me to earn more affiliate income and most notably product income! Helping me to break that $2,500 mark!
I said before that the success of this month has a lot to do with the work I did months ago on the front end to make sure my blog doesn't stop when I do.
Implementing things like, sales funnels and tripwires. Creating blog posts with affiliate links and always adding an opt in to every page.
How to get more $$ out of your traffic.
You see, I already know that when my traffic increases, so does my ad income.
Since ads pay per view, the way to increase your ad income is to increase your traffic. We all get that, but don't let your earnings stop there.
One way I do this is by having opt-ins to get subscribers on my email list on almost every single page of my blog. Which means there is always a way for a reader to turn into a subscriber.
So, the more traffic I get, the more subscribers I get. Which means I can sell them something later.
But in addition to an opt-in on every page, I also have a tripwire set up for every opt-in.
That means that when a reader subscribes to my email list, the opt-in freebie is sent right to their inbox and their browser is immediately reddirected to a subscriber exclusive deal on one of my digital products.
For example after someone opts in for my free 10 page mini blog planner they will be redirected to a sales page that gives them the opportunity for only 1 hour to purchase my full 47-page Ultimate Blog Planner for only $9 which I regularly sell on my site for $20.
They still receive the free mini planner but they have an opportunity to purchase the full thing for a limited time at the lowest price available.
So not only do I now have a new subscriber that I can sell to to later, but I also have tripwires with about a 20% conversion rate. So for every 100 new subscribers I get, I'll make about 20 sales.
So when I increase my traffic I also:
Increase my ad income
Increase my email subscribers
Increase my product sales

and increase my affiliate sales
Even though most of my money I made this month was made through ads, It was my processes and systems put in place that allowed me to make more money than just that ad income.
Make sure you're blog is set up so when your traffic increases so does everything else!
That was how last month was such a big earner for me! When my traffic stayed consistently over 100,000 pageviews, everything else increased too.
And it's how I was able to crush my year end goal before Q4! Now on to $3,000 months!
Goals For August:
Publish 1 more podcast episode.
Publish 1 more blog post.
Write, record, and schedule another blog post and podcast episode.
Want even more tips and strategies? Be sure to join my email list and get your Free Blog planner here! .
Want to remember this post? Pin it to your favorite Pinterest board!