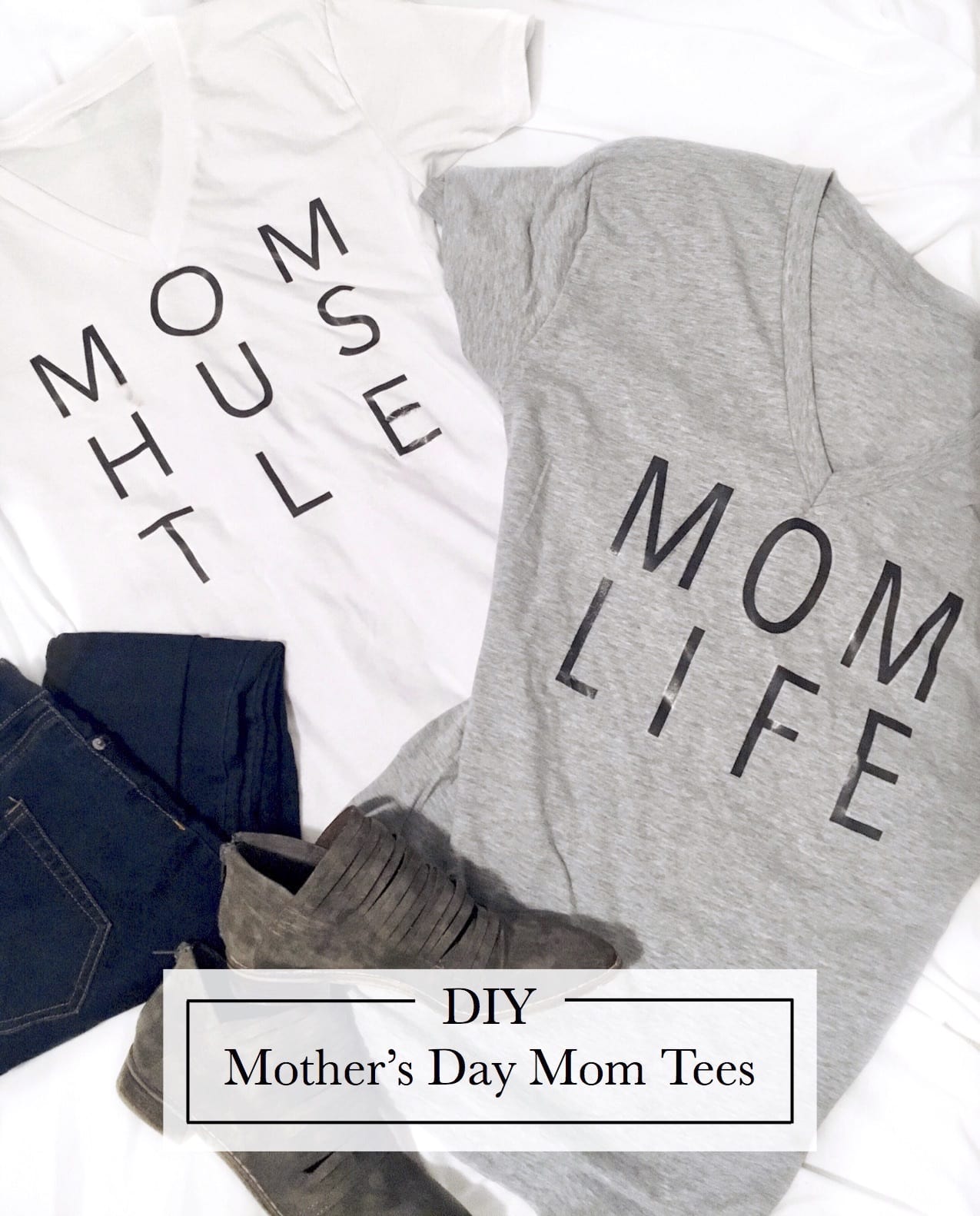 DIY Mother's Day Mom Tees that are #MomGoals
This post may contain affiliate links. That means we may make a small commission on items purchased through links in this post at no extra cost to you!
My mom is real #MomGoals.  She's the lady that looks awesome in sweatpants and a hat and gets mistaken for my brother's girlfriend type of mom. Yeah, we all know the one, the mom that would get hit on by all of your male friends in high school and is always up with the latest trends even if you aren't yet. And Guess what else guys she's actually nice, and is always looking to help other people! At this point in my life, I've decided I'm just lucky enough to be her daughter, seriously.
Anyway, with Mother's Day coming up I thought I've got to get plotting for a Mother's Day gift that isn't a last-minute cheesy mug. My #MomGoals mother needs something that shows off her awesomeness! When today I saw this cute flat lay outfit on Pinterest with a "mom hustle" tee. The shoes were what first caught my eye thinking "My mom would totally rock those" then I spied the tee and next thing I knew my DIY senses were tingling!
I decided what better gift for my amazing mom would be to make this adorable DIY MomHustle tee? Cuz lemme tell you she's mommin' so hard she deserves this tee!  😉 Paired with a cute pair of jeans, some tennies, and a baseball hat? I think yes! I loved this mom hustle tee so much I decided to make myself my own chic mom tee because mom life is the best life am I right?
While the tee from my inspiration pin cost $33, my DIY mom tees only cost $7 each! 79% off? Yeah, I'll take that any day!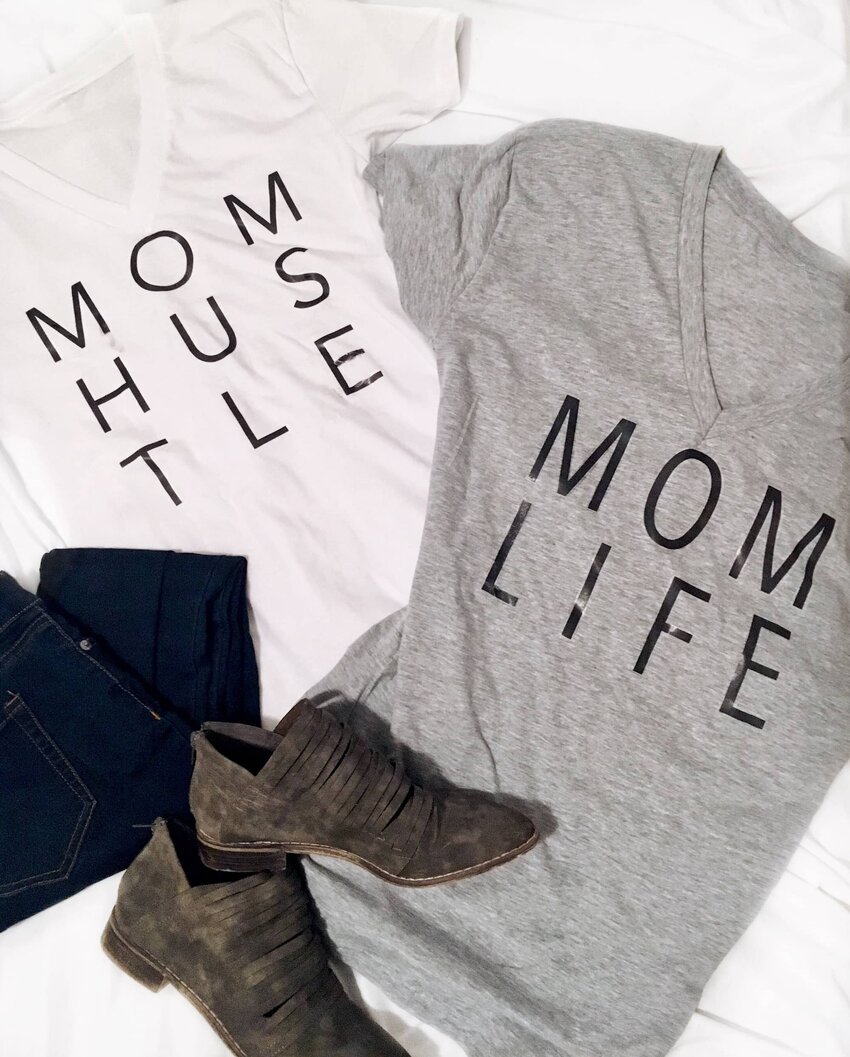 I made a quick trip to Hobby Lobby, aka my second home, and snatched two v-neck tees which I actually really love the fit of. I headed home knowing I already had Iron transfer paper from a few previous DIYs I had done and got crackin'!
Check out my previous DIYs using these same supplies! 
Here's What You'll Need:
Supplies
Tools
Scissors
Iron
A mom (Don't worry, you can make one for yourself too! )
Step 1
Print off one or both of my mom tee graphics using the instructions on your transfer paper packet and cut out each letter leaving a small edge around them. This will prevent your ink from bleeding out too much which could be smeared by your iron. I cut out each individual letter because it allowed me to get the spacing that I wanted and also prevented having too much shiny empty space from the printer transfer paper. (Jamie wanted to help.)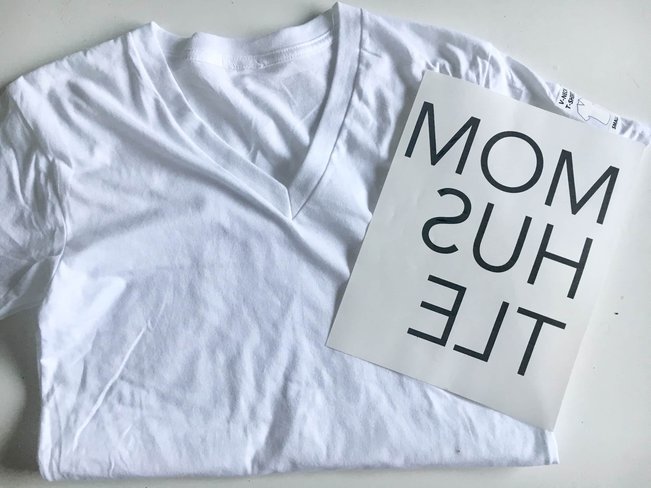 Step 2
Place your letters face down on your t-shirt and arrange the way you want them. For my mom hustle tee I wanted them all equally spaced and justified with 3 letters per row. For my mom life tee I spread out the letters so that both words were at the same starting and ending point which made the letters in "life" more spread out then the letters in "mom".
Step 3
Iron on the letters using the instructions from your transfer paper packet.
Step 4
Peel off the paper backing and you're done!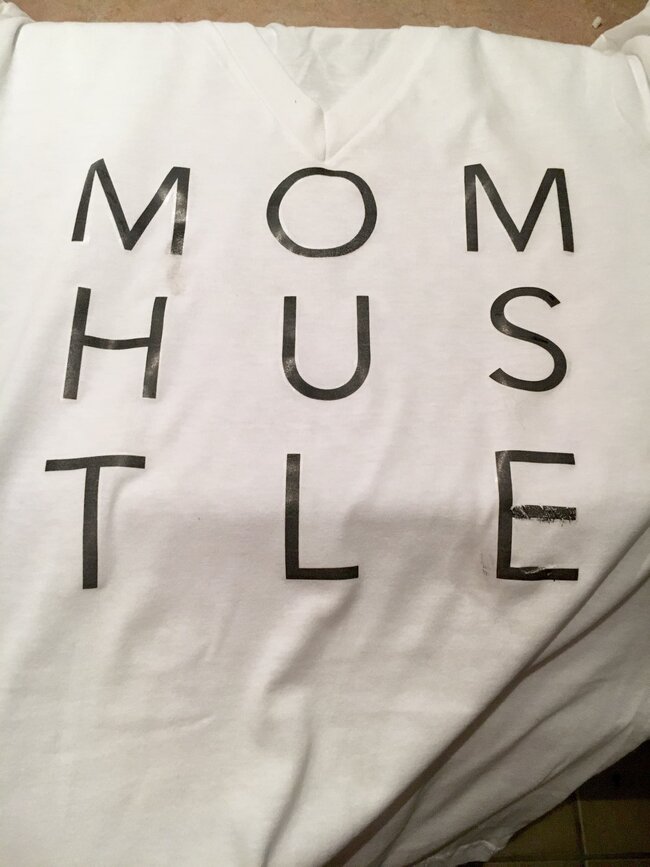 [themify_icon icon="fa-arrow-down" link="http://"] Pin it! [themify_icon icon="fa-arrow-down" link="http://"]
I know your mom is awesome, so why not give her a thoughful and chic homade gift just for her that is cheaper than a bouquet of flowers and lasts a lot longer too! Or if you're like me and just want one of these for yourself, then craft away!
Remember to check for washing instructions on your transfer paper package! Happy Mother's Day! [themify_icon icon="fa-heart-o" link="http://"] Cassie Jean