Daily Habit Tracker Free Printables
This post may contain affiliate links. That means we may make a small commission on items purchased through links in this post at no extra cost to you!
A great way to achieve goals, track your progress, and adopt new habits is by using a daily habit tracker! These trackers have a section to write-in habits you are trying to adopt, 31-day slots with a section to write in what day it is above.
Scroll down for instructions to download and print!
**Update! A New Habit Tracker Design!
Using a habit tracker was a huge part of accomplishing everything I accomplished in 2019. I used one every single month of the year and religiously marked my boxes.
In 2019 I:
Read 7 books
Had a baby
Launched a Podcast (listen here!)
Lost 70 LBS
Doubled my monthly income
and paid off all $20k in CC debt for my family.
Using my habit chart as a daily tracking sheet was key in staying on track in my journey to becoming my best self. 👇🏻👇🏻
Since my 30 day Habit Tracker was so key to my success in 2019, I decided to give it an update! A new look!
*New! Last 60 days habit tracker!!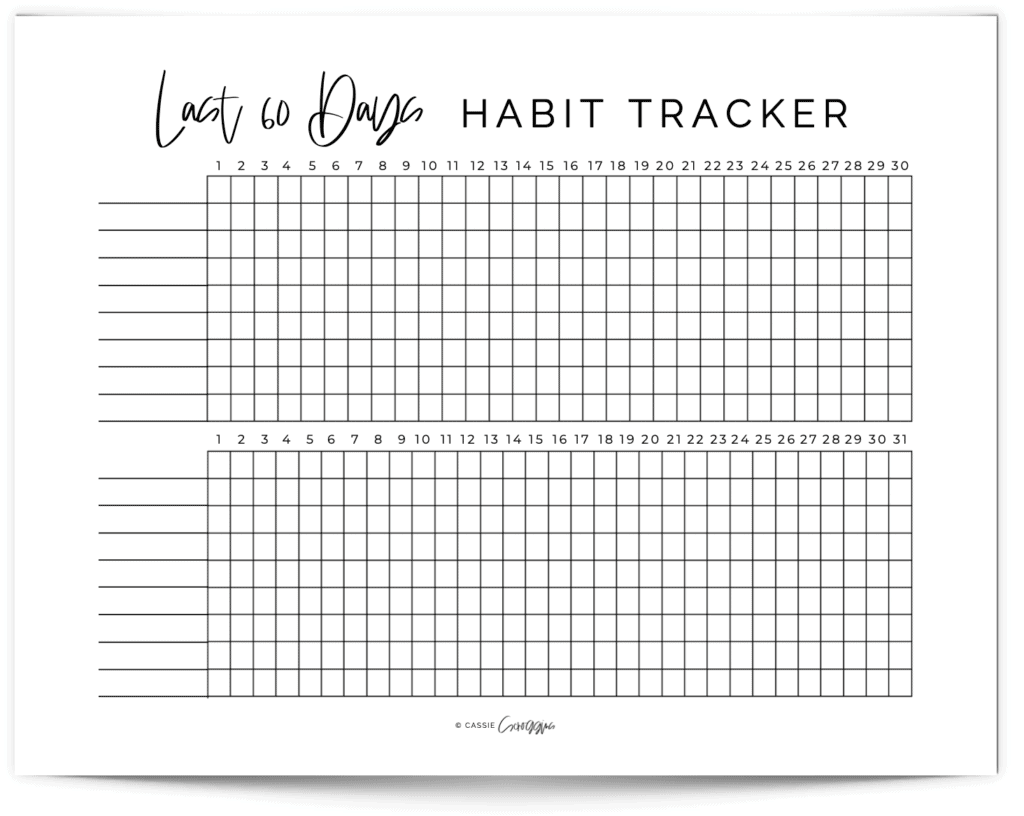 My habit tracker and this goal setting sheet made all the difference when it came to defining my goals and mapping them out! Snag your habit tracker then head here to get my special goat setting sheet!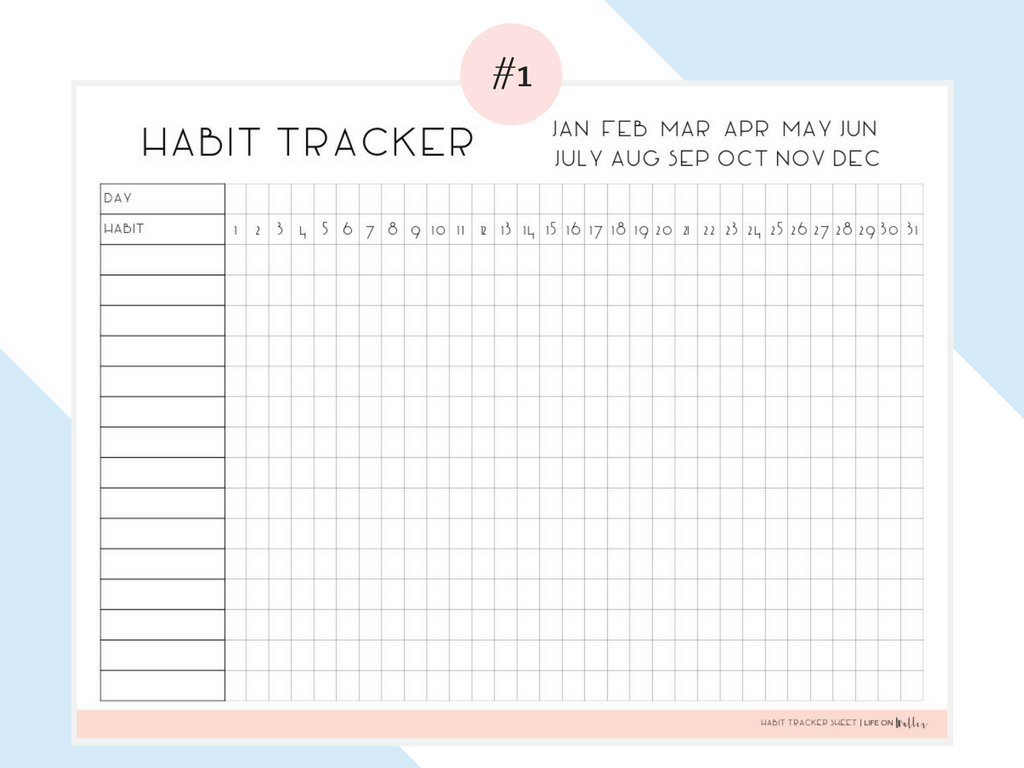 Back in high school, I had a goal to get more healthy by exercising and eating better. I had decided that I would achieve this by doing an hour of cardio every day, a strength workout stretching and eating a special diet. To track these, I purchased a large calendar and a box of different colored star stickers. Each color would represent a different habit and if completed on that day, I would add a star sticker to the calendar.
It was incredibly motivating to look back on my week or month and see a page full of different colored stars! It also helped me to see what I struggled with the most and what I did well at. After a few months, I had lost 15 pounds, improved my flexibility and energy! It was definitely a success, and I owe it to my tracking method for giving me the motivation to keep going and the little satisfaction every day by adding a sticker!
Well, that calendar was super bulky and took up a lot of wall space, so I searched online for something similar that wouldn't distract from my home decor and was more private. That is when I discovered habit trackers and decided to make a few of my own that I could add to a planner, journal or binder!
These habit trackers use the same method I used to track using my calendar. I can use a different color pen for each habit, and fill in the box under what day I completed it, giving me that same satisfaction daily by filling in a box and the ability to look back on my week or month and see how far I've come!
How to print your own habit tracker:
Select and Download the PDF files below.

Open the PDF.

Print off your habit tracker using a color printer or at a copy shop.

Place the page in a binder or journal and start tracking.
Download Your Free Habit Tracker
These habit trackers are great for any sort of goal or habit you are looking to adopt! Financial planning, weight loss, getting healthier, or even working on your spirituality. They make you plan out what you have to do to achieve your goal and write it down. There isn't a way to cheat the system here. Either you did it or you didn't and you get to fill in a box or you don't! I personally love this method and I know you will too! Plus they are adorable so share it with your friends too!
Please note that all freebies on my site are for personal use only, and may not be sold. Feel free to share this freebie, but please credit me and link back to this page when placing my images on your blog or social media. Please DO NOT link directly to the downloadable PDF file; instead link back to the URL of this page. Thanks!